THE NEW YOU - Create the life you love (Mint)
0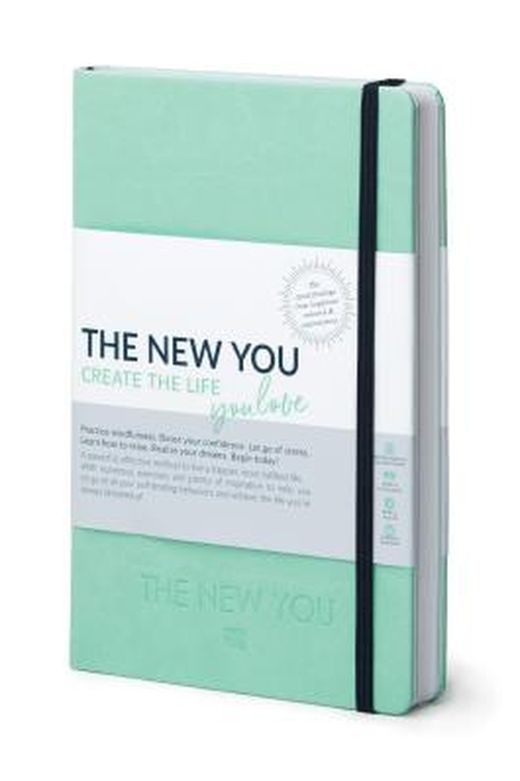 Zu diesem Buch gibt es noch keine Kurzmeinung. Hilf anderen Lesern, in dem du das Buch bewertest und eine Kurzmeinung oder Rezension veröffentlichst.
Auf der Suche nach deinem neuen Lieblingsbuch? Melde dich bei LovelyBooks an, entdecke neuen Lesestoff und aufregende Buchaktionen.
Inhaltsangabe zu "THE NEW YOU - Create the life you love (Mint)"
Practice mindfulness. Boost your confidence. Let go of stress. Learn how to relax. Realize your dreams. Begin today!

A powerful, effective method to live a happier, more fulfilled life. With numerous exercises and plenty of inspiration to help you let go of all your self-limiting behaviors and achieve the life you've always dreamed of.

You will

gain CLARITY about yourself, your life, and what you really want.

Learn to LET GO of the past and what's holding you back.

Stay MOTIVATED with more confidence and visible success.

Remain FOCUSED on the truly important things in life.

"Nothing will change until you change yourself – and then everything will change."

THE NEW YOU presents a unique combination of scientifically proven techniques from happiness research and neuroscience, self-reflection exercises and a 52-week planner. (The planner is undated – you can begin whenever you like.)

Learn how your believes can affect your life, and what you can do to change them. How to separate yourself from external circumstances, reduce, stress and build confidence.
Useful exercises e.g. based on gratitude, mindfulness and optimism. Through exercises and self-reflection, you will be able to gain clarity about your life, define your vision and transform negative thought patterns into positive affirmations. You will be able to determine what changes you want to make, plan how you are going to achieve your NEW YOU and set your goals accordingly.
The 52-week-planner will help you to integrate these changes and incorporate new habits into your day-to-day-life. With monthly reflections, weekly planning and a daily focus, you will gradually come closer to achieving your personal happiness and the life you truly want to live.

It is your year plan for your NEW YOU, with weekly inspirational quotes and handy hints for a happier and more fulfilled life.

THE NEW YOU is not only a stylish journal, with plenty of space to jot down all your deadlines, goals and moments of happiness; it also provides a perfect overview for weekly, monthly and yearly planning.

This joyful gem is rounded off with

two ribbon page markers so you don't lose your place,
an elastic closure to keep your entries from prying eyes,
an inside pocket for storing loose papers and other important snippets,
a high-quality cover with gold embossing,

... and with its A5 format, it's the ideal size for every handbag.

Just 36,50 € - 10 Cent a day for your NEW YOU

THE NEW YOU is the perfect gift for anyone to achieve personal goals and bring a little more joy into their life. Give your loved one, and yourself, the gift of happiness with THE NEW YOU.
Buchdetails
Aktuelle Ausgabe
Erscheinungsdatum:
01.05.2018
Rezensionen und Bewertungen
Ähnliche Bücher für noch mehr Lesestunden
Gespräche aus der Community zum Buch
Starte mit "Neu" die erste Leserunde, Buchverlosung oder das erste Thema.
Buchdetails
Aktuelle Ausgabe
Erscheinungsdatum:
01.05.2018