Bought By The Billionaire Brothers (BBW Billionaire Erotica)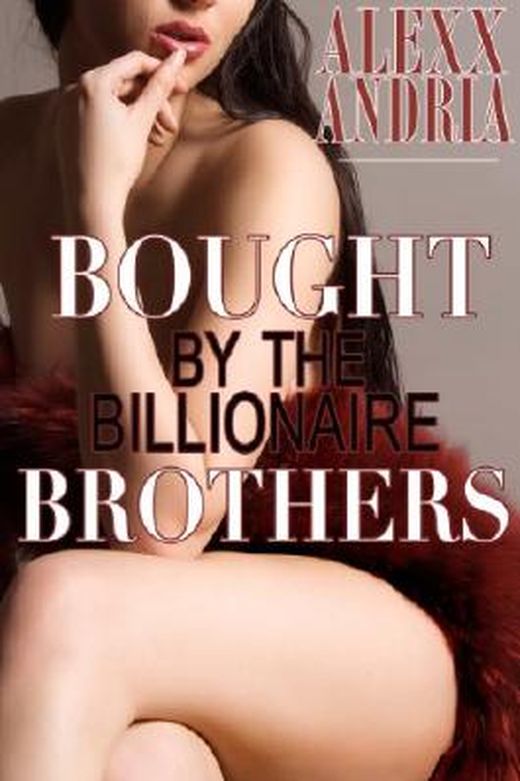 Zu diesem Buch gibt es noch keine Kurzmeinung. Hilf anderen Lesern, in dem du das Buch bewertest und eine Kurzmeinung oder Rezension veröffentlichst.
Auf der Suche nach deinem neuen Lieblingsbuch? Melde dich bei LovelyBooks an, entdecke neuen Lesestoff und aufregende Buchaktionen.
Inhaltsangabe zu "Bought By The Billionaire Brothers (BBW Billionaire Erotica)"
PRAISE FOR ALEXX ANDRIA: "After reading just one of her stories, you'll find yourself wondering where Alexx Andria has been all your life." --Kelly Haven, best-selling author of the Diary of a Nympho and Barely Legal Babysitters series AMAZON US TOP 100 FREE EROTICA BEST-SELLING AUTHOR! An erotic romance short story between a curvaceous accountant who is drawn into the seductive world of the ultra-rich by two alpha men bent on having her at any cost. THEY COULD HAVE ANYONE IN THE WORLD... Vince and Nolan Buchanan are accustomed to getting what they want and when they set their sights on Penny McDaniel, a shy, curvy accountant in their employ, they refuse to stop until she's in their bed. AND THEY HAVE THE MONEY TO REMOVE ALL OBSTACLES... Penny is a good girl who longs for a sexual adventure that will throw her out of her comfort zone. She wistfully dreams of the Buchanan brothers -- her twin bosses -- but never imagines that they've been watching and waiting for the right moment to make their offer. An indecent offer at that. A contemporary erotic short story of approximately 8,600 words set against the backdrop of the ultra-rich. This is the first installment of a six-part series. EXCERPT: "Penny...we have a job proposal for you. A business partnership, if you will, that we think you would be perfectly suited for," Vince began as he quickly shared a look with Nolan. "We've searched a long time for the perfect candidate and well, we can't think of anyone we'd rather enjoy this particular partnership with than you." "Me?" she repeated, her brow furrowing. "Why me?" "We've been watching you for quite some time," Vince admitted. "Watching me?" Penny repeated, confused. "I don't understand." "Well, first, let's talk about your qualifications," Nolan said. She nodded, openly perplexed. She felt decidedly out of her element and pushed her glasses further on the bridge of her nose out of nervousness. "You're funny, quick-witted, with a dry sense of humor that suits our personalities; you're smart and quick to learn; but aside from all that...your most valued asset is...your gorgeous body." Penny stared. Were they mocking her? Was this a joke? Her lip trembled but she managed to keep the tears at bay. Somehow she'd thought those days where she was the brunt of everyone's jokes were over. Suddenly the painful memories of high school rose to jeer at her and the Buchanan brothers were no different than the jocks who had thrown food at her in the cafeteria while making pig noises. She rose stiffly and clutched her satchel tightly as she said, lifting her chin. "I may not be as beautiful as the women who usually parade in and out of your lives but I'm pretty in my own way and I don't deserve to be mocked by you. Goodnight, Mr. and Mr. Buchanan." "Who says we are mocking you? We've said nothing that wasn't true," Nolan said quietly, his intense gaze causing her to falter. He leaned forward, pinning her with that gaze. "Hasn't anyone ever told you how beautiful you are?" "N-no...well, I mean, my dad, but I don't think that's who you mean," she answered. "You think I'm...beautiful?" "Let me amend my choice of words," Nolan said. "I think you're drop-dead, fucking gorgeous with a soft curvy body that was made for a man's cock. I've laid in bed fantasizing about what I'd like to do to you, Miss McDaniel. Does that sound like someone who's interested in mocking you or fucking you?" His brow arched when she gasped at his bold choice of words. She swallowed, her cheeks heating as the insides of her stomach did a funny flop. She ought to leave. Her boss shouldn't talk to her like that. It was improper and wrong. Probably illegal, too. But she liked it. Goodness gracious, she liked it. And she wanted to hear more just like it.
Buchdetails
Aktuelle Ausgabe
Erscheinungsdatum:
29.06.2012
Rezensionen und Bewertungen
Ähnliche Bücher für noch mehr Lesestunden
Gespräche aus der Community zum Buch
Starte mit "Neu" die erste Leserunde, Buchverlosung oder das erste Thema.
Buchdetails
Aktuelle Ausgabe
Erscheinungsdatum:
29.06.2012