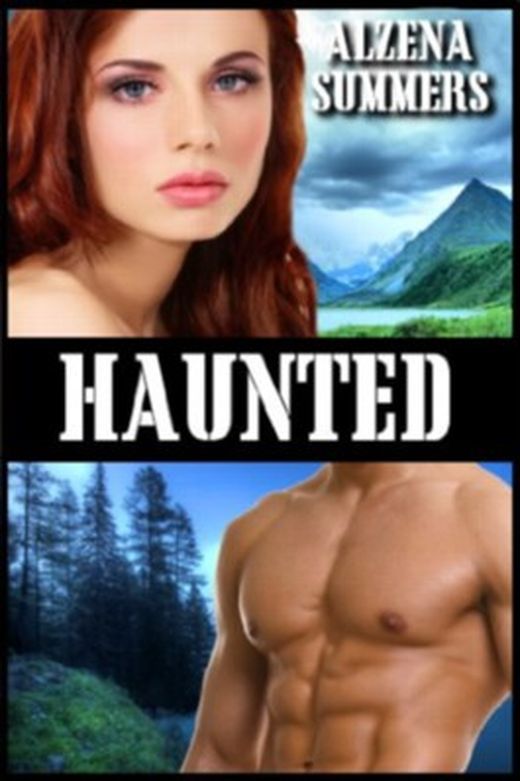 Zu diesem Buch gibt es noch keine Kurzmeinung. Hilf anderen Lesern, in dem du das Buch bewertest und eine Kurzmeinung oder Rezension veröffentlichst.
Auf der Suche nach deinem neuen Lieblingsbuch? Melde dich bei LovelyBooks an, entdecke neuen Lesestoff und aufregende Buchaktionen.
Inhaltsangabe zu "Haunted (Wolf Lake)"
Amelia has been mourning her husband Jake's untimely death for over a year. She's got everyone convinced that she's coping well, but the truth is she just can't let go. She's plagued by memories of him, lives for those glorious nights she dreams of him and can't quite bring herself to utter the question that's been eating away at her aloud. She finally forces herself to drive out to Jake's childhood cabin at Wolf Lake. It's a charming place filled with both precious memories and soul crushing realities. She thinks she's there to box up Jake's things and clean the place up, but when she hears his voice whispering to her from the forest, everything changes. Ghosts aren't real...right? **** Warning: This short 13,500 word story contains explicit depictions of an adult nature and is intended for an 18+ audience. "Haunted" is Part #1 of the Wolf Lake series but can also be enjoyed as a standalone story. **** TEASER: The slumbering redhead's dreams were filled with chaos. Giant, elephant-sized spiders chased her through a maze of mirrors. Her heart pounded in her chest as they advanced on her, snarling. Apparently dream-spiders have fangs – who knew? Right before her eyes, the spiders turned into wolves. Amelia's breath caught in her throat as she slowly backed away, trying to remain calm. She didn't dare turn her back on them for fear that they'd attack her from behind. She inched her way backwards as she frantically tried to think of an escape plan. Then her shoulder blade hit a mirror in the never ending maze. Amelia's heart sunk and she could feel herself beginning to hyperventilate as panic set in. There was no way out. She was trapped. Just as she was sure she was dead meat, Jake emerged from behind one of the mirrors. He took her hand and led her to safety. Amelia found herself standing in an exquisite, predator-free garden with her husband at her side. His presence calmed her. "Where are we?" she asked, looking around. No one else was in sight. "It doesn't matter," he said dismissively, leaning down to plant a feather light whisper of a kiss on her forehead. "We're together." Amelia felt her nipples stiffen at once as her husband stood close to her. His green eyes sparkled with passion and his sandy hair fell across his forehead haphazardly. She could smell his aftershave and hear his heartbeat. If she really concentrated, she could swear she could feel the heat from his body. She reached up to touch his face, wanting to feel his rough stubble against her soft skin. Her hand went right through him. It was around that time Amelia realized she was dreaming. Amelia didn't experience lucid dreaming often. Usually the second she realized she was dreaming, her eyes popped open and the opportunity to control and actively participate in her very own private fantasy was gone. But this time, perhaps due to sheer will, she managed to hang on to the edges of her fictitious world. Trapped on the border of reality and her subconscious, Amelia fought to remain in the dream. Why return to a world devoid of her husband when he was right there in her dream, standing right in front of her? True, she couldn't touch him…but he was still there. She felt him. The image of her husband standing in front of her was fading. It was as though he was becoming less and less by the minute, evaporating like water droplets on a hot day. "Come back!" Amelia cried out desperately, reaching for Jake. "Don't leave me again!" Once again, her hands slipped right through him as though he was made of fog. "I've never left you." Amelia awoke with tears dampening her eyelashes.
Buchdetails
Aktuelle Ausgabe
Erscheinungsdatum:
15.08.2013
Rezensionen und Bewertungen
Ähnliche Bücher für noch mehr Lesestunden
Gespräche aus der Community zum Buch
Starte mit "Neu" die erste Leserunde, Buchverlosung oder das erste Thema.
Buchdetails
Aktuelle Ausgabe
Erscheinungsdatum:
15.08.2013