The Boy With A Bamboo Heart: The story of the street orphan who built a charity. By Amporn Wathanvongs with Chantal Jauvin.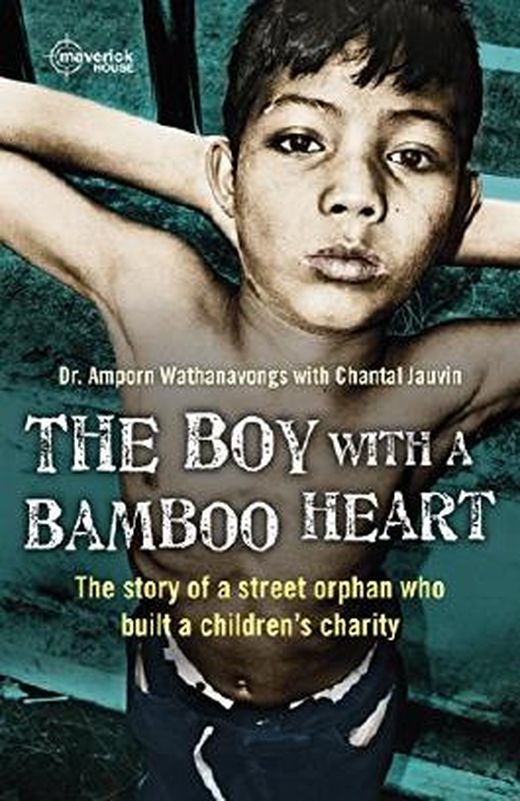 Zu diesem Buch gibt es noch keine Kurzmeinung. Hilf anderen Lesern, in dem du das Buch bewertest und eine Kurzmeinung oder Rezension veröffentlichst.
Auf der Suche nach deinem neuen Lieblingsbuch? Melde dich bei LovelyBooks an, entdecke neuen Lesestoff und aufregende Buchaktionen.
Inhaltsangabe zu "The Boy With A Bamboo Heart: The story of the street orphan who built a charity. By Amporn Wathanvongs with Chantal Jauvin."
The Boy With A Bamboo Heart is the inspiring story of Dr Amporn Wathanavongs. Orphaned at 5 years of age in a remote village in rural Thailand, Lek was thrust into a life-long struggle to find his place in the world. Alone and impoverished, he survived by begging for food in the markets of Surin until he was recruited to fight as a boy soldier in jungles of Cambodia. Despair and poverty lead him to attempt suicide until a stranger intervened with an offer of help. Thus begins Lek's journey to become Dr Amporn, a man best known as a foster father to the sick, poor and destitute children of Thailand. The Boy With A Bamboo Heart is no ordinary book, it is the inspiring story of one man's journey to find his true calling in the face of unspeakable adversity. Extracted from The Boy With A Bamboo Heart A hand yanked at my shoulder and pulled me away from my mother. I looked up and peered into the dark brown eyes of the villager. "Come, Lek, it be time they start now." I clutched my mother's hand, bit my bottom lip, forcing the tears to stop. I refused to cry at her funeral. I held her hand for the last time. I gave it a squeeze before releasing my grip. I was left with nothing to hold onto, not even nat leaves used to keep ghosts away. I tucked my trembling hands between my stomach and the rolled edge of my sarong. My chin dropped to my chest. I did not want to look at anyone, or see anyone looking at me. The villagers who had pulled and pushed the cart from our hut then approached my mother's body. They lifted her by the shoulders and feet to move her onto the pyre. Someone I did not recognize placed a few jasmine blossoms next to her body, a small gesture to adorn her final resting place. One of the monks then leaned forward and placed dried bamboo shoots on each corner of the table. He set the first bunch on fire. The other three monks repeated the same actions. I did not want to see what would come next, but I could not take my eyes off my mother's body. I dug my nails deeper and deeper into the soft flesh of my stomach and bit my tongue harder. I felt no pain. It gave me courage to keep looking. When the last monk had lit his bunch of bamboos shoots, I looked around to see what the other people were doing. Everyone was watching the fire without moving or talking. They had never seen a body cremated in this way. The flames licked the table and crept toward my mother's body. I stopped breathing. The flames joined hands, turning the sheets and sarong into a curtain of fire. A faint smell of jasmine rose from the burning flowers. I turned away as pain exploded in my belly. I tried to scream and call for help but the words would not come out. I tried to call for her. Still nothing came out. The pain inside me had robbed me of my voice. I forced myself to look at my mother so I could see her one last time. The flames consumed her. The sounds of burning wood and popping bamboo thundered in my head. It sounded just as scary as when she had screamed in the middle of the night in agony from her illness. I covered my ears and howled. This time my voice rose above the burning fire. As I looked around for help, people looked away. They turned their eyes to stare at the monks. I stamped my feet and beat my fists against my thighs to get their attention. I was not crying, I was hollering. No one moved. I stepped towards the fire. I was determined to hold her hand again. I needed to touch her one last time. The heat scorched my forehead. An old villager reached over and pulled me back, without tenderness, without anger. I dug my toes into the ground. I refused to back away from the fire. I could not let my mother begin her journey to the other life like this. She at least had to know that I was with her. The fire that was consuming my mother's body was also searing loneliness into my heart. I stood my ground while the flames destroyed the last of any affection and tenderness I would know for the rest of my life.
Buchdetails
Aktuelle Ausgabe
Erscheinungsdatum:
20.09.2015
Rezensionen und Bewertungen
Ähnliche Bücher für noch mehr Lesestunden
Gespräche aus der Community zum Buch
Starte mit "Neu" die erste Leserunde, Buchverlosung oder das erste Thema.
Buchdetails
Aktuelle Ausgabe
Erscheinungsdatum:
20.09.2015