Among Galactic Ruins: A Phoenix Adventures Sci-fi Romance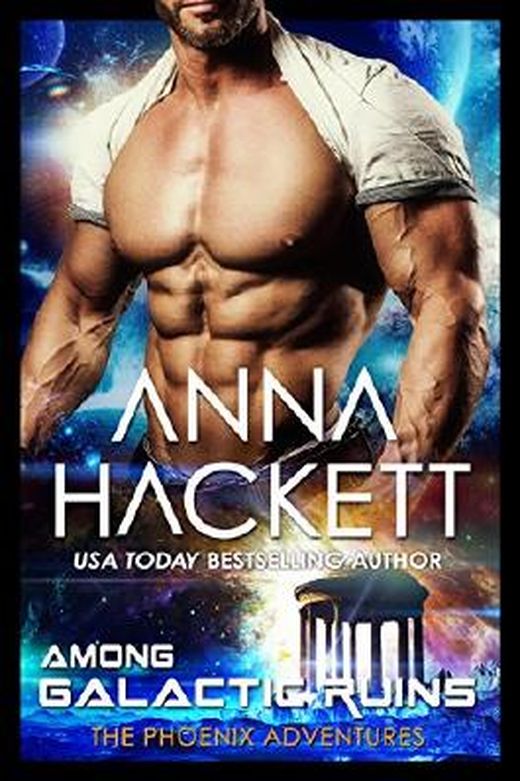 Zu diesem Buch gibt es noch keine Kurzmeinung. Hilf anderen Lesern, in dem du das Buch bewertest und eine Kurzmeinung oder Rezension veröffentlichst.
Auf der Suche nach deinem neuen Lieblingsbuch? Melde dich bei LovelyBooks an, entdecke neuen Lesestoff und aufregende Buchaktionen.
Inhaltsangabe zu "Among Galactic Ruins: A Phoenix Adventures Sci-fi Romance"
Treasure hunters, dangerous desert planet, wild beasts, and deadly thieves--the only thing standing between her and danger is one lethal man who might be more dangerous than them all.

With a secret map in hand, astro-archeologist Dr. Lexa Carter is excited for an expedition to a lawless desert planet in search of an invaluable old Earth artifact. She finally has her chance to prove herself to her disapproving family. But instead of adventure, she finds herself in the middle of treasure hunters, feral beasts, dangerous enemies and wild sandstorms. And her unwelcome protector is her museum's mysterious--and frankly arrogant and annoying--new head of security, Damon Malik.
After years as a galactic spy, Damon Malik just wants a quiet job where no one tries to kill him. Instead of easy work in a museum full of artifacts, he finds himself on a backwater planet babysitting the most infuriating woman he's ever met. Lexa might be smart and gorgeous, but Damon knows trouble when he sees it.

She thinks he's arrogant. He thinks she's a trouble-magnet. But among the desert sands and ruins, their treasure hunt--led by a young, brash treasure hunter named Dathan Phoenix--takes a dark turn. Someone doesn't want them to find the treasure and they want Lexa and Damon dead. Damon isn't sure if he wants to strangle Lexa or kiss her, but they will need to work together to have any chance of surviving among galactic ruins.

Note to readers: This sci fi romance contains a lot of action (think desert ruins, dangerous animals and freak sandstorms), sexy treasures hunters and a steamy romance (lots of sexy times between a smart archeologist and a mysterious former spy). This is treasure hunting sci-fi style. So if you like it fast, and fun, and sexy, this is for you!

Includes preview of Book 1 of the Phoenix Adventures, At Star's End.

------------------------

Q & A with the Author

Q - How would you describe the Phoenix Adventures series?
A - Treasure hunters in space! A few readers have said it's like Indiana Jones set far into the future. All the books in the series are fast, fun thrill-ride treasure hunts for old Earth artifacts. There is lots of action, adventure, space opera, and of course, romance. I'm thrilled the books in the series have won so many awards from a SFR Galaxy Award for Most Fun New Series to a Prism Award for Best Futuristic Romance (On a Rogue Planet) to the Romance Writers of Australia Romantic Novella of the Year (Beneath A Trojan Moon).

Q - Why did you want to write the series?
A - I love action, adventure and romance. And I love science fiction romance and all the endless possibilities. Combine all that with a fascination with ancient artifacts and the Phoenix Adventures were born. I really wanted to capture what the expeditions of old must have felt like - trekking through jungles or desert sands and stumbling across crumbling ruins. Since all the good stuff has been found nowadays, I looked to the future and jetted off into space.

Q - What order should I read the books in?
A - All the Phoenix Adventures books are stand-alone adventures - many readers have entered the series with later books in the series. However, characters from the early stories do appear in later books, so I think it adds something to the reading experience to read them in order. Here's the order I suggest:

- Among Galactic Ruins (prequel)
- At Star's End
- In the Devil's Nebula
- On a Rogue Planet
- Beneath a Trojan Moon (novella)
- Beyond Galaxy's Edge
- On a Cyborg Planet (novella)
- Return to Dark Earth
- On a Barbarian World
- Lost in Barbarian Space
- Through Uncharted Space
- Beyond Distant Stars (Coming Soon)

The Phoenix Adventures Science Fiction Romance Series:
- Science Fiction Romance
- Action Adventure Romance
- Space Opera
- Futuristic Romance
- Cyborg Romance
- Fantasy Romance
Buchdetails
Aktuelle Ausgabe
Erscheinungsdatum:
08.08.2015
Rezensionen und Bewertungen
Ähnliche Bücher für noch mehr Lesestunden
Gespräche aus der Community zum Buch
Starte mit "Neu" die erste Leserunde, Buchverlosung oder das erste Thema.
Buchdetails
Aktuelle Ausgabe
Erscheinungsdatum:
08.08.2015