Undiscovered (Treasure Hunter Security Book 1)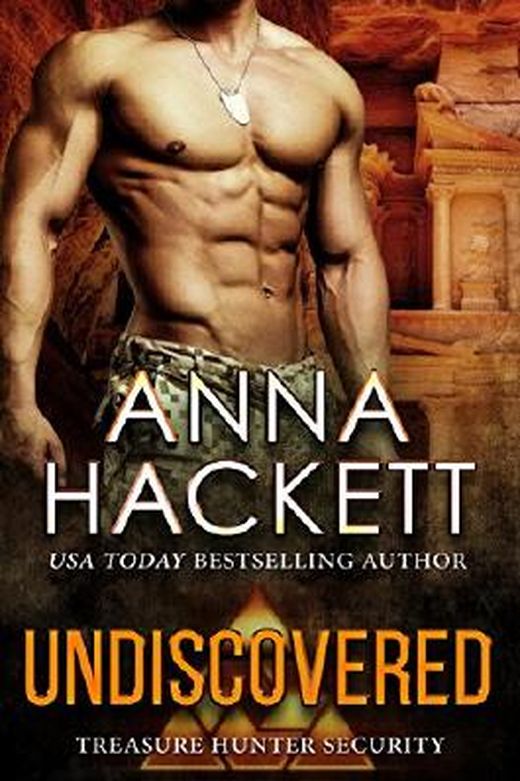 Zu diesem Buch gibt es noch keine Kurzmeinung. Hilf anderen Lesern, in dem du das Buch bewertest und eine Kurzmeinung oder Rezension veröffentlichst.
Auf der Suche nach deinem neuen Lieblingsbuch? Melde dich bei LovelyBooks an, entdecke neuen Lesestoff und aufregende Buchaktionen.
Inhaltsangabe zu "Undiscovered (Treasure Hunter Security Book 1)"
One former Navy SEAL. One dedicated archeologist. One secret map to a fabulous lost oasis.

Finding undiscovered treasures is always daring, dangerous, and deadly. Perfect for the men of Treasure Hunter Security. Former Navy SEAL Declan Ward is haunted by the demons of his past and throws everything he has into his security business--Treasure Hunter Security. Dangerous archeological digs - no problem. Daring expeditions - sure thing. Museum security for invaluable exhibits - easy. But on a simple dig in the Egyptian desert, he collides with a stubborn, smart archeologist, Dr. Layne Rush, and together they get swept into a deadly treasure hunt for a mythical lost oasis. When an evil from his past reappears, Declan vows to do anything to protect Layne.

Dr. Layne Rush is dedicated to building a successful career--a promise to the parents she lost far too young. But when her dig is plagued by strange accidents, targeted by a lethal black market antiquities ring, and artifacts are stolen, she is forced to turn to Treasure Hunter Security, and to the tough, sexy, and too-used-to-giving-orders Declan. Soon her organized dig morphs into a wild treasure hunt across the desert dunes. Danger is hunting them every step of the way, and Layne and Declan must find a way to work together...to not only find the treasure but to survive.

Note to readers: This action-adventure romance contains a lot of action (think treasure hunts and wild chases across the desert), cool offsiders (sexy former Navy SEALs) and a steamy romance (lots of sexy times between a former SEAL and a smart archeologist). This is treasure hunting Navy SEAL style. So if you like it fast, and fun, and sexy, this is for you!

Includes preview of Uncharted, Treasure Hunter Security #2

Q & A with the Author

Q - How would you describe Treasure Hunter Security?
A - Treasure hunting Navy SEAL style! I like to call this my Indiana Jones romance series. All the books star tough, sexy former Navy SEALs who now work for Treasure Hunter Security. Dangerous archeological digs - no problem. Daring expeditions - sure thing. Museum security for invaluable exhibits - easy. Each book has a fast, fun thrill-ride adventure set in some exciting locales.

Q - Why did you want to write the series?
A - I love action, adventure and romance. I have also always been a huge fan of ancient history. In Treasure Hunter Security, I get to combine my passions: action, adventure, sexy romance and some real-life history, myths and legends. I do *a lot* of research for these books. Each story explores some ancient myth or legendary treasure and takes us to something thrilling locations: from the desert sands of Egypt to the dense jungles of Cambodia to the cloud forests of the Andes.

Q - What order should I read the books in?
A - All the Treasure Hunter Security books are stand-alone adventures. However, characters from the early stories do appear in later books, and there is a slight overarching story with the black-market antiquities thieves our heroes face. So I think it adds something to the reading experience to read them in order. Here's the order I suggest:

Treasure Hunter Security
Book 1 - Undiscovered (Declan and Layne's story)
Book 2 - Uncharted (Callum and Dani's story)
Book 3 - Unexplored (Logan and Sydney's story)
Book 4 - Unfathomed (Morgan and Zach's story)
Book 5 - Untraveled (Hale and Elin's story)
Book 6 - Unmapped (Ronin and Peri's story)
Book 7 - Unidentified (novella duo) - coming soon
Book 8 - Undetected (Darcy and Agent Burke's story) - coming soon

The Treasure Hunter Security Action-Adventure Romance Series: Action Adventure Romance, Military Romance, Romantic Suspense, Contemporary Romance
Buchdetails
Aktuelle Ausgabe
Erscheinungsdatum:
22.05.2016
Rezensionen und Bewertungen
Ähnliche Bücher für noch mehr Lesestunden
Gespräche aus der Community zum Buch
Starte mit "Neu" die erste Leserunde, Buchverlosung oder das erste Thema.
Buchdetails
Aktuelle Ausgabe
Erscheinungsdatum:
22.05.2016