Undercover Amish (Covert Police Detectives Unit Series)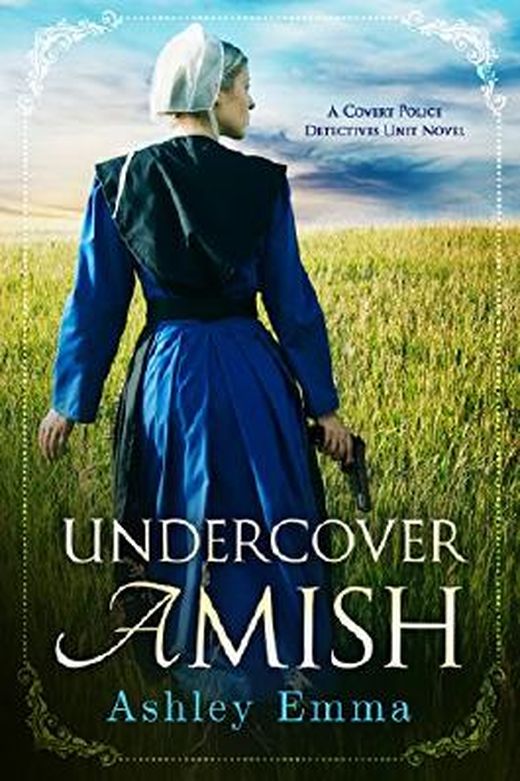 Zu diesem Buch gibt es noch keine Kurzmeinung. Hilf anderen Lesern, in dem du das Buch bewertest und eine Kurzmeinung oder Rezension veröffentlichst.
Auf der Suche nach deinem neuen Lieblingsbuch? Melde dich bei LovelyBooks an, entdecke neuen Lesestoff und aufregende Buchaktionen.
Inhaltsangabe zu "Undercover Amish (Covert Police Detectives Unit Series)"
Undercover Amish was a finalist in Maine Romance Writers Strut Your Stuff Competition 2015 where it received 26 out of 27 points! (These books can be read out of order or as stand-alone novels. The sequel is coming soon!) Detective Olivia Mast would rather run through gunfire than return to her former Amish community in Unity, Maine, where she killed her abusive husband in self-defense. Since the community will not pursue justice or answer questions from the police, Olivia begrudgingly dons her old prayer kapp and covertly investigates a murder there while protecting the man she dated as a teen: Isaac Troyer, a potential target. The handsome and quirky cabinet maker falls in love with her once again, unaware that she carries a 9mm under her skirt. After another murder, some deadly pranks and a kidnapping, Olivia realizes she needs Isaac's help most of all. When Olivia tells Isaac she is a detective, will he be willing to break Amish rules to help her arrest the killer? Olivia values one important rule over all others: never let emotions, especially love, get in the way of the job. But as the body count rises and she starts falling for Isaac again, she might just end up breaking her own rule. Please visit http://www.ashleyemmaauthor.com to download 3 free eBooks from this author! Email Ashley at ashley@ashleyemmaauthor.com. Excerpt A twig snapped in the woods somewhere in the distance, bringing Liv back to the present with a jolt. Olivia whipped around, clamping a hand on the leg holster that was beneath her skirt. "I'm watching you, Olivia." The scratchy, deep masculine voice rode on the breeze from somewhere in the trees that no longer seemed so far from her. Her blood froze, a sick feeling churning in her gut. "You still mourn the ones who died here, don't you? You miss your family." She stood on the other side of her vehicle, using it as protection as she carefully drew her M&P Shield. Her throat closed up. She wanted to shout angry words, accusations and questions, but fear stole her voice. How did he know about the fire? "You never did find the arsonist. That must eat at you." Every day it did, but he didn't have to know that. She clicked the gun's safety off. "Why did you come back here after all these years?" he asked. She definitely couldn't answer that question. She clutched the pistol tighter, searching the darkness for any sign of movement, but it was as if no one was there. As if she was imagining things. "If you go, I won't harm you. You should leave now while you still have the chance." "There's no way I'm leaving," she yelled. "Get in your little beat up car and drive home. Or more accidents will happen." "It's going to take a lot more than a few threats to scare me." She stood up straighter and allowed her voice to carry over the field. "You'll see that I'm not bluffing, dear." Editorial Reviews "Buy this book! It's a five-star read in my opinion. Whether you have ever read Amish detective stories before or not, I know you'll like this one and be totally engaged from start to finish. The characters are well-developed, unique, quirky and three-dimensional. I enjoyed the author giving her readers an inside view of the Amish community, especially during dangerous and unpredictable times. I eagerly await the sequel to this novel!" -Wendy Pearson, moderator of The Write Practice "Undercover Amish is the first Amish novel I've read, and I have to say it was a fascinating and insightful look into a different culture. Ashley Emma clearly did extensive research on the subject and portrayed this group in a compassionate, thoughtful manner. Couple her careful handling of this society with her compelling characters and heart-racing plot, and you've got a real winner!" -Staci Troilo, author of Mind Control, Bleeding Heart and many other titles
Buchdetails
Aktuelle Ausgabe
Erscheinungsdatum:
28.08.2016
Rezensionen und Bewertungen
Ähnliche Bücher für noch mehr Lesestunden
Gespräche aus der Community zum Buch
Starte mit "Neu" die erste Leserunde, Buchverlosung oder das erste Thema.
Buchdetails
Aktuelle Ausgabe
Erscheinungsdatum:
28.08.2016