Destined for a King: The Bastard Brotherhood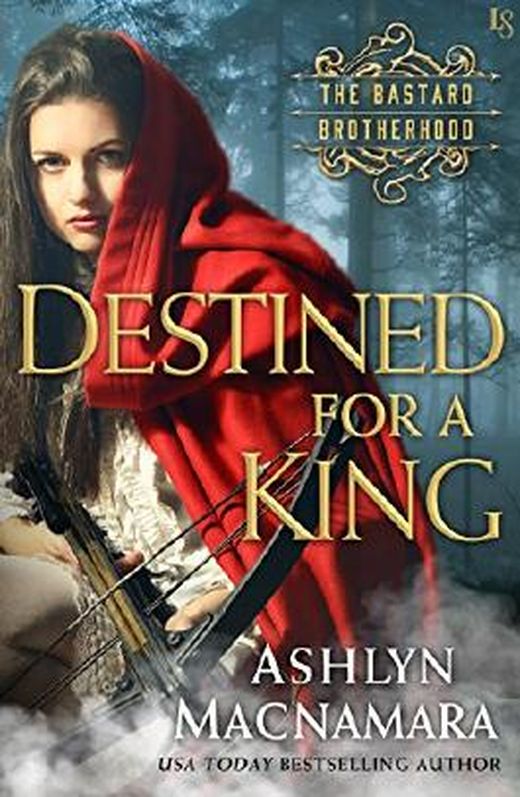 Zu diesem Buch gibt es noch keine Kurzmeinung. Hilf anderen Lesern, indem du das Buch bewertest und eine Kurzmeinung oder Rezension veröffentlichst.
Auf der Suche nach deinem neuen Lieblingsbuch? Melde dich bei LovelyBooks an, entdecke neuen Lesestoff und aufregende Buchaktionen.
Inhaltsangabe zu "Destined for a King: The Bastard Brotherhood"
Bestselling author Ashlyn Macnamara, hailed by Jennifer McQuiston as "a born storyteller," introduces the strapping, audacious outlaws of the Bastard Brotherhood in this enchanting tale of forbidden love between supposedly sworn enemies. Though she is intended for the king, Calista Thorne picks up a crossbow to defend her ancestral home, Blackbriar Keep, from a gang of landless knights. She even manages to sink a poison-tipped arrow into their commander, who survives long enough to conquer the Keep and claim Calista for his own. Now, with her father's life at stake, Calista must nurse the brigand back to health, and the strangest thing happens: She finds herself fascinated by his tautly muscled body, and enthralled by his hotly whispered demands. Ever since his father's death, the fearsome warrior they call Torch has been consumed by his quest for revenge. Taking Blackbriar Keep is the first step in that plan, and—by the three gods—it won't be the last. But after taking one look into Calista's smoldering gray eyes, Torch discovers a passion nobler than retribution. He will fulfill his destiny and take her from the usurper king, even in his weakened state. For with Calista's love, no man has ever felt more powerful. Advance praise for Destined for a King "A sweeping romance infused with Celtic-style earth magic, with a bastard outlaw fighting to regain his throne and a quietly fierce heroine who will lead the way. A promising beginning to an epic tale!"—Jeffe Kennedy, award-winning author of the Mark of the Tala series Praise for the novels of Ashlyn Macnamara "Ashlyn Macnamara's inventive prose has secured her a place on my auto-buy list, and her memorable characters have secured a place in my heart. Don't forget to set your morning alarm, though. You'll be reading long past your bedtime!"—New York Times bestselling author Jennifer McQuiston "Pain, scandal, forgiveness, honor, intrigue, passion, clever banter, romance and love all play a part in this delightful tale, which will keep readers turning the pages."—Romance Junkies, on What a Lady Craves "Intriguing, dramatic, and sexually charged."—Library Journal, on What a Lady Demands "A wonderful tale depicting an intelligent heroine who speaks her mind."—Fresh Fiction, on What a Lady Requires Includes an excerpt from another Loveswept title.
Buchdetails
Aktuelle Ausgabe
Erscheinungsdatum:
06.09.2016
Rezensionen und Bewertungen
Gespräche aus der Community zum Buch
Starte mit "Neu" die erste Leserunde, Buchverlosung oder das erste Thema.
Buchdetails
Aktuelle Ausgabe
Erscheinungsdatum:
06.09.2016