Plant Biology and Biotechnology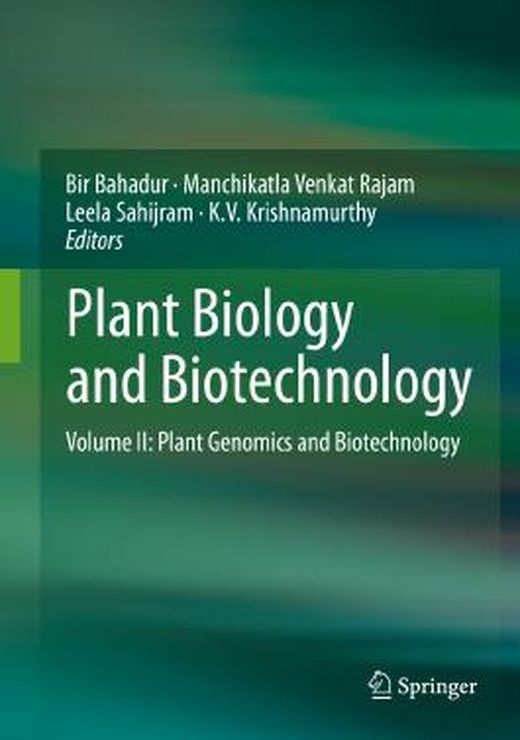 Zu diesem Buch gibt es noch keine Kurzmeinung. Hilf anderen Lesern, indem du das Buch bewertest und eine Kurzmeinung oder Rezension veröffentlichst.
Auf der Suche nach deinem neuen Lieblingsbuch? Melde dich bei LovelyBooks an, entdecke neuen Lesestoff und aufregende Buchaktionen.
Inhaltsangabe zu "Plant Biology and Biotechnology"
Plant genomics and biotechnology have recently made enormous strides, and hold the potential to benefit agriculture, the environment and various other dimensions of the human endeavor. It is no exaggeration to claim that the twenty-first century belongs to biotechnology. Knowledge generation in this field is growing at a frenetic pace, and keeping abreast of the latest advances and calls on us to double our efforts. Volume II of this two-part series addresses cutting-edge aspects of plant genomics and biotechnology. It includes 37 chapters contributed by over 70 researchers, each of which is an expert in his/her own field of research.
Biotechnology has helped to solve many conundrums of plant life that had long remained a mystery to mankind. This volume opens with an exhaustive chapter on the role played by thale cress, Arabidopsis thaliana, which is believed to be the Drosophila of the plant kingdom and an invaluable model plant for understanding basic concepts in plant biology. This is followed by chapters on bioremediation, biofuels and biofertilizers through microalgal manipulation, making it a commercializable prospect; discerning finer details of biotic stress with plant-fungal interactions; and the dynamics of abiotic and biotic stresses, which also figure elsewhere in the book.
Breeding crop plants for desirable traits has long been an endeavor of biotechnologists. The significance of molecular markers, marker assisted selection and techniques are covered in a dedicated chapter, as are comprehensive reviews on plant molecular biology, DNA fingerprinting techniques, genomic structure and functional genomics. A chapter dedicated to organellar genomes provides extensive information on this important aspect.
Elsewhere in the book, the newly emerging area of epigenetics is presented as seen through the lens of biotechnology, showcasing the pivotal role of DNA methylation in effecting permanent and transient changes to the genome. Exclusive chapters deal with bioinformatics and systems biology. Handy tools for practical applications such as somatic embryogenesis and micropropagation are included to provide frontline information to entrepreneurs, as is a chapter on somaclonal variation.
Overcoming barriers to sexual incompatibility has also long been a focus of biotechnology, and is addressed in chapters on wide hybridization and hybrid embryo rescue. Another area of accomplishing triploids through endosperm culture is included as a non-conventional breeding strategy. Secondary metabolite production through tissue cultures, which is of importance to industrial scientists, is also covered.
Worldwide exchange of plant genetic material is currently an essential topic, as is conserving natural resources in situ. Chapters on in vitro conservation of extant, threatened and other valuable germplasms, gene banking and related issues are included, along with an extensive account of the biotechnology of spices – the low-volume, high-value crops.
Metabolic engineering is another emerging field that provides commercial opportunities. As is well known, there is widespread concern over genetically modified crops among the public. GM crops are covered, as are genetic engineering strategies for combating biotic and abiotic stresses where no other solutions are in sight. RNAi- and micro RNA- based strategies for crop improvement have proved to offer novel alternatives to the existing non-conventional techniques, and detailed information on these aspects is also included. The book's last five chapters are devoted to presenting the various aspects of environmental, marine, desert and rural biotechnology.
The state-of-the-art coverage on a wide range of plant genomics and biotechnology topics will be of great interest to post-graduate students and researchers, including the employees of seed and biotechnology companies, and to instructors in the fields of plant genetics, breeding and biotechnology.
Buchdetails
Aktuelle Ausgabe
Erscheinungsdatum:
14.05.2015
Rezensionen und Bewertungen
Gespräche aus der Community zum Buch
Starte mit "Neu" die erste Leserunde, Buchverlosung oder das erste Thema.
Buchdetails
Aktuelle Ausgabe
Erscheinungsdatum:
14.05.2015