Kill Zone: A gripping detective thriller full of suspense (Lucy Guardino 3)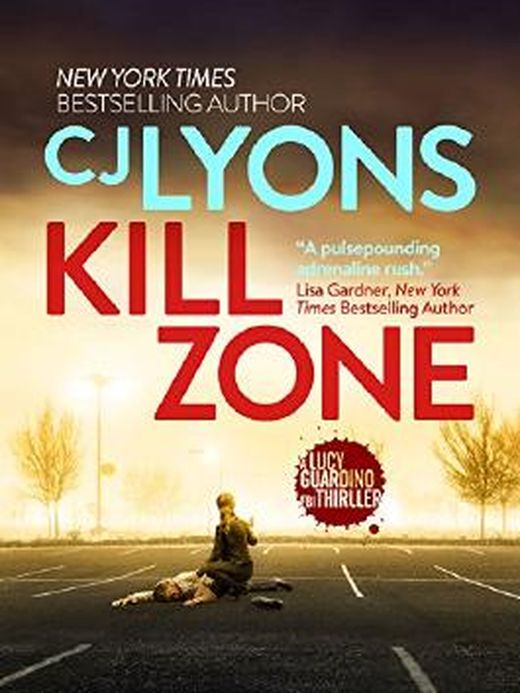 Zu diesem Buch gibt es noch keine Kurzmeinung. Hilf anderen Lesern, in dem du das Buch bewertest und eine Kurzmeinung oder Rezension veröffentlichst.
Auf der Suche nach deinem neuen Lieblingsbuch? Melde dich bei LovelyBooks an, entdecke neuen Lesestoff und aufregende Buchaktionen.
Inhaltsangabe zu "Kill Zone: A gripping detective thriller full of suspense (Lucy Guardino 3)"
The brutal murder of a teenage girl… The violence is the worst Lucy Guardino has ever seen, the stakes are higher than ever… and things get personal. It's a vicious crime: the brutal killing of a teenaged girl. When detectives call FBI Agent Lucy Guardino to the scene, their focus is on who and why? Was it the girl's Afghan father? Her Jewish boyfriend? Someone from Afghanistan settling an old grudge? Or one of the drug cartels the father helped bring down seeking revenge? Meanwhile former Marine Sergeant Andre Stone has been home a month, but has yet to leave the safe haven of his grandmother's house. Andre's disfiguring physical scars are the least of his worries. The emotional wounds of seeing his men massacred in a raid gone wrong have left him numb. All he can think about is revenge on Rashid Raziq, the man behind the raid. When Andre is offered a chance at vengeance, the only question is: How far will he go to get it? As Lucy's hometown is engulfed in flames, a violent narco-terrorist turns the city into a kill zone…In the dark of night Lucy and Andre both learn that secrets hide in shadows. This gripping thriller from CJ Lyons is perfect for readers of Lee Child, Jeffrey Deaver and Lisa Gardner. Filled with heart-stopping suspense, it is a crime thriller that won't let go. Watch out for more Lucy Guardino Lucy Guardino will do whatever it takes to stop violent predators 1. Snake Skin 2. Blood Stained 3. Kill Zone 4. After Shock 5. Hard Fall 6. Bad Break And look out for the new Lucy Guardino series, Beacon Falls, coming this May 1. Last Light (May 2016) 2. Devil Smoke (July 2016) 3. Open Grave (Feb 2017) What people are saying about Kill Zone and CJ Lyons "A pulse-pounding adrenalin rush!" – Lisa Gardner "Highly engaging characters, heart-stopping scenes… one great rollercoaster ride that will not be stopping anytime soon." – Bookreporter.com "Packed with adrenalin." – David Morrell 'A . In true CJ Lyons fashion, this book pulls no punches. It's an in-your-face, no-holds-barred story depicting the cruel world of murder and drugs. As with all of her other books, CJ Lyons never disappoints. She is a brilliant writer and storyteller both, which is not often found in an author.' – BookingIt.net 'CJ Lyons has done it again. This is the latest in the Lucy Guardino mysteries… and I have to say this is the most intense and action packed of all.' – Carol Hoefs, Amazon 'One of the best books I have read in recent years.' – Marilyn Hiliau, Amazon 'Another awesome read, very exciting and full of twists and turns. Keeps you on the edge of your seat from page one!' – Sheila Faulk 'Lyons has a fascinating premise: a city taken over by gangs and dope dealers--and she plays it out beautifully. The characters we're come to be intrigued by in previous work are back, but in unexpected ways. Just when I think I'm sure what one will do, he or she surprises me with a move I didn't see coming. Buy it! You won't be sorry.' – Jerry Harber, Amazon
Buchdetails
Aktuelle Ausgabe
Erscheinungsdatum:
31.03.2016
Rezensionen und Bewertungen
Ähnliche Bücher für noch mehr Lesestunden
Gespräche aus der Community zum Buch
Starte mit "Neu" die erste Leserunde, Buchverlosung oder das erste Thema.
Buchdetails
Aktuelle Ausgabe
Erscheinungsdatum:
31.03.2016