Earth Last Sanctuary (Universe in Flames Book 1)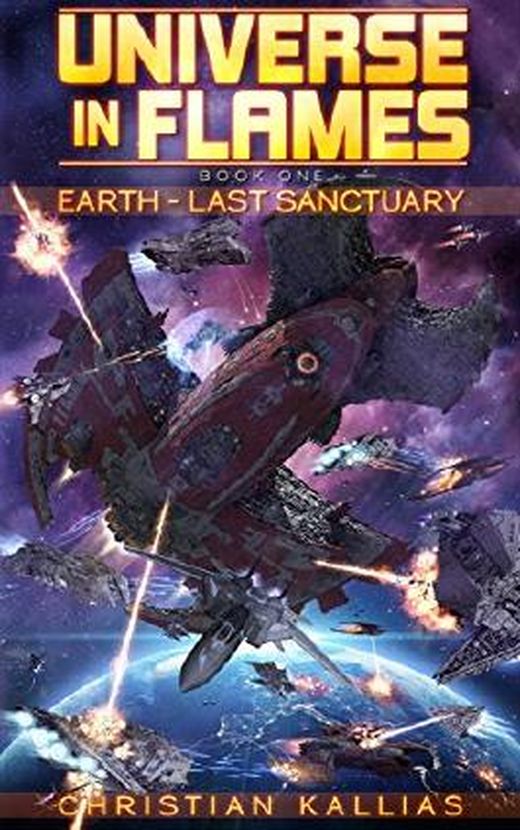 Zu diesem Buch gibt es noch keine Kurzmeinung. Hilf anderen Lesern, in dem du das Buch bewertest und eine Kurzmeinung oder Rezension veröffentlichst.
Auf der Suche nach deinem neuen Lieblingsbuch? Melde dich bei LovelyBooks an, entdecke neuen Lesestoff und aufregende Buchaktionen.
Inhaltsangabe zu "Earth Last Sanctuary (Universe in Flames Book 1)"
5 stars: "I absolutely loved this book! The author has a writing style that kept me hooked from the first word until the last. I loved the story and he did an amazing job telling it. And that ending! I'll only say that I did not see it coming and I can't wait for the next one! Read this book! Kallias does not disappoint." - Van Warren Synopsis: When the evil Obsidian Empire delivers a deathblow against the Star Alliance, fighter pilot Lieutenant Chase Athanatos leads a band of scattered survivors to the farthest reaches of the known universe, to a little planet called Earth. But Earth is in trouble. The Obsidian Empire is hot on their trail, and unless they find a way to stop them, what's left of the Alliance and the entire planet are doomed to extinction. With the help of the beautiful Commander Sarah Kepler and under the guidance of the goddess of love Aphroditis, Chase races against time to find a way to save the planet from total annihilation. Unbeknownst to him, something dormant is coursing through Chase's blood. But does it hold the key to changing their destiny ? --- What to expect: Epic space battles, dogfights, large fleet battles, alien first contact, alien invasion, galactic empires, alien worlds, action, adventure, mythology, supernatural powers, friendship, survival, suspense and romance. --- Author's sources of inspiration: Science fiction in general as well as an inexplicable attraction towards the stars. Scifi and Space Opera books, movies and series like Star Wars, Star Trek, Babylon 5, Stargate, Farscape and many more. --- Reviews of Earth - Last Sanctuary: 4 stars: "Earth Last Sanctuary can pass off as a classic of the space opera genre with battleships wars and military space strategy - not my cup of sci fi tea and still it kept me hooked till the very end....I've actually read the last 10% bit holding my breath and the ending delivered a fine suckerpunch." - Miliana Chipaila 5 stars: "FINALLY... one that wasn't completely predictable.... About time something a bit more refreshing." - Keith Ramsey "Kotawolf" 4 stars: "I think that the author accomplished a great deal of work by establishing a powerful baseline for a great continuation. Will the next book reveal omnia vinxit amor?" -Kindle customer 5 stars: "I really enjoyed the characters and storyline in this fun space opera. I like the way earth is portrayed and the trouble the other humans have with our unsustainable attitudes. Can't wait for the next book." - Ptahnyx 5 stars: "This was a very entertaining read, and my five stars are based on enjoyment. There is plenty of action and space battles, some twists that are a little different than a lot of space opera, and overall I think it's the start of a great new space opera series. I read tons of SF, and while some is too technical and some is too slow, this one seemed to be just right (for my taste). While I generally don't like cliffhanger endings, the book was so good I can hardly wait for the next one." -Kay McNeely "Kaybooks" 5 stars: "I loved it. I want to read the next one . Every one must read it. Read read read it" -Jaime 5 stars: "I enjoyed this story and I'm looking forward to reading more! At the end I did not expect the surprise waiting there. It left me wanting more! I can't wait!!!" -Eltonette 5 stars: "Very exciting. This book was not short of action and was not spoiled by unnecessary descriptions of bedroom activity. A simple love interest fit quite well. The one negative comment I have is that the book was not long enough." -Levi 5 stars: "A great read. And shaping up to be strong series. Maybe a bit weak on the teck side, But the story is gear more towards the people side which pulls the story forwards." -Kindle customer
Buchdetails
Aktuelle Ausgabe
Erscheinungsdatum:
20.06.2015
Rezensionen und Bewertungen
Ähnliche Bücher für noch mehr Lesestunden
Gespräche aus der Community zum Buch
Starte mit "Neu" die erste Leserunde, Buchverlosung oder das erste Thema.
Buchdetails
Aktuelle Ausgabe
Erscheinungsdatum:
20.06.2015