Delphi Complete Works of Edgar Allan Poe (Illustrated)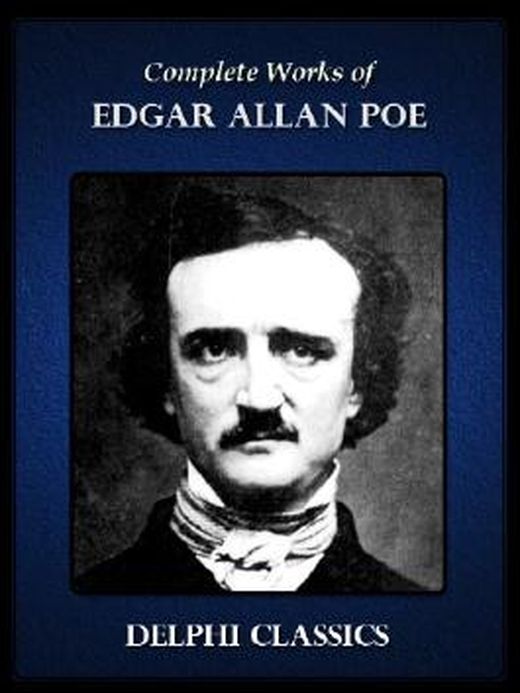 Zu diesem Buch gibt es noch keine Kurzmeinung. Hilf anderen Lesern, in dem du das Buch bewertest und eine Kurzmeinung oder Rezension veröffentlichst.
Auf der Suche nach deinem neuen Lieblingsbuch? Melde dich bei LovelyBooks an, entdecke neuen Lesestoff und aufregende Buchaktionen.
Inhaltsangabe zu "Delphi Complete Works of Edgar Allan Poe (Illustrated)"
Features: * many images relating to Poe, his life and works * annotated introductions to many of the works, giving valuable contextual information * the COMPLETE poetry, with special chronological and alphabetical contents tables – find that special poem quickly! * the COMPLETE tales, with chronological and alphabetical contents tables * brief but informative introductions to poems, tales and other texts * images of how the books first appeared, giving your kindle a taste of the original texts * Poe's rare unfinished play POLITIAN * BOTH of Poe's novels, including the rare unfinished novel THE JOURNAL OF JULIUS RODMAN, with contents tables * many short stories and poems are presented with their original illustrations * INCLUDES the complete letters - spend hours perusing Poe's personal correspondence! * the letters have separate tables to help you find which ever letter you want easily - want to read what Dickens wrote to Poe? Then simply click on Dickens' name! * scholarly ordering of texts into chronological order and literary genres * rare essays * four biographical works exploring Poe's mysterious life, including the infamous memoir by Griswold * criticism section, featuring essays by other famous writers examining Poe's contribution to literature * UPDATED with Poe's contributions to THE CONCHOLOGIST'S FIRST BOOK At last, America's Master Storyteller joins the ranks of Delphi Classics' scholarly collections. This is the COMPLETE WORKS of the great literary giant Edgar Allan Poe. Why buy any other Kindle version, which will have texts missing? This is the only eBook available with every tale - even the very rare ones - poem, essay, letter and much, much more! Now you can truly own Poe's immense and diverse works on your Kindle. The eBook also includes a front no-nonsense table of contents to allow easy navigation around Poe' oeuvre. With this eBook you will need no other text of Edgar Allan Poe - this is the definitive Kindle Edition of the great writer's work. Please note: the eBook may be more expensive than some other Poe collections, but this is only due to Amazon's pricing policy for large files. Because the file contains literally everything Poe wrote that was published, the price is set at this amount. We have made it as low as possible for our readers. We aim to provide the most comprehensive author collections available to Kindle readers. We are dedicated to developing and enhancing our eBooks, which are available as free updates for customers who have already purchased them. Contents: The Poetry THE COMPLETE POEMS IN CHRONOLOGICAL ORDER THE COMPLETE POEMS IN ALPHABETICAL ORDER The Tales THE COMPLETE TALES IN CHRONOLOGICAL ORDER THE COMPLETE TALES IN ALPHABETICAL ORDER The Novels THE NARRATIVE OF ARTHUR GORDON PYM OF NANTUCKET THE JOURNAL OF JULIUS RODMAN The Play POLITIAN The Essays INDEX OF THE COMPLETE ESSAYS The Non-Fiction THE CONCHOLOGIST'S FIRST BOOK THE LITERATI MARGINALIA FIFTY SUGGESTIONS A CHAPTER ON AUTOGRAPHY The Letters INDEX OF CORRESPONDENTS INDEX OF CORRESPONDENTS, LETTERS AND DATES The Criticism EDGAR A. POE by James Russell Lowell. AN EXTRACT FROM 'FIGURES OF SEVERAL CENTURIES' by Arthur Symons AN EXTRACT FROM 'LETTERS TO DEAD AUTHORS' by Andrew Lang THE CENTENARY OF EDGAR ALLAN POE by Edmund Goose FROM POE TO VALÉRY by T.S. Eliot The Biographies THE STORY OF EDGAR ALLAN POE by Sherwin Cody THE DREAMER by Mary Newton Stanard MEMOIR OF THE AUTHOR by Rufus Wilmot Griswold DEATH OF EDGAR A. POE. by N. P. Willis
Buchdetails
Aktuelle Ausgabe
Erscheinungsdatum:
29.04.2011
Rezensionen und Bewertungen
Ähnliche Bücher für noch mehr Lesestunden
Gespräche aus der Community zum Buch
Starte mit "Neu" die erste Leserunde, Buchverlosung oder das erste Thema.
Buchdetails
Aktuelle Ausgabe
Erscheinungsdatum:
29.04.2011