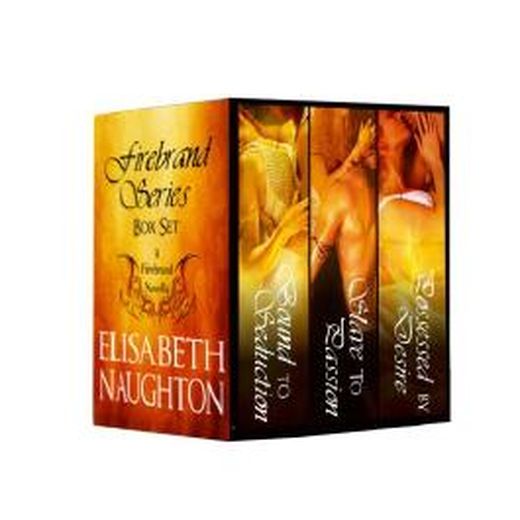 Zu diesem Buch gibt es noch keine Kurzmeinung. Hilf anderen Lesern, in dem du das Buch bewertest und eine Kurzmeinung oder Rezension veröffentlichst.
Auf der Suche nach deinem neuen Lieblingsbuch? Melde dich bei LovelyBooks an, entdecke neuen Lesestoff und aufregende Buchaktionen.
Inhaltsangabe zu "Firebrand Series Box Set"
Three djinn warriors. One power-hungry sorceress. The battle for good and evil has taken a whole new turn... FIREBRAND SERIES BOX SET Includes: BOUND TO SEDUCTION (Book 1) SLAVE TO PASSION (Book 2) POSSESSED BY DESIRE (Book 3) More info: BOUND TO SEDUCTION (Book 1): Careful what you wish for... Sentenced as a pleasure slave, Djinn Prince Tariq of the Marid tribe has but one duty: travel into the human realm and corrupt souls by granting wishes to the women who possess the Firebrand opal, a gemstone of magical power. Ten years of imprisonment have left Tariq bitter, but to save his brothers' lives, he'll submit to his endless personal hell, even if it means giving up his own hope for freedom. When Mira Dawson obtains the Firebrand opal, she's sure the rumors about its magical qualities must be fiction. Until, that is, she touches the stone and a dark and dangerous warrior appears in her living room, offering to pleasure her beyond her wildest dreams. Soon, fantasy becomes a temptation she can't deny. The only question left is...will the pleasure be worth the price? Because as Mira's been warned, nothing...not even fantasies...are free. SLAVE TO PASSION (Book 2): Kill them all... Enslaved by his enemies and forced to fight in the pits of Jahannam for their depraved entertainment, Nasir, the once-proud Marid warrior and djinn prince, has become a killer. One celebrated and feared at the same time. Even he doesn't remember who he used to be, nor does he care, until hope enters his cell in the form of an alluring woman who may be the key to his salvation. This is not my life... Sold into slavery, Kavin must prove her worth. If she can survive one night in the arms of a killer, her life will be one of luxury--albeit as a concubine, forced to serve her lascivious master. Sickened by the thought, she knows it's better than death, and where she once dreamed of freedom, now all she wants is to stay alive. But when the gladiator refuses to touch her, her only hope for survival is seduction. POSSESSED BY DESIRE (Book 3): Even desire comes at a price... Imprisonment has taught Ashur, the youngest djinn prince enslaved by a power-hungry sorceress, one thing: life as a pleasure slave has its rewards...if you play by the rules. He's been tortured. He's nearly died protecting a tribe that's forsaken him. But he's also seen life on the other side as an obedient slave. For a shot at revenge against the brothers who abandoned him, he's willing to serve his master, even if it means using passion to corrupt the souls she needs to fuel her immortality. His first assignment, however, turns out to be more than just a woman in need of a little pleasure. Claire is an angel, and angels have the ability to steal djinn powers. No amount of vengeance--not even a ravenous desire he can't seem to control--is worth the loss of his powers. And there's no way he's tangling with a celestial being. Unless, of course, she tangles with him first... And don't miss Elisabeth Naughton's Bestselling Eternal Guardians Series: MARKED (book 1) ENTWINED (book 2) TEMPTED (book 3) ENRAPTURED (book 4) ENSLAVED (book 5) BOUND (book 6 - Coming soon)
Buchdetails
Aktuelle Ausgabe
Erscheinungsdatum:
05.02.2013
Rezensionen und Bewertungen
Ähnliche Bücher für noch mehr Lesestunden
Gespräche aus der Community zum Buch
Starte mit "Neu" die erste Leserunde, Buchverlosung oder das erste Thema.
Buchdetails
Aktuelle Ausgabe
Erscheinungsdatum:
05.02.2013