Harbinger of Doom ( Epic Fantasy Three Book Bundle)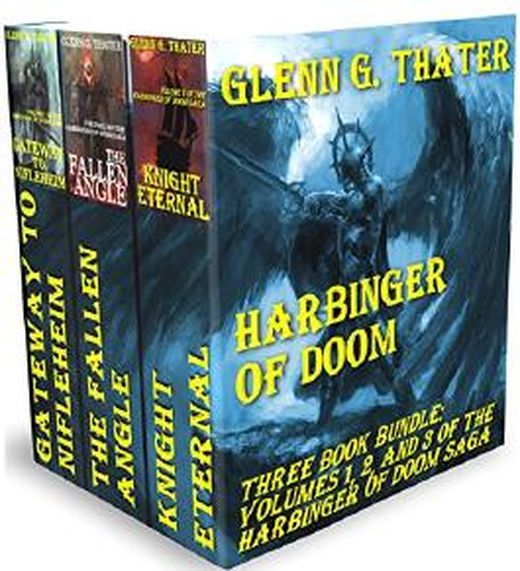 Zu diesem Buch gibt es noch keine Kurzmeinung. Hilf anderen Lesern, in dem du das Buch bewertest und eine Kurzmeinung oder Rezension veröffentlichst.
Auf der Suche nach deinem neuen Lieblingsbuch? Melde dich bei LovelyBooks an, entdecke neuen Lesestoff und aufregende Buchaktionen.
Inhaltsangabe zu "Harbinger of Doom ( Epic Fantasy Three Book Bundle)"
Book 1 of the Harbinger of Doom series is now available in Audiobook format: ASIN: B01KB9UHC0 This three book bundle includes the first three volumes in the acclaimed epic fantasy series, Harbinger of Doom. (The paperback versions total about 680 pages). Mad wizards wrenched open a gateway to hell on Eotrus land. A gateway that's determined to stay open. What is the young knight, Claradon Eotrus, to do when he discovers that the man he recruited to help him close that gateway is either the greatest hero the world has ever known or the devil himself, thrown down from the heavens by the gods in olden days? Is he out to save Midgaard or destroy it? Does he serve the Norse gods: Odin, Thor, and the rest, or did he slay them? And if he's truly the harbinger of doom, how can Claradon stop him? How can he even survive him? Claradon's Midgaard is a world filled of valiant knights, mysterious sorcerers, ruthless bounty hunters, complex political intrigues, monsters of myth and legend: the undead of this variety and that, gods and demons, and otherworldly evils so frightening you dare not read these books before sleep. But most of all, it's filled with stories that you will always remember, and characters that you will never forget. PRAISE FOR GLENN G. THATER'S HARBINGER OF DOOM SAGA "Thater is one of the most talented and exciting authors of our time. He is right up there with Tolkien, maybe even better. His unique writing technique leaves you pondering what is going to happen next and yearning for more." — a Google Play reviewer "…a masterfully crafted epic fantasy about the ages old struggle between good and evil." --- Carol Marrs Phipps, author of Elf Killers "…a must read for all fans of classic sword and sorcery. A blend of Howard, Moorcock, Wagner, with a twist of Lovecraft. Well written and hugely entertaining." --- An Amazon reviewer "For a long time I have searched for a fantasy worthy of Lord of The Rings and I have found it!" --- An Amazon Reviewer "The Harbinger of Doom Series is a masterfully written story with Epic Heroic Battles, Adventure and great characters." --- An Amazon Reviewer "From page to page Thater weaves a tale so thoroughly explicit you feel like you're more than an observer." --- An Amazon Reviewer "Heroes, Wizards, and Demons - oh my!" "A fantastic mix of Norse and Middle eastern mythology held together by an epic tale." "Absolutely the best action medieval books that I have read since the Lord of the Rings series..." "Stylishly written epic fantasy tale with a Norse slant" "The action is fast and furious," "the story sucks you in and doesn't let go." "Pulls no punches in describing the horror of war..." "By far, the best epic fantasy I have read." "One of the best book series ever!!!" "Epic Tolkien-esque fantasy" "Masterful storytelling." "Fantastic," "Enthralling," "Brilliant" "One of those gems" "Am astounded that such a good book is free!" BOOKS BY GLENN G. THATER THE HARBINGER OF DOOM SAGA VOLUME 1: GATEWAY TO NIFLEHEIM VOLUME 2: THE FALLEN ANGLE VOLUME 3: KNIGHT ETERNAL VOLUME 4: DWELLERS OF THE DEEP VOLUME 5: BLOOD, FIRE, AND THORN VOLUME 6: GODS OF THE SWORD VOLUME 7: THE SHAMBLING DEAD VOLUME 8: MASTER OF THE DEAD VOLUME 9: SHADOW OF DOOM VOLUME 10: WIZARD'S TOLL VOLUME 11+ (forthcoming) HARBINGER OF DOOM (Combines Gateway to Nifleheim and The Fallen Angle into a single volume) THE HERO AND THE FIEND (A novelette set in the Harbinger of Doom universe) THE DEMON KING OF BERGHER (A short story set in the Harbinger of Doom universe) THE KEBLEAR HORROR (A short story set in the Harbinger of Doom universe) keywords: fantasy bundle, demons, dragons, elf, god, vampire, wizard, horror, mystery, thriller, coming of age, visionary, arthurian, greek, viking, magic, armor, legends, collections, bundle, boxed set, sagas, juvenile fiction norse, swords & sorcery, dark fantasy, chronicles, books, series, epic, book,
Buchdetails
Aktuelle Ausgabe
Erscheinungsdatum:
22.01.2014
Rezensionen und Bewertungen
Ähnliche Bücher für noch mehr Lesestunden
Gespräche aus der Community zum Buch
Starte mit "Neu" die erste Leserunde, Buchverlosung oder das erste Thema.
Buchdetails
Aktuelle Ausgabe
Erscheinungsdatum:
22.01.2014