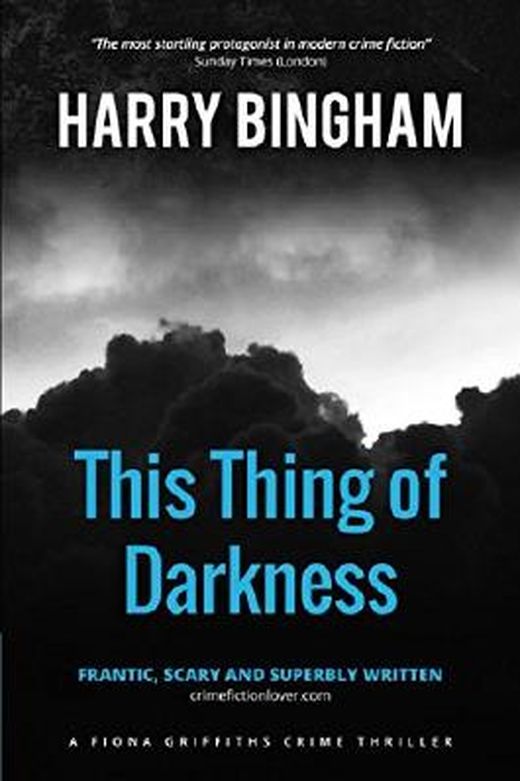 Zu diesem Buch gibt es noch keine Kurzmeinung. Hilf anderen Lesern, indem du das Buch bewertest und eine Kurzmeinung oder Rezension veröffentlichst.
Auf der Suche nach deinem neuen Lieblingsbuch? Melde dich bei LovelyBooks an, entdecke neuen Lesestoff und aufregende Buchaktionen.
Inhaltsangabe zu "This Thing of Darkness"
A hanged man, a stolen painting, an impossible crime
A marine engineer is found hanged in a locked apartment. Some artwork is stolen, then mysteriously returned. A security guard is found dead at the base of a Welsh cliff. When Fiona Griffiths is tasked to look through a stackload of cold cases, her bosses don't expect her to find anything of interest. But then she finds that an impossible robbery really happened. That a nailed-on suicide was anything but. That the dead security guard was almost certainly murdered. Before long, Fiona is embroiled in what will become the toughest case of her career so far - one that forces her to enter the heart of darkness, and a journey that will test her mental toughness to its very limits. This international smash hit murder mystery series is ideal for fans of Stieg Larsson, Gillian Flynn, Tana French ... and for anyone at all who loves their crime noir and their female protagonists strong, brave and smart.

Watch out for more titles in the Fiona Griffiths mystery series
When Fiona is called out to attend an incident in a remote country churchyard, she finds the corpse of a young woman, reverentially laid out in a howling October night. She suspects murder . . . but the truth turns out to be far worse. THE DEAD HOUSE. July 2016. Don't miss it!

What people are saying about British detective Fiona Griffiths and her crime thriller series
"Exceptional . . . Absorbing . . . Fiona's narrative sears the pages."—Kirkus Reviews "The most gripping crime novel I have read, maybe ever. DON'T read The Strange Death if you have a weak heart, unless you are bent on suicide by thriller."—Peter J Earle "Gritty, compelling . . . a [police] procedural unlike any other you are likely to read this year."—USA Today "With Detective Constable Fiona 'Fi' Griffiths, Harry Bingham . . . finds a sweet spot in crime fiction . . . think Stieg Larsson's Lisbeth Salander . . . Denise Mina's 'Paddy' Meehan [or] Lee Child's Jack Reacher . . . The writing is terrific."—Boston Globe "Fiona Griffiths may be the most fascinating protagonist in fiction. She is similar to Lisbeth Salander, an intelligent but profoundly damaged young woman, but Fiona is less hostile and more curious, sort of a good guy sociopath. I couldn't put it down. This is definitely one of my very favorite thriller series. I love this character and I hope I have the chance to read many more. Harry Bingham is a genius and one hell of a writer."—Audrey, Top 500 Reviewer "A stunner with precision plotting, an unusual setting, and a deeply complex protagonist . . . We have the welcome promise of more books to come."—The Seattle Times "A dark delight, and I look forward to Fiona's future struggles with criminals, her demons and the mysteries of her past."—Washington Post "The easiest five stars I've ever awarded a book. Fiona Griffiths is by far the most original fictional detective I've come across . . . [the book] made me feel breathless with worry, concern and eventually fear for Fiona."—Loretta Milan "An even more intense plot and richer character study than his first . . . Fiona's past mental problems and her unconventional personality make her a distinctive lead."—Publishers Weekly, (starred review) "Some of the most memorably staccato narration in the genre . . . [Bingham's] remote, unquenchable heroine makes her stand apart from every one of her procedural brothers and sisters."—Kirkus Reviews "Compelling . . . a new crime talent to treasure."—Daily Mail (London)
Buchdetails
Aktuelle Ausgabe
Ausgabe:
Flexibler Einband
Verlag:
CreateSpace Independent Publishing Platform
Erscheinungsdatum:
30.07.2015
Rezensionen und Bewertungen
Ähnliche Bücher für noch mehr Lesestunden
Gespräche aus der Community zum Buch
Starte mit "Neu" die erste Leserunde, Buchverlosung oder das erste Thema.
Buchdetails
Aktuelle Ausgabe
Ausgabe:
Flexibler Einband
Verlag:
CreateSpace Independent Publishing Platform
Erscheinungsdatum:
30.07.2015