Return to the Little French Guesthouse (La Cour des Roses) (Volume 2)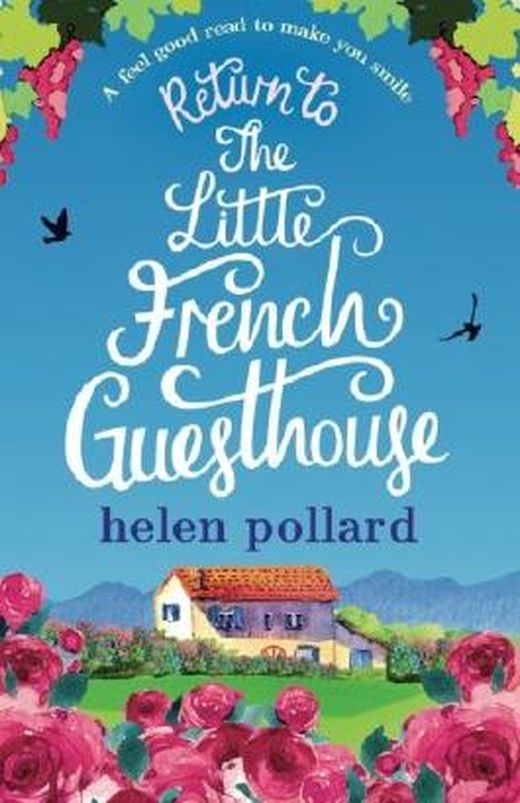 Zu diesem Buch gibt es noch keine Kurzmeinung. Hilf anderen Lesern, in dem du das Buch bewertest und eine Kurzmeinung oder Rezension veröffentlichst.
Auf der Suche nach deinem neuen Lieblingsbuch? Melde dich bei LovelyBooks an, entdecke neuen Lesestoff und aufregende Buchaktionen.
Inhaltsangabe zu "Return to the Little French Guesthouse (La Cour des Roses) (Volume 2)"
Blue skies, new love, and a glass of Bordeaux . . . what could possibly go wrong? When Emmy Jamieson leaves her life behind and moves to La Cour des Roses, a gorgeous guesthouse amidst vineyards in France, everything is resting on her success as the new guesthouse manager. Looming in the calendar is the biggest booking ever, when the entire eccentric, demanding Thomson family will descend for a golden wedding anniversary. With airbeds on the floor and caravans in the garden, La Cour des Roses will be bursting at the seams. Emmy knows she's up to the challenge, especially with the support of the gorgeous Alain, the half-French, half-English, caramel-eyed accountant. But she hadn't counted on a naked, sleepwalking travel blogger, or the return of owner Rupert's venomous ex-wife Gloria. Gloria has a few things to say about Emmy's new role, Rupert's finances, and the unsuspecting Alain, which send everybody reeling. Just when Emmy can see a future for herself of endless sunshine, true love and laughter, are her dreams about to be ripped at the seams? Fans of Jenny Colgan, Lucy Diamond and Nick Alexander will want to join Emmy for a glass of wine as the sun sets on the terrace at La Cour des Roses. What readers are saying about The Little French Guesthouse: 'I loved every single page of this book and didn't want the story to end. It had me hooked from start to finish, had me giggling on the bus (rather embarrassing). It is one of those warm, cosy books that needs coffee and croissants.' The Reading Shed 'Like sunshine on a cloudy day this is a book to warm your heart. I loved it.' Shellyback Books 'Utterly delicious, I loved escaping into this delightful French community … definitely a feel good book that had me with a smile on my face and laughing out loud … You've just got to love Rupert ... With the sexy gardener providing a great distraction from Nathan's desertion, new friends and new possibilities this is a real page turner that I thoroughly enjoyed … a truly wonderfully crafted novel that I highly recommend for its amazing characters, plot and storytelling that make it a brilliant story to escape into. I can't wait for the next book in the series to be available, I definitely want to read it, please!' Splashes into Books 'From the very beginning to the very end, I absolutely adored this book … If I ever found myself in a jam I would want a Rupert in my life for sure (even with his persistence and tendency to butt-in)! The emotional journey that ended up being The Little French Guesthouse is sometimes sad, sometimes infuriating and sometimes hilarious … and abso-freaking-lutely worthy of a comfy chair, a cozy blanket and a nice cuppa.' Well Read Pirate Queen 'Could not put down this fabulous book, peppered with humour and characters you can relate to. A wonderful, laugh out loud summer read. One to share with friends and recommend to strangers.' Renita D'Silva 'La Cour des Roses is the name of the guesthouse that is central to the story and with its warmth of character, picturesque gardens and eccentric owner, its a place I would love to spend more time … I am already looking forward to book two.' Rachel's Random Reads 'What a lovely gem of a book … I picked this book up during a particularly intense period at work and it was the perfect book – gentle and warm with some lovely characters and a good bit of eye candy … perfect for a pick-me-up/ summer read where you just want to lose yourself in the story.' The Met Line Reader
Buchdetails
Aktuelle Ausgabe
Ausgabe:
Flexibler Einband
Erscheinungsdatum:
26.08.2016
Rezensionen und Bewertungen
Ähnliche Bücher für noch mehr Lesestunden
Gespräche aus der Community zum Buch
Starte mit "Neu" die erste Leserunde, Buchverlosung oder das erste Thema.
Buchdetails
Aktuelle Ausgabe
Ausgabe:
Flexibler Einband
Erscheinungsdatum:
26.08.2016