Summer at the Little French Guesthouse: A feel good novel to read in the sun (La Cour des Roses Book 3)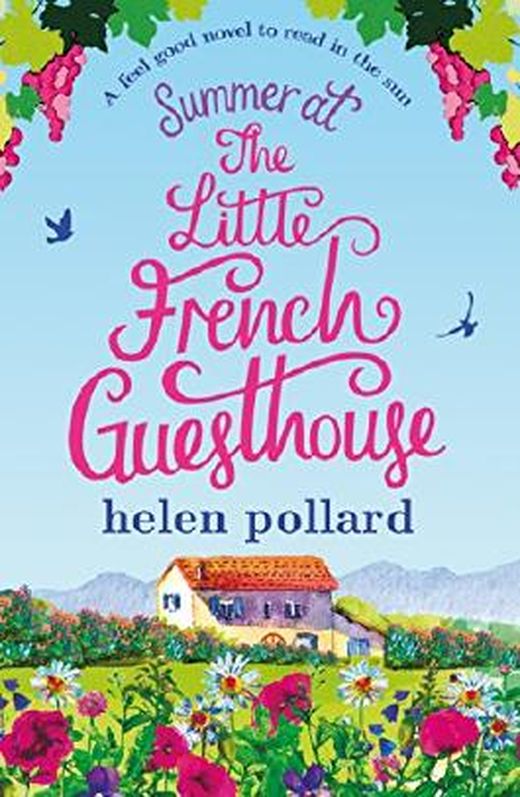 Zu diesem Buch gibt es noch keine Kurzmeinung. Hilf anderen Lesern, in dem du das Buch bewertest und eine Kurzmeinung oder Rezension veröffentlichst.
Auf der Suche nach deinem neuen Lieblingsbuch? Melde dich bei LovelyBooks an, entdecke neuen Lesestoff und aufregende Buchaktionen.
Inhaltsangabe zu "Summer at the Little French Guesthouse: A feel good novel to read in the sun (La Cour des Roses Book 3)"
Summer sun, chilled, white wine, and a gorgeous fiancé. Nothing could upset pure bliss ... Right? Emmy Jamieson loves her new life in the gentle hills and sunflowers of the lush French countryside, managing La Cour des Roses, a beautiful, white stone guesthouse. With marriage to caramel-eyed Alain just round the corner, things couldn't be more perfect. The odd glass (gallon) of wine dulls the sound of Emmy's mum in full motherzilla-of-the-bride mode, and the faint tinkling of alarm bells coming from Alain's ex are definitely nothing to worry about. Guesthouse owner Rupert and a whole host of old and new friends are there to make sure nothing gets in the way of Emmy's happiness. But as Emmy gets close to the big day, a secret from the past throws everything decidedly off track. Will her idyllic French wedding go ahead as planned, or will Emmy run back home to England with a broken heart? This summer, escape to the rolling vineyards of France for an utterly uplifting read. Fans of Jenny Colgan, Debbie Johnson and Nick Alexander will want to join Emmy for a pain au chocolat in the sun-drenched garden at La Cour des Roses. What everyone's saying about La Cour des Roses: 'I couldn't stop reading.' Shelf Quest 'From the very beginning to the very end, I absolutely adored this book … If I ever found myself in a jam I would want a Rupert in my life for sure ... The emotional journey that ended up being The Little French Guesthouse is sometimes sad, sometimes infuriating and sometimes hilarious … and abso-freaking-lutely worthy of a comfy chair, a cozy blanket and a nice cuppa.' Well Read Pirate Queen 'It's official....Helen Pollard can do NO wrong. I read her book The Little French Guesthouse and fell in love. I fell in love with France, with the Guesthouse and with all of the characters … with this next book I have fallen in love all over again … This really is a wonderfully feel good read, and I absolutely cannot wait to return to the village and read more about everybody.' Best Crime Books and More 'Brilliant … I chuckled often and there were even a couple of belly laughs. Anyone watching must have thought I was mad! … one night, being unable to sleep, I decided to read just a few more pages and ended up reading until 3 am! … Now that is what I call a good book.' Janni B's Book Reviews 'Fabulous! I fell deeply in love with La Cours des Roses … I started reading it in a hospital waiting room, waiting for a blood test. I think the other patients thought I'd lost the plot, I was giggling so much! It is a warm, happy and funny book … Loved this one!!' Annie's Book Corner 'Another little slice of French heaven. Perfect reading for a summers day.' Book Addict Rambles 'I've absolutely fallen in love … I felt myself longing for a Rupert of my own in times of crisis … I'll also take some friends like Sophie and Ellie … What I really want, though, is at least one more book with all of them.' Well Read Pirate Queen 'Transports you to a world that you don't want to leave.' Rachel's Random Reads
Buchdetails
Aktuelle Ausgabe
Erscheinungsdatum:
12.07.2017
Rezensionen und Bewertungen

Gespräche aus der Community zum Buch
Starte mit "Neu" die erste Leserunde, Buchverlosung oder das erste Thema.
Buchdetails
Aktuelle Ausgabe
Erscheinungsdatum:
12.07.2017