I spy, I Saw Her Die (BOOK TWO): a gripping, page-turning cyber crime murder mystery conspiracy thriller.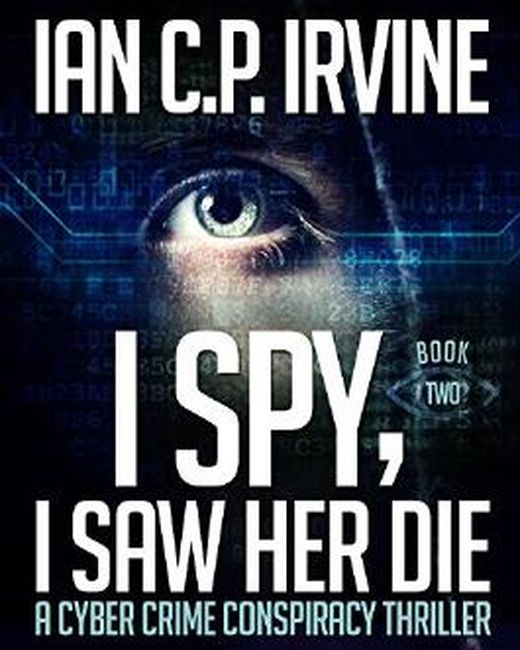 Zu diesem Buch gibt es noch keine Kurzmeinung. Hilf anderen Lesern, in dem du das Buch bewertest und eine Kurzmeinung oder Rezension veröffentlichst.
Auf der Suche nach deinem neuen Lieblingsbuch? Melde dich bei LovelyBooks an, entdecke neuen Lesestoff und aufregende Buchaktionen.
Inhaltsangabe zu "I spy, I Saw Her Die (BOOK TWO): a gripping, page-turning cyber crime murder mystery conspiracy thriller."
In a race against time, it's Ray Luck against the world! When Ray Luck - a top cyber security expert - accidentally stumbles upon a devastating secret while surfing the web, he knows immediately he is in way above his head and soon he is being hunted by both Mossad and the British Security Services. Alone, desperate, with only three days to live, Ray is a man with not one, but several missions: to save the life of his girlfriend who has been kidnapped by the security services; to prevent a terrorist cyber attack destroying London; to save the Middle East peace process; and to bring one of the most powerful men in the world to justice for the savage killing of an apparently innocent woman, a murder certain powerful people in the British Government are determined to cover up at all costs. Only Ray can stop them all. But as the clock starts to tick, he discovers that nothing is as it seems. Who is the real enemy? And who can he trust? Unless he finds out soon, will Ray's luck finally run out? Find out for yourself! Written by a cyber security expert, this thriller will make you think twice about our modern world and using the internet. By the time you've finished the book, whenever you next watch television, you'll wonder just who is watching you! It's called 'tele-vision'. Now you'll understand why! Murder, mystery, cyber crime, espionage, conspiracy, a terrorist plot, romance, page-turning, nail-biting adventure... this book has got it all. Be one of the first to read it! This is a must read! You will never view the internet in the same light again !! This book has it all, murder , mystery, intrigue. I couldn't put it down. As always this author amazes me with his knowledge and with his very fertile imagination.....or is it !!!!!" Amazon Reader (UK) Yet another cracking read from Ian C.P. Irvine! I read it in one sitting!" Amazon Review (UK) Breathtaking! A thriller. in every sense!" Amazon Review (UK) What a book ! And so many twists and turns ...sometimes when books are written up they sound wonderful and are often disappointing but not this book .... Was sad to finish it ...but at least that let me get on with life as I let this book consume my life !!!!" Amazon Review (UK) Compelling and Highly Recommended! This is a captivating and exciting story from Ian Irvine's amazingly fertile mind, which captivates the reader from beginning to end. Irvine aims not only to entertain but also inform and provides explanations for the technology used in his story, without it becoming boring, which help to convince the reader that this is not pure imagination but a real possibility. If you don't already turn off the stand-by lights on your TV et cetera to save electricity, you probably will after this in an effort to retain your privacy! Amazon Review (UK) Yet another superb offering of conspiracy, crime, murder and a love story from Ian... I have been a follower of this wonderful author for some time now and he never fails to bring a new meaning to crime thrillers.... I'm so glad I pre ordered this gripping book. Please, please do not hesitate to get this A.S.A.P! I can promise you will not regret it for an instant. Amazon Review (UK) Please note: This is BOOK TWO of a Two Part Series. Book One is currently free on most ebook retailer sites, soon please download and read Book One first, for free. Alternatively, readers are always recommended to purchase the full omnibus edition containing both Book One and Book Two. Readers may now borrow Book One and/or Book Two free with Amazon Prime membership.
Buchdetails
Aktuelle Ausgabe
Verlag:
Top Ten Mystery Detective Thriller Press
Erscheinungsdatum:
25.06.2016
Rezensionen und Bewertungen
Ähnliche Bücher für noch mehr Lesestunden
Gespräche aus der Community zum Buch
Starte mit "Neu" die erste Leserunde, Buchverlosung oder das erste Thema.
Buchdetails
Aktuelle Ausgabe
Verlag:
Top Ten Mystery Detective Thriller Press
Erscheinungsdatum:
25.06.2016