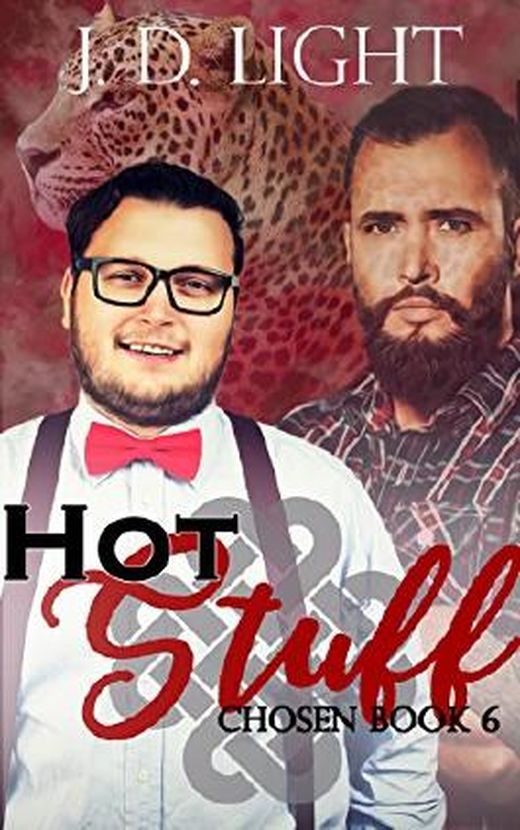 Zu diesem Buch gibt es noch keine Kurzmeinung. Hilf anderen Lesern, in dem du das Buch bewertest und eine Kurzmeinung oder Rezension veröffentlichst.
Auf der Suche nach deinem neuen Lieblingsbuch? Melde dich bei LovelyBooks an, entdecke neuen Lesestoff und aufregende Buchaktionen.
Inhaltsangabe zu "Hot Stuff: Chosen Book 6"
Davis Sanders

I'm a bit on the chubby side, and I tend to somehow walk around with at least one foot hanging out of my mouth at all times. It's amazing how spectacularly I can vomit out a run-on sentence with every phrase being more offensive than the last. When my father sends me to Purdy, Nebraska to talk my favorite author into signing on with his publishing company, I know he doesn't know what kind of author the man is, and that the whole venture is a lost cause. One, an author of gay romance wouldn't touch Sanders' Publishing with their worst enemies…pen. And two, has there actually ever been someone with less social skills than me? But he's the overly controlling parent that I can't seem to get out from under the thumb of. And I'd really like to meet one of my favorite authors in person. And then I do. And he's truly the most gorgeous, delicious man I've ever met in my life, and me fantasizing about all the things I want to do to him is pointless. Right? Except, all the things he writes about in his books are real, and my birthmark makes me something I've never been in my entire life. Important.

Ward Butler

I'm a quiet man, usually. Not because I'm shy, or even antisocial, but because I like to sit back and watch. I'm an observer. And sometimes, I'm lonely. I was starting to worry that our leap was going to meet its quota of soulmates before I found mine. I mean can we even fit any more gay men into our micro-town? I feel like there is a law somewhere about it. When the old, bigoted geezer from Sanders' Publishing shows up at my not-job to offer a contract I've turned down multiple times already, I'm ready to throw him out on his wrinkly rear-end. Only, the delicious little chubby I find waiting for me is definitely NOT Alder Sanders. But he IS my mate, and he's flipping perfect. His body was made for tying to the bed and devouring. If we can somehow make it past Alder Sanders, my mate's insecurities and the creepy cult's terrifying new chemical weapon, maybe it will actually work out. One could hope, right? Because I'd really like to get Davis back to my room and do ALL the hot stuff.

Warning: Mpreg elements!

Also, my books have little to no angst, and lots and lots of fluff! They are better read in order, because I kind of write them like a continuation of a story, and I don't like to repeat explanations over and over if I can help it. No cheating, because that makes my heart hurt. And definitely a HEA! I write 'em short and sweet, because I like to read 'em short and sweet. Sorry, I just don't want anyone being disappointed if they like the angst filled heart-rippers that are chapter after chapter of emotional upheaval. (I read those too, but I have to be mentally prepared, and have a few days to put aside for recovery!) "These read more like a romantic comedy than a romantic drama.

Enjoy!! ::blowing you kisses::
Buchdetails
Aktuelle Ausgabe
Erscheinungsdatum:
17.07.2018
Rezensionen und Bewertungen
Ähnliche Bücher für noch mehr Lesestunden
Gespräche aus der Community zum Buch
Starte mit "Neu" die erste Leserunde, Buchverlosung oder das erste Thema.
Buchdetails
Aktuelle Ausgabe
Erscheinungsdatum:
17.07.2018