Richypoo, That's Not a Bong: Chosen Book 13 (English Edition)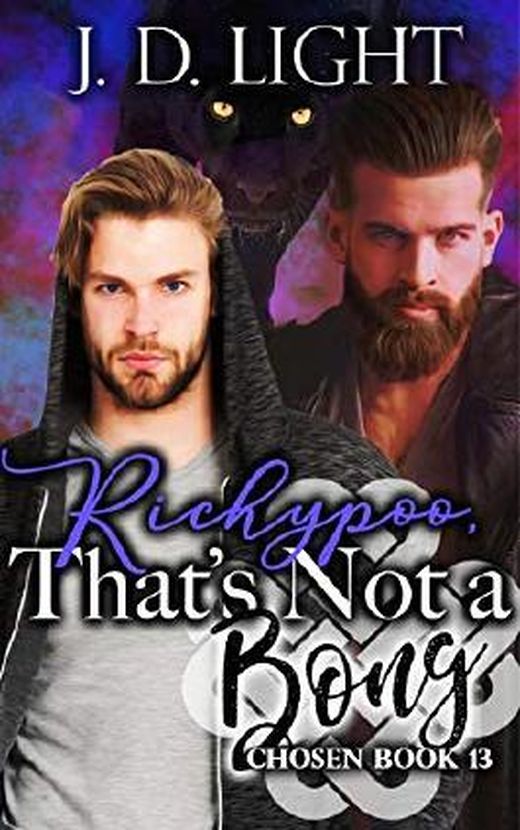 Zu diesem Buch gibt es noch keine Kurzmeinung. Hilf anderen Lesern, indem du das Buch bewertest und eine Kurzmeinung oder Rezension veröffentlichst.
Auf der Suche nach deinem neuen Lieblingsbuch? Melde dich bei LovelyBooks an, entdecke neuen Lesestoff und aufregende Buchaktionen.
Inhaltsangabe zu "Richypoo, That's Not a Bong: Chosen Book 13 (English Edition)"
Richmond Pratt

I like being a PI, but I don't love it. I like my life in Tennessee, but I don't love it. I like the apartment I live in but I don't love it. Basically my life is full of stuff that I can live with or without. With the exception of my mom and my sister, but they have their own lives. When a case takes me to Purdy, Nebraska, I learn about shifters and I meet a man I can't get out of my head. But I'm straight. At least, I think I am. I've never really been too passionate about anyone or anything. Being around Payne and the leap of shifters opens my eyes to the fact that I haven't really been living a life so much as just keeping my heart beating from day to day. Moving to Purdy and starting a new life that involves people and things I actually enjoy being around is my new life goal. But that means moving. Is it a good thing or an absolute disaster that Payne volunteers to tag along and help out?

Payne Brooks

I'm good with disaster. It's familiar. I've watched everyone, including my best friend and partner in distraction find their mate, and though I have no idea what to do with one myself, I would love to have the kind of connection I've watched bloom around me. Finding my mate in the human man who brought it upon himself to come all the way here from another state to stop a hitman from killing my friend's mate would be absolutely amazing…if the man wasn't straight. How do I convince a man who's never been with another man take a chance on a relationship with me, when I'm not even sure I know how to be in one to begin with. But I have to try. Moving him from Tennessee to Nebraska seems like an easy task and maybe a way to win my mate over. Too bad his strange neighbor has other plans for my mate. Now I have to protect him from a tiger shifter who is looking to take over the alpha position by bringing home a chosen like a trophy, while moving him across country and convincing him I'm worth flipping his world upside down for. Should be easy, right?

Warning: Mpreg elements!

Also, my books have little to no angst, and lots and lots of fluff! They are better read in order, because I kind of write them like a continuation of a story, and I don't like to repeat explanations over and over if I can help it. No cheating, because that makes my heart hurt, and I try to avoid things that make me sad like I SHOULD be avoiding carbs. Sorry, I just don't want anyone being disappointed if they like the angst filled heart-rippers. These read more like a romantic comedy than a romantic drama.

Enjoy!! ::blowing you kisses::
Buchdetails
Aktuelle Ausgabe
Erscheinungsdatum:
30.10.2018
Rezensionen und Bewertungen
Gespräche aus der Community zum Buch
Starte mit "Neu" die erste Leserunde, Buchverlosung oder das erste Thema.
Buchdetails
Aktuelle Ausgabe
Erscheinungsdatum:
30.10.2018