Illumen's Children: A Fantastic Adventure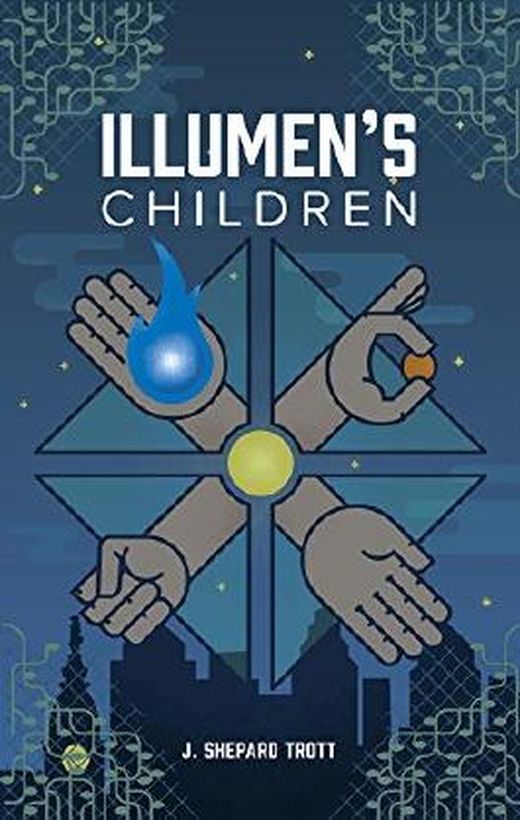 Zu diesem Buch gibt es noch keine Kurzmeinung. Hilf anderen Lesern, indem du das Buch bewertest und eine Kurzmeinung oder Rezension veröffentlichst.
Auf der Suche nach deinem neuen Lieblingsbuch? Melde dich bei LovelyBooks an, entdecke neuen Lesestoff und aufregende Buchaktionen.
Inhaltsangabe zu "Illumen's Children: A Fantastic Adventure"
When Hands, the neighborhood thief, tells Jalil and Burt about a plot against their king, they have a hard time believing him. They dislike Hands. He's nasty and selfish, but their concern for their leader forces them to listen. Lowly Subagorans, they are not allowed near the king. Then, their knowledge makes them targets of the assassins, the same Fels who guard the king. The Fels capture them, and stow them in the deepest dungeon with the murderers and monsters. Meanwhile their friend Shyheem discovers that he can channel the power of the god Illumen through his hands. He goes on a quest to North Temple, seeking skill and knowledge. The other students at North Temple dislike him, and he feels, for the first time, his inadequacy as an Illumenist. Through an epic adventure the boys make friends with monsters, and become enemies with those they once trusted. They gain skill, and ultimately play pivotal roles in an epic confrontation. The novel is a blend of traditional epic fantasy with a myriad of exotic characters and subplots, and modern urban fantasy. Drawing on story telling traditions as diverse as "Princess Mononoke" and "Boyz in da Hood", this book will surprise and satisfy. What follows is an excerpt where Hands, Jalil, and Burt are in prison: The man stood up and grabbed the Sub, shoving him up against the wall, his hard soldier hands clenched around the Sub's throat. It hurt badly and Hands could not breathe. "Tell me what else he said." Hands' mind worked through the possibilities. If he pretended the man had told him something he hadn't, the sergeant would find out, and that would just get Hands killed faster. At the same time, it didn't seem like he had any other option. But Hands got a glimmer of hope then, even though he couldn't breathe, pinned up against the wall. His hand, clutching frantically at the uniform of the Fel, found a clasp on his belt. While he choked, he tried to smile. The Fel Sergeant didn't like the smile, and he squeezed harder. He was so intent on squeezing the smile out of Hands that he didn't feel the fingers twisting the clasp back and forth, back and forth until it broke. He didn't hear the little tinkle it made when it hit the floor. After that Hands stopped smiling. The Fel let up and said, "Did any of you tell anyone else?" Hands said, "Yeah, we told half the boys in the Sub." The Fel laughed. "Nice try, Sub. We may kill you, if you can't remember more about that graz and his friends." He dropped Hands and exited the cell. A few minutes later the guards threw Burt and Jalil back through the door. The boys looked scared before the door shut them back into blackness. Hands said, "Told you we're not getting out alive." Burt said, "If you just ran by us, we would still be back home." Hands said, "Stop being a lulu." He crawled toward the door. He felt against the wall until he found the clasp that he had torn from the belt of the Fel sergeant. He inserted it into the lock, feeling the tumblers for weight with the tip of it. Burt and Jalil heard the sound of metal ticking. Burt said, "Even if you open that, which I doubt, where do we go from there? There are like ten soldiers at the room after the stairs. Not to mention that growling thing." Jalil said, "Don't get us into more trouble." Hands said, "You idiots. We're in so much trouble they will kill us once they figure out we don't know anything else."
Buchdetails
Aktuelle Ausgabe
Erscheinungsdatum:
08.01.2014
Rezensionen und Bewertungen
Ähnliche Bücher für noch mehr Lesestunden
Gespräche aus der Community zum Buch
Starte mit "Neu" die erste Leserunde, Buchverlosung oder das erste Thema.
Buchdetails
Aktuelle Ausgabe
Erscheinungsdatum:
08.01.2014