New Orleans Mourning: #1, Skip Langdon Mystery Series (The Skip Langdon Series)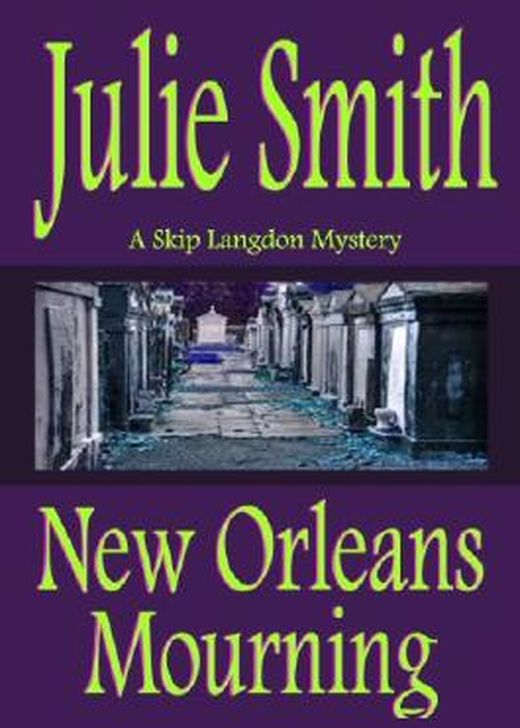 Zu diesem Buch gibt es noch keine Kurzmeinung. Hilf anderen Lesern, in dem du das Buch bewertest und eine Kurzmeinung oder Rezension veröffentlichst.
Auf der Suche nach deinem neuen Lieblingsbuch? Melde dich bei LovelyBooks an, entdecke neuen Lesestoff und aufregende Buchaktionen.
Inhaltsangabe zu "New Orleans Mourning: #1, Skip Langdon Mystery Series (The Skip Langdon Series)"
Winner of the 1991 Edgar Allan Poe Award for best novel and the FIRST mystery in the highly acclaimed Skip Langdon series, New Orleans Mourning falls deliciously between the psychological suspense of Laura Lippman and the delicate drama of Tennesse Williams. "Murder at the Mardi Gras and the flavor of New Orleans ... Old secrets are highlighted in this wonderful story that is as filled with topical information as it is with a great story about murder and history. Smith writes with authority about her city." -Ocala Star Banner "Smith is a gifted writer." –Washington Post Book World It's Mardi Gras in New Orleans, and civic leader and socialite Chauncy St. Amant has been crowned Rex, King of Carnival. But his day of glory comes to an abrupt and bloody end when a parade-goer dressed as Dolly Parton guns him down. Is the killer his aimless, promiscuous daughter Marcelle? Homosexual, mistreated son Henry? Helpless, alcoholic wife Bitty? Or some unknown player? Turns out the king had enemies... Enter resourceful heroine Skip Langdon, a rookie police officer and former debutante turned cynic of the Uptown crowd. Scouring the streets for clues, interviewing revelers and street people with names like Jo Jo, Hinky, and Cookie, and using her white glove contacts, the post-deb rebel cop encounters a tangled web of brooding clues and ancient secrets that could mean danger for her—and doom for the St. Amants. Langdon, with her weight worries, insecurities, and yet overall toughness has long been a favorite of those who like their female sleuths bold, smart, and refreshingly human. "Smith finds secrets and potential in nearly all corners of New Orleans." –NPR "Julie Smith writes like jazz should sound—cool, complex, and penetrating right to the heart." -Val McDermid, best-selling author of the Tony Hill series "Though her plot careens with as many twists and turns as a car chase through the French Quarter, it is Smith's rotating focus on the complex viewpoints of her fully formed characters that gives her sixth novel its psychological and emotional depth ... [A] rich, tightly structured narrative." -Publishers Weekly Fans of Ace Atkins, Tana French, Sue Grafton, and Marcia Muller will love Skip Langdon's pluck and charm. Excerpt: There he was—the King of Carnival, Rex himself, the Monarch of Mirth, all in gold and positively exuding noblesse oblige. Despite all the fancy sobriquets, he was known to his intimates as plain Chauncey St. Amant. He was a well-padded gentleman, like most New Orleanians of a certain age, and he was in his element playing Old King Cole the merry old soul. Skip hoped his arm wouldn't fall off from too much waving. She'd known him since her rubber pants days. He looked up and waved at someone on one of the balconies. Automatically, Skip's gaze followed his. The float was just parallel to the balcony, one she knew well. Today it was draped with Mardi Gras bunting—purple, green, and gold. The single occupant standing on it was dressed as Dolly Parton in cowgirl finery. Dolly had on her trademark curly wig, a red satin sequined blouse, blue satin skirt, fawn gloves, balloons in her bodice, and two-gun holster. She had on a white mask with eye shadow in three colors and sequined rouge spots. As Chauncey waved, she drew one of her six-shooters. She twirled the gun, clowning, and pointed it, leaning on the balcony. Not very amusing to a cop, but Chauncey was appreciative enough to throw her a doubloon. And then he fell off his throne. The band in front of the float was playing "When the Saints Go Marching In," so Skip never heard the shot. All she knew was that one moment Chauncey was admiring Dolly and the next minute he was down on the floor of the float. Knowing instantly what had happened, Skip started to draw her own gun, but there wasn't a chance.
Buchdetails
Aktuelle Ausgabe
Erscheinungsdatum:
29.12.2013
Rezensionen und Bewertungen
Ähnliche Bücher für noch mehr Lesestunden
Gespräche aus der Community zum Buch
Starte mit "Neu" die erste Leserunde, Buchverlosung oder das erste Thema.
Buchdetails
Aktuelle Ausgabe
Erscheinungsdatum:
29.12.2013