Nikolas and Company Book 2: When Boats Breathe and Cities Speak ( Young Adult Teen Childrens Middle Grade Fantasy Adventure ) (Nikolas And Company Episode)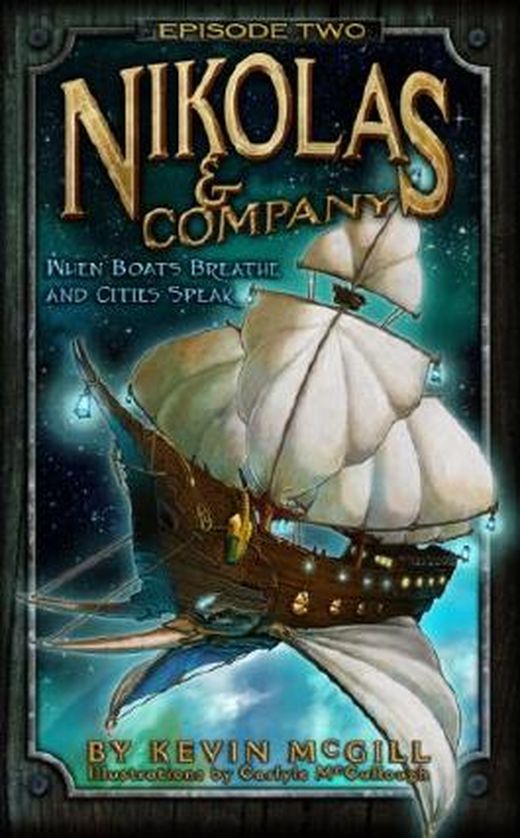 Zu diesem Buch gibt es noch keine Kurzmeinung. Hilf anderen Lesern, in dem du das Buch bewertest und eine Kurzmeinung oder Rezension veröffentlichst.
Inhaltsangabe zu "Nikolas and Company Book 2: When Boats Breathe and Cities Speak ( Young Adult Teen Childrens Middle Grade Fantasy Adventure ) (Nikolas And Company Episode)"
In this next installment of Nikolas and Company, Fourteen-year-old Nick and friends find themselves on a journey to Earth's magical moon,, and the great city of Huron. Called by the voice of Huron to stop the Rone's advancement of evil, Nick's first task is to alert the city council of Huron. Expecting his job to be an easy one, he quickly finds himself stopped by the wicked sheriff of Huron, Cyrus Gorringe. Meanwhile, Yeri finally delivers Lir, the merman's message to Nikolas, but is his task complete? __________________________________ Join Nikolas and his motley crew of friends as they time travel from an apocalyptic Earth to a fantastic moon thousands of years in the past. Nikolas will hear the call of a mysterious woman, battle evil drones, fly malfunctioning hover trucks, run from other-worldly monsters, witness the blue and yellow fire of blood-thirsty water dragons, and travel through space and time, as he seeks to save the Merfolk of the Eynclaene coast. This middle grade fantasy adventure is perfect for readers between the ages of 9 and 16. ____________________________________________________ Pure awesome in a cup. With some waffles. Which would make it a waffle load. - Austin 14 My boys 11 and 14 both really enjoyed the story and only complained that book 2 wasn't out yet so they couldn't keep reading. - Fred Chambers I have to admit, before I could snuggle up under my blankies with this fantastical book, my son beat me to it. He read it in a single day and raved. - Elizabeth Mueller Review from my 13-year old daughter: "This was an imaginative, well-written novel similar to the Hitchhiker's Guide books and was a pleasure to read. The author did a good job and hopefully has more in store." Sara Grace Nikolas and company is the best book I've ever read. It was full of surprises that kept me on the edge, it also full of awkward moments that made me laugh. - J-Man Kevin has created a fun, unique fantasy world full of magic and adventure. The story gets off to a fast start and sucks you in. - Micah Lewis great YA fantasy, funny, a very unique premise, very well written, great descriptions, and a great band of heroes. - Julie Johnson once I immersed myself in the stories characters and settings I couldn't put it down. I found myself in a swashbuckling adventure with danger around every corner. Pam Torres It's great for anyone that loves fantasy, science fiction, it's clean with just the slightest hint of boys and girls taking a notice of each other. Heather I was thoroughly tickled to visit Kevin's fantasy world. His writing style is awesome too. He pulled me in and never let me go until I sadly finished the story. - Robyn Campbell What a fantastic book - and I use that word in the literal sense! Matt Keland I don't read fantasy books. At all. It's not my thing. I was instantly hooked. It's almost like this book was written as my introduction to the sci-fi/fantasy genre. Richard This is a really enjoyable fantasy story, its fast paced, action packed, and funny! - Garrett Eubanks If you have your nose in The Maze Runner by James Dashner, Harry Potter by J. K. Rowling, Percy Jackson by Rick Riordan, Alex Ryder by Anthony Horowitz, Artemis Fowl by Eoin Colfer, Diary of a Wimpy Kid by Jeff Kinney, Lemony Snicket, Hunger Games by Suzanne Collins, Divergent by Veronica Roth, The Giver by Lois Lowery, Leviathan by Scott Westerfeld, The Hobbit by J. K. Rowling, Eragon by Chris Paolini, 39 Clues, Diary of a 6th Grade Ninja by Marcus Emerson, or other middle grade fantasy adventures, they'll love this! Preteen Fantasy, Fairy Tale, Free Fantasy Books for Kids, Books for Middle School Kids, Free Young Adult Books, Adventure Books for Kids 10-13, Free Fantasy Fiction for Kids 9-12, Free Kindle Books for Kids 9-12, free books for kids, free ebooks for kids, free ebooks for teens, free fantasy fiction
Buchdetails
Aktuelle Ausgabe
Erscheinungsdatum:
23.11.2013
Vorfreude! So freuen sich unsere Leser auf das Buch
Rezensionen und Bewertungen
Ähnliche Bücher für noch mehr Lesestunden
Gespräche aus der Community zum Buch
Starte mit "Neu" die erste Leserunde, Buchverlosung oder das erste Thema.
Buchdetails
Aktuelle Ausgabe
Erscheinungsdatum:
23.11.2013