The Martians (Mars Trilogy)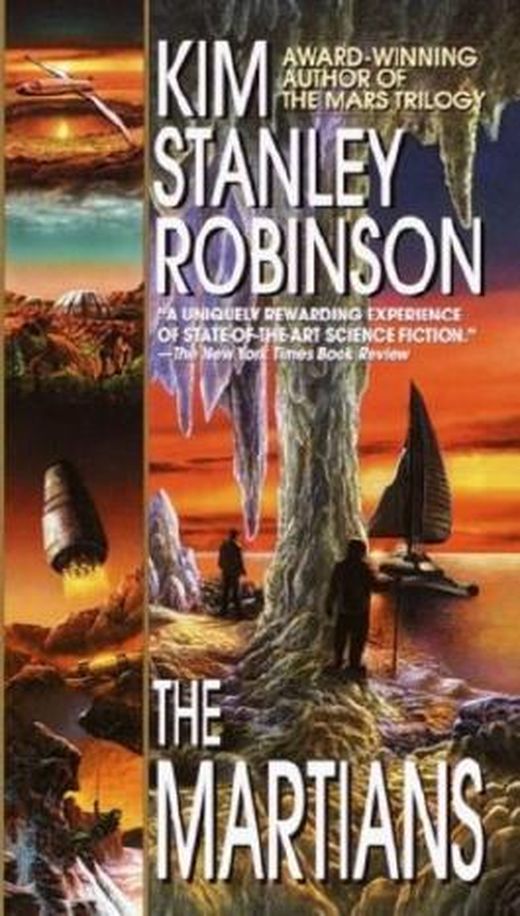 Zu diesem Buch gibt es noch keine Kurzmeinung. Hilf anderen Lesern, indem du das Buch bewertest und eine Kurzmeinung oder Rezension veröffentlichst.
Auf der Suche nach deinem neuen Lieblingsbuch? Melde dich bei LovelyBooks an, entdecke neuen Lesestoff und aufregende Buchaktionen.
Inhaltsangabe zu "The Martians (Mars Trilogy)"
Kim Stanley Robinson's Mars trilogy is one of science fiction's most honored series, with Red Mars winning the distinguished Nebula Award, and both Green Mars and Blue Mars honored with the Hugo. A modern-day classic of the genre, this epic saga deftly portrays the human stories behind Earth's most ambitious project yet: the terraforming of Mars. Now, following the publication of his acclaimed adventure novel, Antarctica, Robinson returns to the realm he has made his own, in a work that brilliantly weaves together a futuristic setting with a poetic vision of the human spirit engaged in a drama as ancient as mankind itself. From a training mission in Antarctica to blistering sandstorms sweeping through labyrinths of barren canyons, the interwoven stories of The Martians set in motion a sprawling cast of characters upon the surface of Mars. As the planet is transformed from an unexplored and forbidding terrain to a troubled image of a re-created Earth, we meet men and women who are bound together by their experiences on Mars and with each other. Among them are Michel, a French psychologist dazzled by the beauty around him; Maya, a woman whose ill-fated love affairs lead to her first voyage to Mars; and Roger, a tall Martian-born guide who lacks social skills but has the courage to survive on the planet's dangerous yet strangely compelling surface. Beginning with the First Hundred explorers, generations of friends, enemies, and lovers are swept up in the drama that is Earth's tenuous toehold on Mars. International exploration turns into world building; world building degenerates into political conflict, revolution, and war. Following the strands of these lives and events, in an age when human life has been extended for decades, The Martians becomes the story of generations lived on the edge of the ultimate frontier, in a landscape of constant man-made and natural transformation. This new masterpiece by Kim Stanley Robinson is a story of hope and disappointment, of fierce physical and psychological struggles. Both deeply human and scientifically cutting edge, The Martians is the epic chronicle of a planet that represents one of humanity's most glorious possibilities. A Letter from Kim Stanley Robinson: "When I finished Blue Mars, I realized I wasn't done with Mars yet. There were things I still wanted to say about the place, and about my characters from the trilogy, and there were a number of sidebar stories and characters that had found no place in the trilogy's structure. I also had a couple of precursor Mars stories that did not fit the trilogy's history--'Exploring Fossil Canyon' and 'Green Mars'--and I had held these out of my earlier story collections thinking they belonged with the Mars group." So all this material was there, and as I wrote Antarctica, I found myself drawn back into the matter of Mars repeatedly, by the discovery of possible life in meteorite AHL8004 and by the Pathfinder landing. I decided to make a collection of Martian tales, and as I put them in roughly chronological order, I saw that they seemed to be adding up to their own larger story, functioning as the trilogy's 'unconscious' or 'secret history'. Using all kinds of modes, from folk tales to scientific articles, from personal accounts to the full text of a constitution, I arranged things so that the book altogether tells the story of an underground and hard-to-see resistance to the terraforming described in the trilogy proper. I had a great time doing these stories, and hope they add up to my own version of a Martian Chronicles." From the Paperback edition.
Buchdetails
Aktuelle Ausgabe
Erscheinungsdatum:
27.05.2003
Rezensionen und Bewertungen
Gespräche aus der Community zum Buch
Starte mit "Neu" die erste Leserunde, Buchverlosung oder das erste Thema.
Buchdetails
Aktuelle Ausgabe
Erscheinungsdatum:
27.05.2003