All Wrapped Up (Christmas with Kink)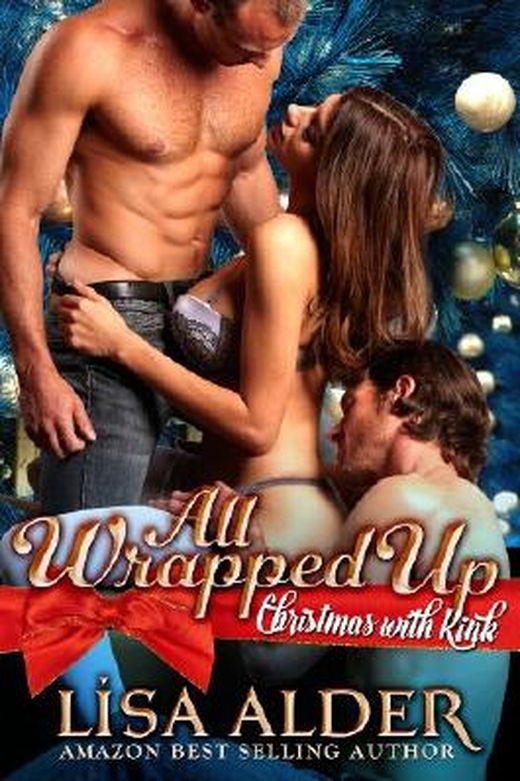 Zu diesem Buch gibt es noch keine Kurzmeinung. Hilf anderen Lesern, in dem du das Buch bewertest und eine Kurzmeinung oder Rezension veröffentlichst.
Inhaltsangabe zu "All Wrapped Up (Christmas with Kink)"
From the author of the Bestselling Erotic Novellas, Demons Unleashed, comes a story of XXXmas. Christmas with Kink: All Wrapped Up. Three business partners, one sexy silent night.... Three business partners, two lovers and one very uptight CEO, receive their own holiday bonus: one lust-filled evening after the office party. Ethan and his lover, former SEAL, Clint give their partner and friend, Mary, one crazy sexy night to discover that partners can have fun in and out of the office. All Wrapped Up is a short, steamy, holiday read. A present for you after a long day of shopping, wrapping and baking. Get all wrapped up in their down and dirty office romance. Warning: This short erotic story is intended for mature readers only and features m/f/m and m/m/f menage sex. Other work by Lisa Alder: The Demon's Bargain To Summon A Demon The Demon's Seduction Demons Unleashed Volume 1-3 The Demon's Deception One Wild Night - Sweet Contemporary Romance Jake's Wild Bride Coming soon: Warrior Queen: The Lost City of Zonia Demons Unleashed Erotic Novellas The Demon's Bargain, Demons Unleashed Vol. 1: When the Demon bargains for one night of her pleasure...no one loses. Vetis, the Demon of Corruption, is bored. It's too easy to tempt humans into committing horrible acts and the appeal has worn thin. He's restless and seeking distraction...until a gambler offers to settle a debt by submitting his wife for Vetis's use. One tiny glimpse of the rage in Amara and the absolutely sexless way she endures his sensual touch, and Vetis has his challenge. He'll make this woman enjoy the carnal pleasures of sex. The bargain is struck. One night. Of HER pleasure. And the debt will be paid. Ill used by her husband, Amara believes she is doomed, for she has no pleasure within her, her innocence forfeit long ago. But as Amara's body awakens with sinful desires and carnal longings, hope begins to blossom that pleasure is within her reach. Demons never fail and the challenge is on. Vetis knows with the right sensual persuasion the debt will be paid in pleasure, however he doesn't bargain on falling in love. To Summon A Demon, Demons Unleashed Vol. 2: To gain revenge, she summons a Demon...and loses her heart. After Lili is viciously attacked by the Fae, she wants revenge. Who better to help her than the sworn enemies of the Fae, Demons. So she uses an ancient sex ritual to summon a Demon lover and offers her body in exchange for his aid. Prince Gaap, commander of the Water Elemental Demons, is curiously drawn to the mysterious Lili. Though her summons is clearly a trap, an attempt by the Fae to infiltrate and harm the Demons, he cannot resist the seductive lure of her battered soul. Even forewarned, Lili is helpless against Gaap's sensual attraction and loses her heart to her Demon lover. The Demon's Seduction, Demons Unleashed Vol. 3: When they fight for the love of the same Demon, the battle seduces them all. One of the three Graces, Thalia's purpose is to serve the Lesser Demons, but she's in love with her boss Zepar, The Demon of Seduction. Zepar has unresolved feelings for his friend and former lover, Leraye, the Demon of Battle. When Zepar rejects both Leraye and the forbidden human woman, Thalia, they turn to each other, bound by their love of Zepar. But of course, he is eaten up with jealousy when they find love without him, until a tragic attack forces Zepar to confront his feelings for both Leraye and Thalia or lose them forever. The Demon's Deception, Demons Unleashed Vol. 4 Barbas, the Demon of Healing, has a secret. One he'd do anything to keep. Until the day that he meets his sworn enemy and finds himself drawn into her world. Certainly a Demon strong enough to survive being chained for a millennium beneath the Earth's crust can resist one virginal princess when she demands his help. To reveal the truth would make him a traitor to his people. So why does deceiving the princess make him feel like a traitor to his heart?
Buchdetails
Aktuelle Ausgabe
Erscheinungsdatum:
18.04.2013
Rezensionen und Bewertungen
Ähnliche Bücher für noch mehr Lesestunden
Gespräche aus der Community zum Buch
Starte mit "Neu" die erste Leserunde, Buchverlosung oder das erste Thema.
Vorfreude! So freuen sich unsere Leser auf das Buch
Buchdetails
Aktuelle Ausgabe
Erscheinungsdatum:
18.04.2013