Midnight Marriage: A Georgian Historical Romance (Roxton Family Saga Book 2)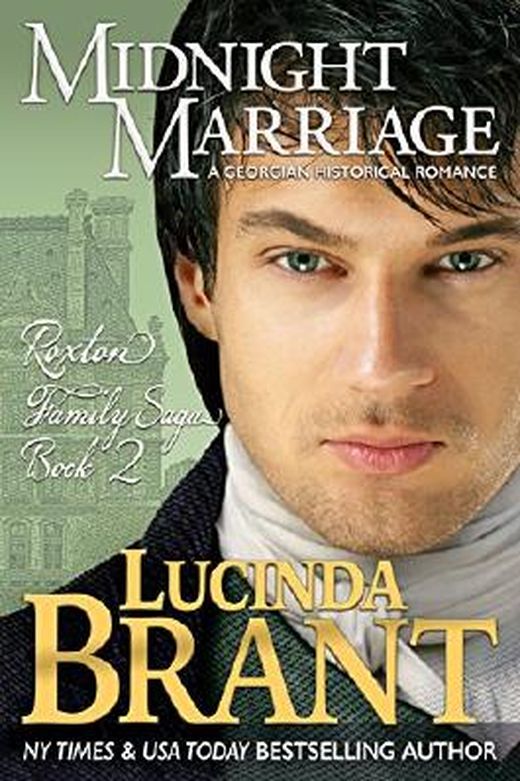 Zu diesem Buch gibt es noch keine Kurzmeinung. Hilf anderen Lesern, in dem du das Buch bewertest und eine Kurzmeinung oder Rezension veröffentlichst.
Inhaltsangabe zu "Midnight Marriage: A Georgian Historical Romance (Roxton Family Saga Book 2)"
Stand-alone book 2 in the Roxton Family Saga, Julian and Deb's story 1760s England and France. Julian and Deb are hurriedly, and secretly, married off as teenagers. Julian is then banished to the continent. Deb is returned to the nursery, told her midnight marriage was just a bad dream from the effects of laudanum. Nine years later, Julian returns incognito to claim his bride before a debonair rival can seduce her into bigamous wedlock. Can Julian and Deb's marriage survive such a calculated deception? Set in the opulent world of the aristocracy and inspired by real events, Lucinda Brant delivers another lavish 18th century experience in her trademark style — heart-wrenching drama with a happily ever after. Lucinda Brant's sweeping family sagas are a perfect reminder of why I fell in love with historical romance — Cheryl Bolen, New York Times bestselling author Awards for this Book 2013 Readers′ Favorite International Book Award Medalist Reviews "MIDNIGHT MARRIAGE carries on the Roxton series tradition with still another wonderful tale set in the 1700s where life is anything but simple. You will once again be reminded why Lucinda Brant's books are such a treasure." — SWurman: 5 STARS, a Night Owl Reviews Top Pick "Nice twists and turns, dramatic revelations, and some enjoyable chaos make this a book that keeps the reader turning the pages. Highly recommended!" — Fiona Ingram: 5 STARS, Readers' Favorite Book Details Series: Stand-alone second book in the highly acclaimed ROXTON family saga Classification: Parental Guidance Recommended (mild sensuality) Length: Full-length novel (100,000 words, about 400 standard pages not including bonus material) Edition: Revised, re-edited, and re-covered in 2014 Style: Classic romance with a modern voice Connecting Books MIDNIGHT MARRIAGE is a stand-alone novel, but many readers enjoy it as part of a series: Lucinda's characters inhabit the same meticulously-researched 18th Century world and all books cross-reference people and events throughout. You can explore the details and delve deeper into the history within each book by visiting LucindaBrantAuthor on Pinterest. Should you wish to read the books in chronological order, here is the sequence: Roxton Family Saga 1740s NOBLE SATYR (Renard and Antonia) 1760s MIDNIGHT MARRIAGE (Julian and Deb) 1770s AUTUMN DUCHESS (Antonia and Jonathon) 1770s DAIR DEVIL (Dair and Rory) 1770s PROUD MARY (Mary and Christopher) In progress 1780s SATYR'S SON (Harry and Lisa) In progress ETERNALLY YOURS: Roxton Letters Volume One (A Companion to the Roxton Family Saga Books 1–3) FOREVER REMAIN: Roxton Letters Volume Two (A Companion to the Roxton Family Saga Books 4–6) In progress Salt Hendon Series 1763 SALT BRIDE (Magnus and Jane) 1767 SALT REDUX (Antony and Caroline) 1767 A FAIRY CHRISTMAS (Kitty and Tom); a short story in SILVER BELLS COLLECTION, a Timeless Romance anthology Alec Halsey Mystery Series Spring 1763 DEADLY ENGAGEMENT (Country house murder and mayhem) Autumn 1763 DEADLY AFFAIR (A poisoned vicar and the mysterious Miranda) Winter 1763 DEADLY PERIL (Bloody intrigue abroad) Summer 1764 DEADLY KIN (Evil lurks in Edinburgh) In progress
Buchdetails
Aktuelle Ausgabe
Erscheinungsdatum:
05.03.2011
Vorfreude! So freuen sich unsere Leser auf das Buch
Rezensionen und Bewertungen
Ähnliche Bücher für noch mehr Lesestunden
Gespräche aus der Community zum Buch
Starte mit "Neu" die erste Leserunde, Buchverlosung oder das erste Thema.
Buchdetails
Aktuelle Ausgabe
Erscheinungsdatum:
05.03.2011