The Shadow of the Lion (Heirs of Alexandria Book 1)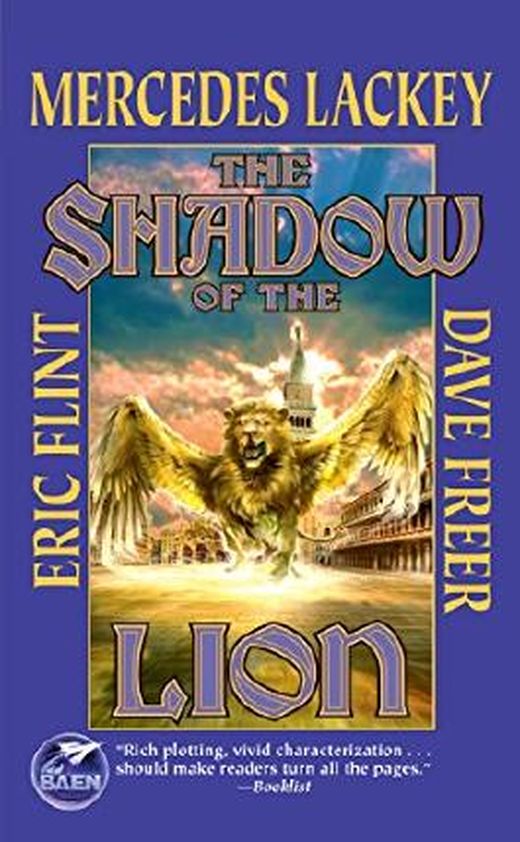 Zu diesem Buch gibt es noch keine Kurzmeinung. Hilf anderen Lesern, in dem du das Buch bewertest und eine Kurzmeinung oder Rezension veröffentlichst.
Auf der Suche nach deinem neuen Lieblingsbuch? Melde dich bei LovelyBooks an, entdecke neuen Lesestoff und aufregende Buchaktionen.
Inhaltsangabe zu "The Shadow of the Lion (Heirs of Alexandria Book 1)"
ADVENTURES IN AN OTHER-WORLDLY NEW-AGE VENICE it is the year 1537. The great winged Lion stares over a Venice where magic thrives. The rich Venetian Republic is a bastion of independence and tolerance. Perhaps for that reason, it is also corrupt, and rotten with intrigue. But for the young brothers Marco and Benito Valdosta, vagabond and thief, Venice is simply-home. They have no idea that they stand at the center of the city's coming struggle for its very life. They know nothing of the powerful forces moving in the background. They have barely heard of Chernobog, demonlord of the North, who is shifting his pawns to attack Venice in order to cut into the underbelly of the Holy Roman Empire. All Marco and Benito know is that they're hungry and in dangerous company: Katerina the smuggler, Caesare the sell-sword, Montagnard assassins, church inquisitors, militant Knights of the Holy Trinity, Dottore Marina the Strega mage . . . and Maria. Maria might be an honest canaler, but she had the hottest temper a boy could find. Yet among the dark waters of the canals lurk far worse dangers than a hot-tempered girl. Chernobog has set a monster loose to wreak havoc on the city. Magic, murder and evil are all at work to pull Venice down. Fanatical monks seek to root out true witchcraft with fire and sword. Steel-clad Teutonic knights, wealth traders, church dignitaries and great Princes fight and plot for control of the jewel of the Mediterranean. And somehow all of these, from thieves to mages to princes, must gather around Marco and his brother Benito, under the shadow of the great winged lion of Venice. At the publisher's request, this title is sold without DRM (Digital Rights Management). "The prolific Lackey and cohorts Flint and Freer whip up a luscious bouillabaisse of politics, intrigue, love and black magic set in an "Other-worldly, New-Age Venice. . . ." The authors' use of contemporary American vernacular . . . instead of pompous period speech keeps the pages turning fast. . . ." —Publishers Weekly "[A] massive concoction of alternate history, high fantasy, and historical romance set in the sixteenth-century Venice of an alternate world . . . rich plotting, vivid characterization, and splendid evocation of Renaissance ethics and culture should make readers turn all the pages." —Booklist ". . . a sweeping alternate history. .. .The authors deftly wield the juxtaposition of fantasy and history into a finely crafted story." —Romantic Times "[A] top pick . . . fast-paced action and complex, believable settings." —The Bookwatch Mercedes Lackey, author of the bestselling Heralds of Valdemar and Bardic Voices series, began life as a child and has been attempting to rectify that error ever since. Named for actress Mercedes McCambridge, she has been trying with no success to get the Benz automobile authorities to recognize the natural link between her name and theirs, and offer her the use of an M100 or some variety of high-end sports car for gratis. This, too, has had a distinct lack of success. Other than writing she can be found at various times prying the talons of the birds of prey she is attempting to nurse back to health out of her hands, endangering her vision by creating various forms of Art Beadwork, and cross-stitching dragons, gryphons, and other semi-mythological fauna. At the moment, her hair is red, her favorite color is green, and she is covered by various members of her flock of pet parrots, cockatoos and macaws, all of which are trying to help her type8shgalal-akejbejks9ife.
Buchdetails
Aktuelle Ausgabe
Erscheinungsdatum:
23.02.2015
Rezensionen und Bewertungen
Ähnliche Bücher für noch mehr Lesestunden
Gespräche aus der Community zum Buch
Starte mit "Neu" die erste Leserunde, Buchverlosung oder das erste Thema.
Buchdetails
Aktuelle Ausgabe
Erscheinungsdatum:
23.02.2015