Turned (Book #1 in the Vampire Journals)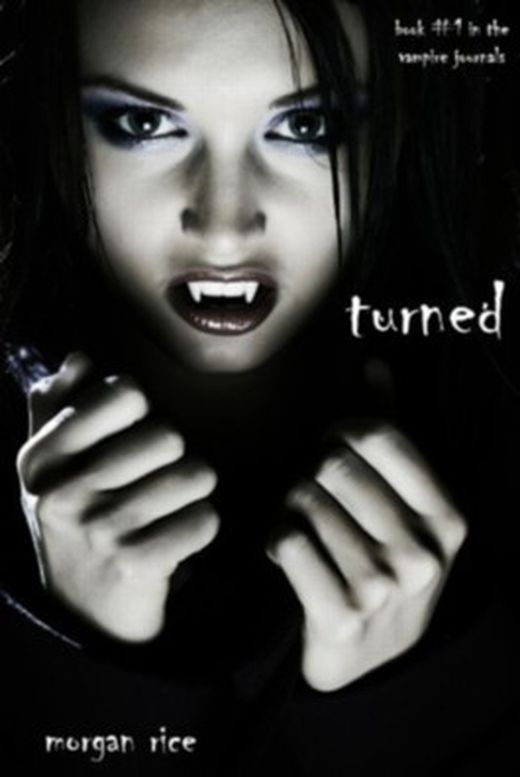 Neue Kurzmeinungen
V
Hmm was ich mit Sicherheit sagen kann, ist das diese Buchreihe mich sofort in ihren Bann gezogen hat. Spannend und mitreißend.
Alle 2 Bewertungen lesen
Auf der Suche nach deinem neuen Lieblingsbuch? Melde dich bei LovelyBooks an, entdecke neuen Lesestoff und aufregende Buchaktionen.
Inhaltsangabe zu "Turned (Book #1 in the Vampire Journals)"
In TURNED (Book #1 of the Vampire Journals series), 18 year old Caitlin Paine finds herself uprooted from her nice suburb and forced to attend a dangerous New York City high school when her Mom moves again. The one ray of light in her new surroundings is Jonah, a new classmate who takes an instant liking to her. But before their romance can blossom, Caitlin suddenly finds herself changing. She is overcome by a superhuman strength, a sensitivity to light, a desire to feed--by feelings she does not understand. She seeks answers to what's happening to her, and her cravings lead her to the wrong place at the wrong time. Her eyes are opened to a hidden world, right beneath her feet, thriving underground in New York City. She finds herself caught between two dangerous covens, right in the middle of a vampire war. It is at this moment that Caitlin meets Caleb, a mysterious and powerful vampire who rescues her from the dark forces. He needs her to help lead him to the legendary lost artifact. And she needs him for answers, and for protection. Together, they will need to answer one crucial question: who was her real father? But Caitlin finds herself caught between two men as something else arises between them: a forbidden love. A love between the races that will risk both of their lives, and will force them to decide whether to risk it all for each other… "TURNED is an ideal story for young readers. Morgan Rice did a good job spinning an interesting twist on what could have been a typical vampire tale. Refreshing and unique, TURNED has the classic elements found in many Young Adult paranormal stories. Book #1 of the Vampire Journals Series focuses around one girl…one extraordinary girl!...TURNED is easy to read but extremely fast-paced....Recommended for anyone who likes to read soft paranormal romances. Rated PG." --The Romance Reviews "TURNED grabbed my attention from the beginning and did not let go….This story is an amazing adventure that is fast paced and action packed from the very beginning. There is not a dull moment to be found. Morgan Rice did an awesome job bringing the reader into the story. She also made it easy to root for Caitlin and want desperately to her succeed in finding her truth….I will be looking forward to the second book in the series." --Paranormal Romance Guild "TURNED is a likable, easy, dark read that you can read in between other books, as it is short….You're sure to be entertained!" --books-forlife.blogspot.com "TURNED is a book to rival TWILIGHT and VAMPIRE DIARIES, and one that will have you wanting to keep reading until the very last page! If you are into adventure, love and vampires this book is the one for you!" --Vampirebooksite.com "Rice does a great job of pulling you into the story from the beginning, utilizing a great descriptive quality that transcends the mere painting of the setting….Nicely written and an extremely fast read, TURNED is a good start to a new vampire series sure to be a hit with readers who are looking for a light, yet entertaining story." --Black Lagoon Reviews All 8 books in the VAMPIRE JOURNALS series are also available for sale. Morgan Rice's NEW vampire series, THE VAMPIRE LEGACY, which picks up where THE VAMPIRE JOURNALS leaves off, is also available for sale! Morgan Rice's new trilogy, ARENA ONE: SLAVERUNNERS (Book #1 of the Survival Trilogy), a post apocalyptic thriller in the genre of The Hunger Games, is also available for sale. And Morgan Rice's new epic fantasy series, A QUEST OF HEROES (Book #1 in the Sorcerer's Ring) is now also available for sale!
Buchdetails
Aktuelle Ausgabe
Ausgabe:
Flexibler Einband
Erscheinungsdatum:
10.03.2011
Rezensionen und Bewertungen
Ähnliche Bücher für noch mehr Lesestunden
Gespräche aus der Community zum Buch
Starte mit "Neu" die erste Leserunde, Buchverlosung oder das erste Thema.
Buchdetails
Aktuelle Ausgabe
Ausgabe:
Flexibler Einband
Erscheinungsdatum:
10.03.2011