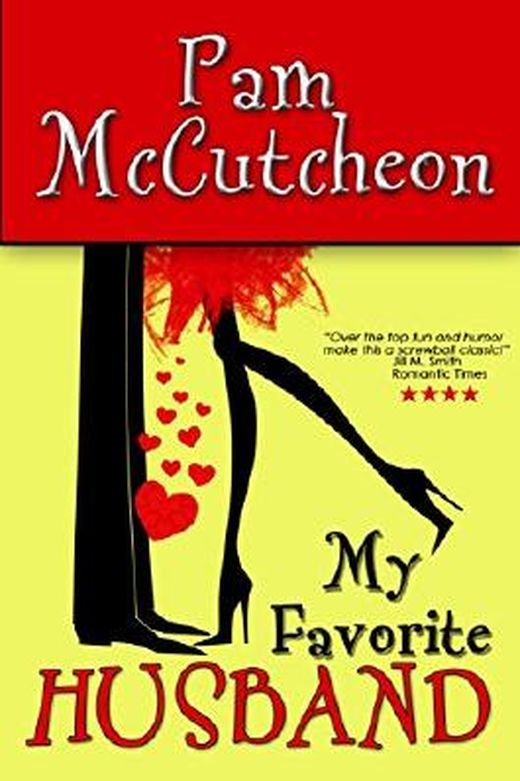 Zu diesem Buch gibt es noch keine Kurzmeinung. Hilf anderen Lesern, in dem du das Buch bewertest und eine Kurzmeinung oder Rezension veröffentlichst.
Auf der Suche nach deinem neuen Lieblingsbuch? Melde dich bei LovelyBooks an, entdecke neuen Lesestoff und aufregende Buchaktionen.
Inhaltsangabe zu "My Favorite Husband"
After five years of being lost in the Amazon, archaeologist Chaz Vincent has finally come home to his wife, Kelly, only to learn that she has had him declared dead. When he attends his own funeral, Chaz finds out that Kelly married another man just that morning. Now she has to choose between them. Who will be her favorite husband? Sequel: Caught in the Act "A breath of fresh humor in the land of romantic comedy! Laughter, sex, a hero to-die-for . . . what else could the romance reader want? My Favorite Husband is a laugh-out-loud hit!" —Sandra Hill, New York Times Bestselling Author "Taking a page from movie classic My Favorite Wife, Pam McCutcheon dishes up a delightfully amusing and wacky comedy. Over the top fun and humor make this a screwball classic!" — Jill M. Smith, Romantic Times (four stars!) "My Favorite Husband is by far one of the most pleasurable books I have read this year. From page one the action never stops. I could not put the book down. I stayed awake into the wee hours reading and laughing and turning pages and laughing some more. The secondary characters are integral to the story, and provide tons of comic relief, but the focus is on Kelly and Chaz and the decisions they must make. The romance is poignant and sexy, and Chaz is the ultimate romantic hero. Ms. McCutcheon expertly intertwines laughter and fun within different plot threads, and just when I thought she had them all together, she adds yet another twist to this wonderful story! My Favorite Husband is a fun and exciting escape from everyday life, and is well deserving of Romance Review Today's Perfect 10 award." — Diana Risso, Romance Reviews Today "Five stars! This romantic comedy testifies that if something can go wrong it will go wrong! This is the best romantic comedy I've read this year. I read this book in a day. I couldn't put it down. I carried it with me all around my house. Yeah, my husband thought I was totally bonkers, especially when I burst out in hysterical laughter. My Favorite Husband is a must read." — Melissa Alvarez, About.com "Five Roses! This book was a riot from cover to cover, the laughs just kept coming. The scenes where Chaz and Spencer 'compete' for Kelly by having the best date are some of the funniest I have ever read. Think rappelling, spying, wining, dining, and of course a little lovin'. These two men are polar opposites, Chaz is Indiana Jones come to life and Spencer is a debonair man about town. How can one woman chose between two wonderful men like them? Well it is no easy choice, but to console all you happy ending fanatics, I will share one little secret—both men end up happy at this end of this book! I had a hard time putting this little gem down! If romantic comedy is what you like then take my advice and put Pam McCutcheon's new novel, My Favorite Husband at the top of your shopping list!" — Jen, A Romance Review "Reminiscent of the old screwball romantic comedies, My Favorite Husband will make you laugh until your sides ache as Kelly tries to straighten out the complicated mess her life suddenly becomes. Author Pam McCutcheon has used her considerable talent for comedy to catch and hold the reader's attention as Kelly moves from room to room in the classy hotel Spencer had chosen for their honeymoon. She doesn't move alone, but unwillingly with an entourage of self-interested characters who are hilarious in their efforts to complicate further an already tabled situation. Fascinating reading with a lighthearted look at the funny side of life. This is a great read for anyone with a sense of the ridiculous. A real reading adventure." — Anne Edwards, The Book Review Site "Using the theme from the classic Grant-Dunne movie My Favorite Wife, Pam McCutcheon spins an amusing romantic romp that captures all the lunacy of the 1930s screwball comedies." — Harriett Klausner
Buchdetails
Aktuelle Ausgabe
Verlag:
Parker Hayden Media
Erscheinungsdatum:
10.10.2014
Rezensionen und Bewertungen
Ähnliche Bücher für noch mehr Lesestunden
Gespräche aus der Community zum Buch
Starte mit "Neu" die erste Leserunde, Buchverlosung oder das erste Thema.
Buchdetails
Aktuelle Ausgabe
Verlag:
Parker Hayden Media
Erscheinungsdatum:
10.10.2014