"tell her she's pretty!" How Tina helped Becca seduce her maid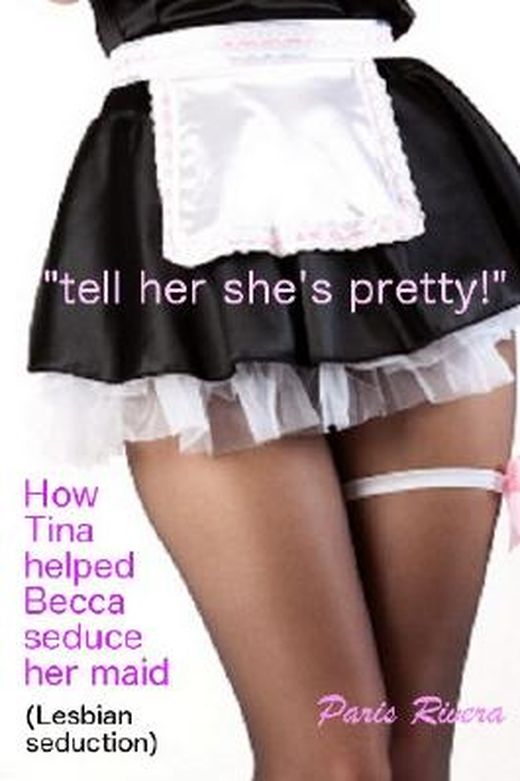 Zu diesem Buch gibt es noch keine Kurzmeinung. Hilf anderen Lesern, in dem du das Buch bewertest und eine Kurzmeinung oder Rezension veröffentlichst.
Inhaltsangabe zu ""tell her she's pretty!" How Tina helped Becca seduce her maid"
A very hot lesbian seduction, as Tina gives online advice to her friend Becca, who has a crush on the Polish maid... Customer reviews: "Great story... I liked it." "The idea, the plot, the sexual tension are really fantastic… Thank you and I'm waiting for more stories." "A very good story. Can't recommend it enough. I've always been a fan of lesbian fiction. This one is well written, good plot and sexy most of the way through. A recommended author I'd say." "… good story! Enjoyed it very much! Quick and easy read… I liked it a lot. Erotic and very sexy!" "Nice… This was a good fantasy." If you like lesbian fiction, lesbian stories and lesbian erotica, you'll love this. Click on the image to search inside... Becca rushed to her bedroom, still carrying the laptop. There were two people she didn't want to keep waiting! She quickly pulled the dress she'd bought earlier that week. It was a fairly simple cut but extremely well made, a little shorter than she was used to. Suddenly she had an idea and she typed quickly: "Should I change in the bedroom or should I take the dress to the bathroom?" "oooh, I like your thinking!" Tina typed. "i'm really getting very turned on in my office now!" "you are!?" "absolutely! i even undid one or two buttons!" "what, on your blouse!?" "absolutely! yes, take the dress with you, that's a great idea!" So Becca did exactly that. She held out the dress towards Rula. "Do you like it?" "It looks good quality," Rula suggested, "but I'd need to see it on!" "Yes I suppose you would!" "You don't mind if I…?" Becca moved her hands to the buttons at the top of her white blouse and glanced down at her own hands. "No of course, it's just you and me, after all!" Becca was really very excited now. She wished she could share everything with Tina, but it would have been rude to type too much. Quickly, she typed: "she's happy for me to take my blouse off!" "good girl!" Tina typed enthusiastically. "i've actually closed the blinds on my office windows." Becca found those words extremely sexy and she looked over towards Rula again. Was it Becca's imagination or was Rula leaning over still further over the bath in a position that, if anything, was even more provocative than earlier? As the Polish girl leant over, she also managed to glance in Becca's direction, saying "I can't wait!" Becca savored the moment and she slowly unbuttoned her own blouse, revealing a large lace white bra covering her large breasts. "You look very pretty!" said Rula with a smile. Becca typed: "she said I look pretty!" "so tell her you find her very pretty too!" "just like that?" "just like that!" So Becca followed Tina's advice once again: "Thanks, Rula, I find you very pretty as well. I hope you don't mind me saying that?!" "Oh no! It's very kind of you. I love your compliments!" Becca looked quickly at the screen. There was a new message from Tina: "i actually took my own blouse off too!" "what, right there in your office?" Becca typed. "yes, I wanted to show you some moral support!" "or immoral support!? lol" "good one! This is REALLY exciting!" "the door is locked, right?" "absolutely!" Rula interjected again: "You're friend is quite talkative!" "Sorry!" said Becca. "Like I said, I don't mind at all. In fact, I like it!" This girl seemed to be so happy, so easy-going. It was very, very sexy and Becca noticed just how warm she was beginning to feel at the pit of her stomach. The Polish girl had moved on to the shower now, so there was at least a glass wall between Becca and her employee. "You don't mind if I…" Becca began, hestitantly, "I mean, the bra, you know…"
Buchdetails
Aktuelle Ausgabe
Erscheinungsdatum:
20.01.2014
Vorfreude! So freuen sich unsere Leser auf das Buch
Rezensionen und Bewertungen
Ähnliche Bücher für noch mehr Lesestunden
Gespräche aus der Community zum Buch
Starte mit "Neu" die erste Leserunde, Buchverlosung oder das erste Thema.
Buchdetails
Aktuelle Ausgabe
Erscheinungsdatum:
20.01.2014