Wild Wind (Lords of Conquest)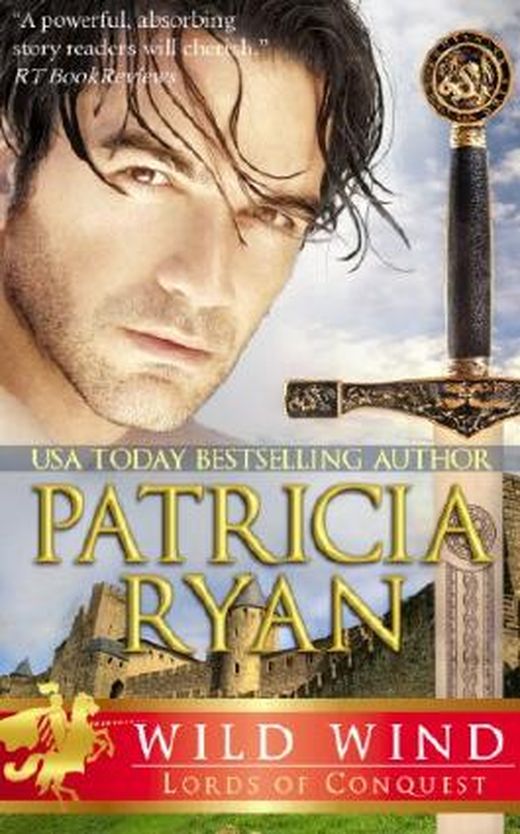 Zu diesem Buch gibt es noch keine Kurzmeinung. Hilf anderen Lesern, indem du das Buch bewertest und eine Kurzmeinung oder Rezension veröffentlichst.
Auf der Suche nach deinem neuen Lieblingsbuch? Melde dich bei LovelyBooks an, entdecke neuen Lesestoff und aufregende Buchaktionen.
Inhaltsangabe zu "Wild Wind (Lords of Conquest)"
Alex was left deeply scarred when his beloved Nicolette married his cousin Milo solely in order to bear the son who would fulfill the terms of her inheritance. Now, nine years later, Nicolette is still childless and Milo debilitated by wine sickness. Explaining that he and Nicolette will be homeless and destitute if she doesn't produce an heir within fifteen months, Milo begs Alex to seduce his wife, sire a child, then disappear. It is an indecent but irresistible proposal, sweeping Alex and Nicolette into a firestorm of forbidden desire. Originally published by NAL A Waldenbooks "Star Pick." Nominated by Romantic Times magazine for Best Medieval Historical Romance. "This is a powerful, absorbing story readers will cherish. Ms. Ryan earns a place of honor on medieval romance readers' shelves with this masterful tale that brings an era, a people and a brilliant love story to life. Fans of Anita Mills, Denise Domning, Roberta Gellis and Sharon Kay Penman, rejoice, here's another star!" Romantic Times "Wild Wind sweeps the reader into the past and holds her there, entangled in lost innocence and forbidden desires, in everlasting love that a man has vowed to deny. It's wonderful. Don't miss it!" Jo Beverley "A definite must read for fans of medieval romance! Few authors can bring the past to life as vividly as Patricia Ryan. Wild Wind is a wildly romantic love story from an incredibly gifted author! Patricia Ryan's writing sparkles!" The Literary Times "Explosive and spellbinding. Ms. Ryan once more deftly develops unique and unusual plot elements in this finely crafted tale of bittersweet love. The incredible insight utilized in her prose has the reader feeling the frustrations all the characters experience as they try to resolve situations and come to terms with the inevitable. This poignant and thought-provoking medieval is remarkable and unforgettable." The Old Book Barn Gazette "This is one of the most finely crafted medievals of recent years. Wild Wind was a blockbuster from the first page. I quite literally could not put this book down, and was very surprised by the ending." Romance Communications "Compelling and romantic, gritty and realistic....Wild Wind may be the first Patricia Ryan book I've read, but it won't be the last." The Romance Reader "Last year, when I finished Patricia Ryan's medieval Secret Thunder, I ran out to all of my local used book stores to track down her back list, only to be told time and again that her books are loved so much they are never returned! After my experience with Secret Thunder, and now her newest, Wild Wind, I can certainly understand why. She writes powerful, gritty, emotional books that are hard to put down and she consistently delivers a strong romance between likable characters." Under the Covers "Ryan has written a sensual, emotionally involving, and compelling story of forbidden love that readers will not soon forget." Library Journal About the Author: Patricia Ryan is the USA Today bestselling author of more than two dozen romances and mysteries, including the #1 national bestseller Still Life With Murder. Her novels have garnered rave reviews and been published in over twenty countries. A RITA® winner (for Silken Threads) and four-time nominee, she is also the recipient of two Romantic Times Awards and a Mary Higgins Clark Award nomination for the second book of her historical mystery series featuring Boston governess Nell Sweeney, which she wrote under the name P.B. Ryan. Pat's Evil Twin, Pamela Burford, is also a published romance novelist. To find out more about Patricia Ryan's award-winning romances and romantic suspense, including special projects, excerpts, and sneak previews, subscribe to her email newsletter by visiting patricia-ryan.com. Most issues features free and deeply discounted ebooks by Patricia and other bestselling romance and mystery authors.
Buchdetails
Aktuelle Ausgabe
Erscheinungsdatum:
07.07.2010
Rezensionen und Bewertungen
Ähnliche Bücher für noch mehr Lesestunden
Gespräche aus der Community zum Buch
Starte mit "Neu" die erste Leserunde, Buchverlosung oder das erste Thema.
Buchdetails
Aktuelle Ausgabe
Erscheinungsdatum:
07.07.2010