The Cuckoos of Batch Magna (The Batch Magna Novels)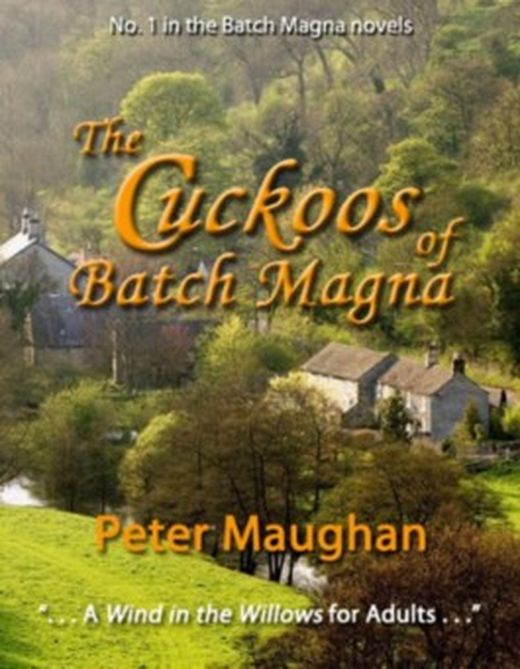 Zu diesem Buch gibt es noch keine Kurzmeinung. Hilf anderen Lesern, in dem du das Buch bewertest und eine Kurzmeinung oder Rezension veröffentlichst.
Auf der Suche nach deinem neuen Lieblingsbuch? Melde dich bei LovelyBooks an, entdecke neuen Lesestoff und aufregende Buchaktionen.
Inhaltsangabe zu "The Cuckoos of Batch Magna (The Batch Magna Novels)"
The Cuckoos of Batch Magna What the Reviewers are Saying: 'THE CUCKOOS OF BATCH MAGNA by Peter Maughan is going to become one of the most beloved books of the decade.Peter Maughan's usage of words is so delicious that one almost cries when the book ends. I love this book so much that I am constantly rereading passages of the most magnificent story.I guarantee that once you have visited BATCH MAGNA you will never want to leave.This is a story that will restore your weary soul.' jwillis '...You will never forget how it made you feel.' Mark V Williams. 'A masterpiece that is breathtaking in its scope ...' Orian J. Harman '...one of those marvelous classics that deserve a place in any permanent collection ... A Wind in the Willows for adults ... (Peter Maughan is) a master of prose with the soul of a poet.' Henrietta Lala "herbalwiz" 'Absolutely Beautiful and Delightful Story.' NancyofUtah. 'Literary perfection ... ... I highly recommend it & hand it a 5 of 5 stars rating for spellbinding descriptions, marvelous plot, & originality' Liz Terek. '...words flow like the River Cluny, languid and deep, sparkling with insight.' Ellis Taylors. '... a small literary masterpiece ... It was easy to become mesmerized by this beautifully descriptive novel. It is truly a book to be savored. A work of art ... ' R. Nicholson. 'Peter Maughan has a true gift for vivid imagery. I've not encountered another writer who uses such beautiful wording...' Liz Terek 'The use of language is beautiful beyond anything I've read in a very long time.' J G Hughes ' ... Several reviewers have compared Maughan's writing with others such as: Erica James, Marcia Willett and Rebecca Shaw, M.C. Beaton, Kingsley Amis. This reviewer says it is incomparably wonderful writing which made her think of Laurence Sterne (in terms of humor and "Learned Wit") and Thomas Hardy (in terms of class consciousness and social constraints that cripple lives). The conspiratorial villagers evoke the gentle humor of 'Waking Ned, too.' Leila Smith for Kindle Review. 'Such beautiful poetry wrapped in the soft cashmere prose of a terrific story-teller of an author... You should even read this to infants because the cadence and beauty of the words are good entries into the world of literature ... It will go into the history of literature as one of the classics. Give yourself a gift and read THE CUCKOOS OF BATCH MAGNA.' Joymarie. THE CUCKOOS OF BATCH MAGNA When Sir Humphrey Miles Pinkerton Strange, 8th baronet and squire of the village of Batch Magna departs this world for the Upper House (as he had long vaguely thought of it, where God no doubt presides in ermine over a Heaven as reassuringly familiar as White's or Boodle's), what's left of his estate passes, through the ancient law of entailment, to distant relative Humph, an amiable, overweight short-order cook from the Bronx. Sir Humphrey Franklin T Strange, 9th baronet and squire of Batch Magna, as Humph now most remarkably finds himself to be, is persuaded by his Uncle Frank, a small time Wall Street broker with an eye on the big time, to make a killing by turning the sleepy backwater into a theme-park image of rural England – a vacation paradise for free-spending US millionaires. But while the village pub and shop put out the Stars and Stripes in welcome, the tenants of the estate's dilapidated houseboats are above any consideration of filthy lucre and stand their ground for tradition's sake … and because they consider eviction notices not to be cricket. Each disgruntled faction sees the other as the unwelcome cuckoo in the family nest. So, led by randy pulp-crime writer Phineas Cook, and Lt-Commander James Cunningham DSO, DSC and Bar, RN (ret) – a man with a glass eye for each day of the week, painted with scenes from famous British naval victories and landscapes that speak of England – they hoist the Union Jack and battle pendant and prepare to engage.
Buchdetails
Aktuelle Ausgabe
Erscheinungsdatum:
18.03.2013
Rezensionen und Bewertungen

Gespräche aus der Community zum Buch
Starte mit "Neu" die erste Leserunde, Buchverlosung oder das erste Thema.
Buchdetails
Aktuelle Ausgabe
Erscheinungsdatum:
18.03.2013