2287 A.D.: A Post-Apocalyptic Sci-fi Fantasy (The Ashlyn Chronicles Book 1)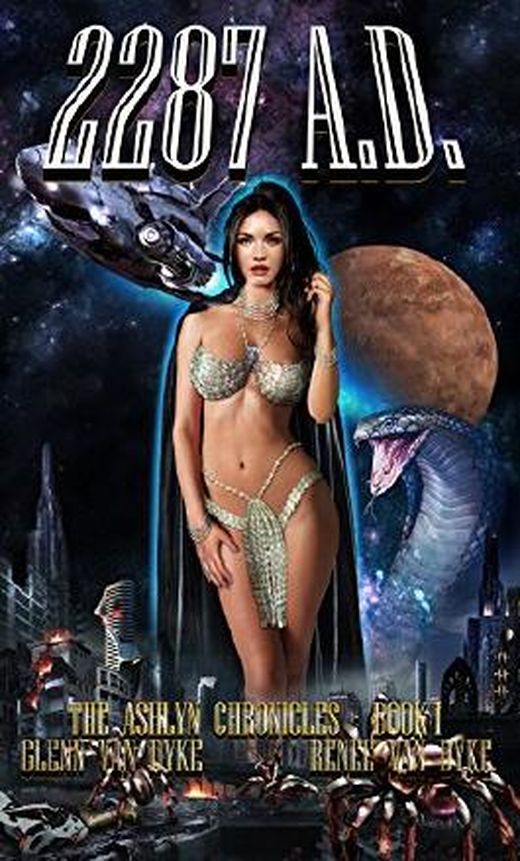 Zu diesem Buch gibt es noch keine Kurzmeinung. Hilf anderen Lesern, in dem du das Buch bewertest und eine Kurzmeinung oder Rezension veröffentlichst.
Auf der Suche nach deinem neuen Lieblingsbuch? Melde dich bei LovelyBooks an, entdecke neuen Lesestoff und aufregende Buchaktionen.
Inhaltsangabe zu "2287 A.D.: A Post-Apocalyptic Sci-fi Fantasy (The Ashlyn Chronicles Book 1)"
Special Low Price Today for 2287 A.D. + 2 FREE Gifts! And get the sequel 2288 A.D. at a reduced price! - "2288 A.D., THE AMAZING SEQUEL to the blockbuster story of post-apocalyptic survival, time travel, love, sacrifice and redemption ... is here!" Kirkus - 2287 A.D. is a controversial, #1 BEST SELLING, Kindle ALL-STAR, TOP 100 of ALL AMAZON BOOKS, having sold over 100,000 copies in its first few months. It is 655 pages of post-apocalyptic, FANTASY/ SCI-FI and the 1st book of 'The Ashlyn Chronicles' series. - As a thank you, you will RECEIVE (2) FREE COLLECTORS ITEMS: An HD copy of the cover featuring Ashlyn AND the original, more risque cover that AMAZON declined - done by World Class Illustrator, Claudio Aboy. They make awesome screensavers. All FREE and included! To get them, simply visit: 2287AD.com - *Very important note for readers*: While 2287 is a fictional story, the ancient 'alien uplift' version of creation seems to have offended some readers religious beliefs, which was never our intent. So, due to the number of negative reviews and hateful emails we've received about the retelling, we decided to include the following warning: - If you have religious beliefs that will be offended by an alien UPLIFT story of creation, please do NOT buy this book. - To put it simply, we wanted 2287 A.D. to be a fun, FICTIONAL and entertaining story for the open-minded, mature reader. - It should also be noted that the heroes in the novel have superlative, BIGGER THAN LIFE abilities and are similar to those used by various characters in Star Trek; the 'FORCE' in STAR WARS and Ray Harryhausen's 60's classic, 'Jason and the Argonauts.' They are all norms in today's hybrid FANTASY / SCI-FI fiction world where rules are often bent for entertainment value. 2287 is fantasy/sci-fi, NOT hard military fiction. - So grab your favorite chair, a cold drink and a bag of chips. It's time to cut-loose, have fun and enjoy the ride. * AND NOW, THE FUN STUFF (SYNOPSIS): 2287 A.D. is the 1st novel of an epic series about post-apocalyptic survival, time travel, love, sacrifice and redemption amid the ultimate battle for mankind's survival. - It follows the lives of Ashlyn Parker and Steven Sherrah, the man who is in command of Earth's last surviving starship. He has been struggling to keep the handful of Earth's survivors alive, hiding from the most vicious and powerful enemy humanity has ever known, an enemy that is relentless in his determination to see that every last human is killed. - His life is turned upside down as Ashlyn, a woman genetically engineered to be mentally and physically perfect - the next step in humanity's evolution, awakens from stasis. For her protection, she had been cryogenically frozen when Earth was attacked. Her return is brutal, for she awakens fifteen years later into a post-apocalyptic Earth to find that everyone she had known before is gone, the world destroyed. - From the first moment that her distress signal is received and Steven rescues Ashlyn, his heart is inexplicably drawn to her, as she is to him. Her presence challenges his loyalty to those whom he loves and all that he has ever known. For within Ashlyn, she holds the secret to a shared past that he had never known existed. A past which will take them back in time almost 7,000 years, where they will journey through strange new worlds, changing the history of the universe for all time, and our understanding of everything as we know it. * 2287 A.D. is packed full of action and adventure. Personally, we hate a 3 page description of how a star-drive engine operates. We hope that you too will enjoy a story that moves quickly. * OUR THANKS TO: Zechariah Sitchin, the Ancient Aliens show on History Channel, Jason Martel, Erich von Daniken, Richard C. Hoagland, Coast to Coast with George Noory, Linda Moulton Howe, Georgio A. Tsoukalos and so many others for your dedication
Buchdetails
Aktuelle Ausgabe
Verlag:
AWE Publishing, LLC
Erscheinungsdatum:
02.06.2015
Rezensionen und Bewertungen
Ähnliche Bücher für noch mehr Lesestunden
Gespräche aus der Community zum Buch
Starte mit "Neu" die erste Leserunde, Buchverlosung oder das erste Thema.
Buchdetails
Aktuelle Ausgabe
Verlag:
AWE Publishing, LLC
Erscheinungsdatum:
02.06.2015