THE MIRACLE OF MORGAN'S CAKE - Production Secrets of a $15,000 IMPROV Sundance Feature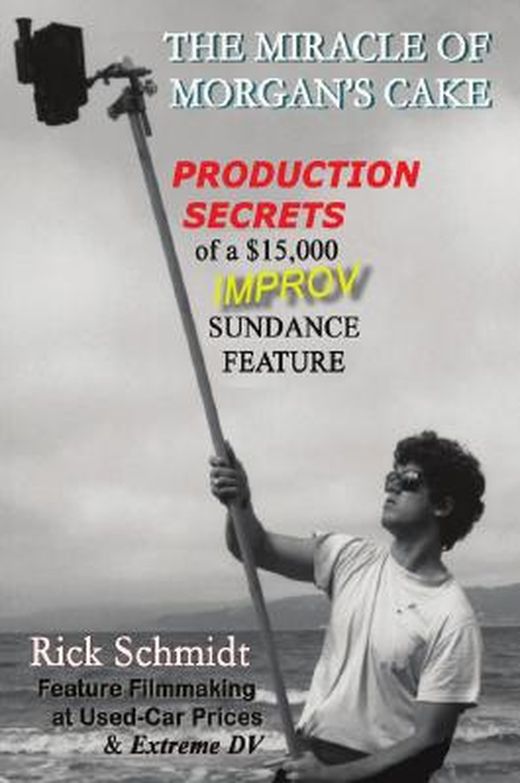 Zu diesem Buch gibt es noch keine Kurzmeinung. Hilf anderen Lesern, indem du das Buch bewertest und eine Kurzmeinung oder Rezension veröffentlichst.
Auf der Suche nach deinem neuen Lieblingsbuch? Melde dich bei LovelyBooks an, entdecke neuen Lesestoff und aufregende Buchaktionen.
Inhaltsangabe zu "THE MIRACLE OF MORGAN'S CAKE - Production Secrets of a $15,000 IMPROV Sundance Feature"
Every day, in varied fields such as music, theatre, feature films and Youtube videos, the word IMPROV is being heard as the 'NEXT BIG THING.' But up until now, though, there has been NO BOOK that aptly describes the actual day-to-day IMPROV FILMMAKING process, where a writer/director must rely on actors to move a story ahead through the minefield of an improv production. THE MIRACLE OF MORGAN'S CAKE – PRODUCTION SECRETS OF A $15,000 IMPROV SUNDANCE FEATURE explains this REAL-LIFE approach, as writer/director Rick Schmidt recounts each of his nine shooting days for his festival hit, MORGAN'S CAKE. With 'PRODUCTION SECRETS' you will gain trust in yourself and in the improv system, helping you take the necessary risks of creation. You will learn how to direct IMPROV PERFORMANCES, and even how to adjust for when friends drop in (incorporating them as 'extras' – real girlfriend, real best friends – to make the movie more interesting. Using SPONTANEOUS LOCATIONS will also become second-nature. You'll learn how to construct multi-idea, multi-level sequences in the very-tight ONE-TO-ONE SHOOTING RATIO, where the strict shooting ratio will actually HELP your creativity. You'll discover how to adapt the moviemaking process so it FOLLOWS A SPONTANEOUS THEME. Rick's book will give a dose of confidence that things will work out – (keep shooting! Keep editing!). You'll be discovering ways of designing cuts as part of your free-flowing process – calling 'freeze' and changing camera angles – while you consider what direction the words/ideas should take when you call 'action' again. Todays moviemaker has all the tools of production in hand, literally (iPhone!), and it only takes the INTENT OF PURPOSE to make her IMPROV moviemaking dreams finally come true. Schmidt's MORGAN'S CAKE is a deadpan, unpretentious delight. One of the most promising films of the New Directors/New Films series." – JANET MASLIN, The New York Times. https://vimeo.com/ondemand/morganscake
Buchdetails
Aktuelle Ausgabe
Erscheinungsdatum:
31.08.2017
Rezensionen und Bewertungen
Gespräche aus der Community zum Buch
Starte mit "Neu" die erste Leserunde, Buchverlosung oder das erste Thema.
Buchdetails
Aktuelle Ausgabe
Erscheinungsdatum:
31.08.2017