Sherlock Holmes: A Duel with the Devil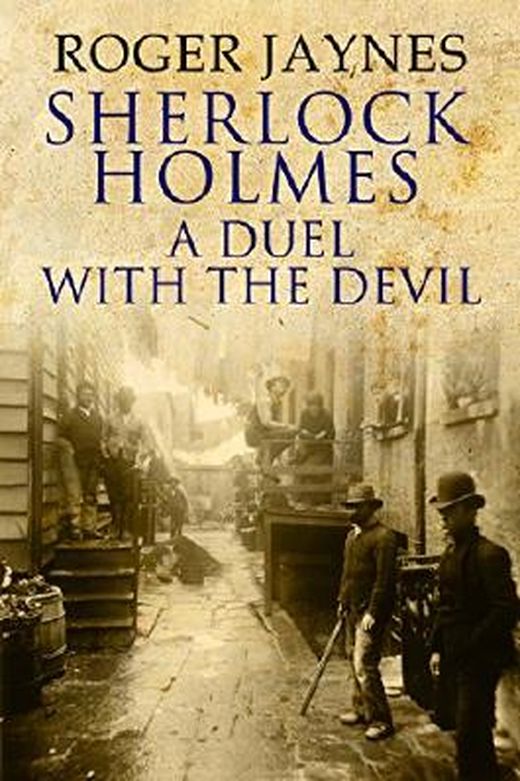 Zu diesem Buch gibt es noch keine Kurzmeinung. Hilf anderen Lesern, in dem du das Buch bewertest und eine Kurzmeinung oder Rezension veröffentlichst.
Inhaltsangabe zu "Sherlock Holmes: A Duel with the Devil"
As a series of bizarre, seemingly unconnected, cases unfold around Europe, Holmes and Watson must use all their skills and expertise to connect and solve these three puzzling cases, which have been devilishly orchestrated by the world's greatest criminal mastermind, Professor Moriarty. The case begins, as usual, at 221B Baker Street when Jonathan Thatcher, brother of acclaimed Mathematics professor, Aubrey Thatcher, reports that his brother has been missing for three days following the announcement of his engagement. The plot thickens when Jonathan reveals his brother is also embroiled in the murder of a clerk from the university. Holmes and Watson travel to Durham in search of Professor Thatcher, who withdrew five thousand pounds before his disappearance, perhaps to the Americas, and who also, after arriving in Durham, is found to have the murder weapon in his lodgings. In the second case a representative of the allusive Henri Victoire approaches the solicitor, Howard Montclair. Mr Montclair is instructed to deliver a sealed envelope to the Royal Hotel in Bristol by five o'clock for the faceless Victoire. After delivering the envelope to the hotel and meeting nobody, Montclair returns to London. Upon arriving back it is reported that the Brereton Emerald has been stolen from Rome. Rome, being the city where Montclair's brother was stationed whilst working for the diplomatic corps. Only Sherlock Holmes can connect the delivery of a letter in Bristol to the robbery of one of the world's largest jewels. In the final case, Holmes and Watson are called upon by Lestrade to help take down the Crimson Vandals who have been adorning British monarchs with lashings of red paint, leaving an undecipherable code in their wake. Holmes begins to make tracks, but not quickly enough as an attempt is made upon his life by the most unlikely of people – Dr John Watson. Roger Jaynes' Sherlock Holmes: A Duel with the Devil is an exhilarating tale that pits two of the greatest minds against one another in a battle of intellectual wit – the game is afoot! Roger Jaynes has spent his entire life writing about a multitude of subjects in a variety of ways. As an award-winning sportswriter for the Miami Herald, Gannett News Service and the Milwaukee Journal, he was recipient of over 45 national writing awards including his being chosen as top 'Sports News Writer of The Year' in the United States by the Associated Press Sports Editors Association in 1977. After leaving journalism in 1988, Jaynes served as Director of Public Relations at Road America. Endeavour Press is the UK's leading independent digital publisher. For more information on our titles please sign up to our newsletter at www.endeavourpress.com. Each week you will receive updates on free and discounted ebooks. Follow us on Twitter: @EndeavourPress and on Facebook via http://on.fb.me/1HweQV7. We are always interested in hearing from our readers. Endeavour Press believes that the future is now.
Buchdetails
Aktuelle Ausgabe
Erscheinungsdatum:
03.03.2016
Vorfreude! So freuen sich unsere Leser auf das Buch
Rezensionen und Bewertungen
Ähnliche Bücher für noch mehr Lesestunden
Gespräche aus der Community zum Buch
Starte mit "Neu" die erste Leserunde, Buchverlosung oder das erste Thema.
Buchdetails
Aktuelle Ausgabe
Erscheinungsdatum:
03.03.2016