Secrets on the Sand (Barefoot Bay Billionaires Book 1)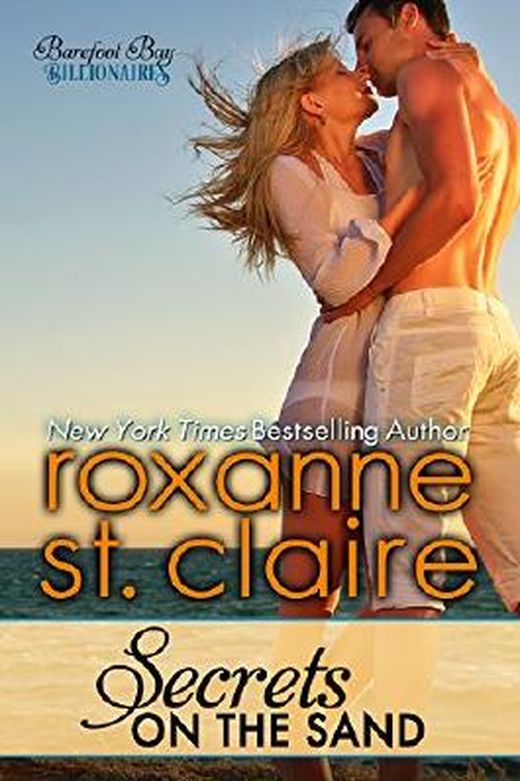 Zu diesem Buch gibt es noch keine Kurzmeinung. Hilf anderen Lesern, in dem du das Buch bewertest und eine Kurzmeinung oder Rezension veröffentlichst.
Inhaltsangabe zu "Secrets on the Sand (Barefoot Bay Billionaires Book 1)"
A snappy, sassy, sexy love story from New York Times and USA Today bestselling author Roxanne St. Claire set on the sun-washed beaches of Barefoot Bay! "Lively, light, pure entertainment! This Cinderella story is "Pretty Woman" on the beach!" - Carly Phillips, New York Times bestselling author Zeke Nicholas has turned his mathematical genius skills into a mountain of money. But Zeke sits on that mountain all alone, longing for the one thing money cannot buy: a lifelong partner and true love. Enter Mandy Mitchell...the maid at his thousand-dollar-a-night resort. The minute they meet, Mandy knows he's exactly the kind of trouble she should avoid...but Zeke does have one thing Mandy needs to gain the independence she craves. Will he give it to her? One look at Mandy, and Zeke turns his relentless ability to get what he wants into a full-on seduction and he's ready to give her anything. But can Mandy face down the secrets of her past to find a fairy-tale future with Zeke? Praise for Roxanne St. Claire's books set in Barefoot Bay: "Fun and engaging...a celebration of family and forgiveness!" -Publishers Weekly "Plenty of heat, humor, and heart!" - USA Today Happy Ever After "A love story with genuinely flawed yet sympathetic characters filled with raw, real emotion, this will warm your heart as you turn the pages." - RT Book Reviews "It is impossible not to be completely enthralled from page one." - Joyfully Reviewed "Fun, light-hearted, super sexy...fans of Jill Shalvis, Carly Phillips, and Susan Mallery will definitely want to check out this series." - TheBookPushers.com "Pack this one in your beach bag and get ready for non-stop fun." - Susan Mallery, New York Times Bestselling Author "Lovely, lush, and layered! One of the best books I've read this year!" - Kristin Higgins, New York Times Bestselling Author Don't Miss a Minute in Barefoot Bay! This gorgeous island is the setting for multiple trilogies and quartets. Each love story stands completely alone, but why not come back to the beach for more love, laughter, and unforgettable romance? THE BAREFOOT BAY BILLIONAIRES - snappy, sassy romance 1. Secrets on the Sand (FREE) 2. Seduction on the Sand 3. Scandal on the Sand THE BAREFOOT BAY BRIDES - emotional journeys of love 1. Barefoot in White 2. Barefoot in Lace 3. Barefoot in Pearls BAREFOOT BAY UNDERCOVER- sexy romantic suspense Barefoot Bound (free prequel) 1. Barefoot With a Bodyguard 2. Barefoot With a Stranger 3. Barefoot With a Bad Boy BAREFOOT BAY TIMELESS - celebrating the silver fox hero 1. Barefoot at Sunset 2. Barefoot at Moonrise 3. Barefoot at Midnight Roxanne St. Claire is New York Times and USA Today bestselling author of more than forty romance, suspense, and young adult novels. An eight-time nominee and one-time winner of the Romance Writer's of America prestigious RITA Award, Roxanne's novels have also been recognized with dozens of other industry awards, including the four National Reader's Choice Awards, the Booksellers Best Award, and the Borders "Top Pick" of the Year.
Buchdetails
Aktuelle Ausgabe
Verlag:
South Street Publishing
Erscheinungsdatum:
09.12.2013
Vorfreude! So freuen sich unsere Leser auf das Buch
Rezensionen und Bewertungen
Ähnliche Bücher für noch mehr Lesestunden
Gespräche aus der Community zum Buch
Starte mit "Neu" die erste Leserunde, Buchverlosung oder das erste Thema.
Buchdetails
Aktuelle Ausgabe
Verlag:
South Street Publishing
Erscheinungsdatum:
09.12.2013