Praise the day with the sunset German English Hungarian Swiss Austria: Not who has gives, but who wants to give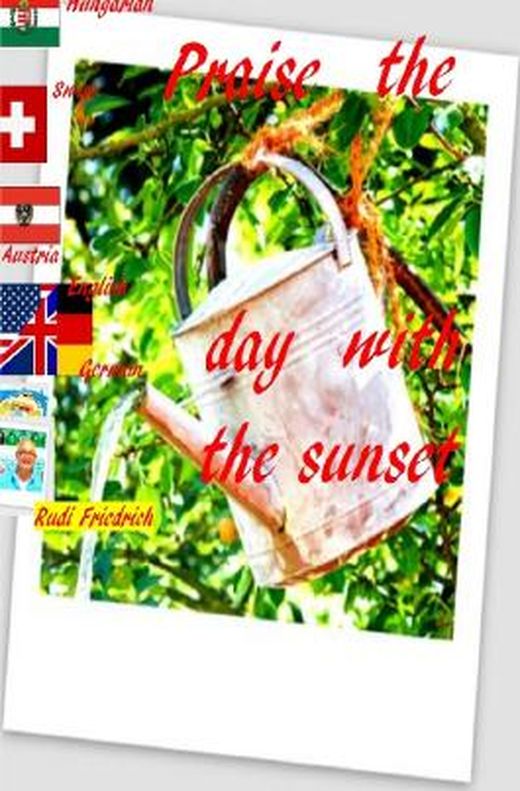 Zu diesem Buch gibt es noch keine Kurzmeinung. Hilf anderen Lesern, indem du das Buch bewertest und eine Kurzmeinung oder Rezension veröffentlichst.
Auf der Suche nach deinem neuen Lieblingsbuch? Melde dich bei LovelyBooks an, entdecke neuen Lesestoff und aufregende Buchaktionen.
Inhaltsangabe zu "Praise the day with the sunset German English Hungarian Swiss Austria: Not who has gives, but who wants to give"
Both were now as quiet as a mouse in their beds. Maria could not fall asleep yet. She didn't dare to ask Georg a question. Should she take the risk and speak to Georg. She wanted to ask him if he could imagine marrying her.
No, she said to herself, I shouldn't ask him such a crude question.
Georg felt the same way. He wanted to ask Maria, boldly and courageously, whether she would like to become his wife. Both behaved squeamishly. A risk for both.
It would have been so easy to just ask the other person. But neither of them dared.
Georg could hardly contain himself with excitement. He didn't even dare turn his body. As if petrified, he lay next to Maria. And Maria also had no idea how to lure Georg out of the reserve. After what felt like an eternity, both fell asleep.
Georg spoke unconsciously in his sleep. It often stammered "Maria" and slept on.
Maria heard his stammering and in the meantime woke up. Maria was delighted that Georg pronounced her name in a dream.
Maria woke up around 6 a.m. First she had to orientate herself.
It was just getting light outside.
On the opposite side you can see the imposing grocery store.
That must be the shop, Maria guessed. They carefully crossed the street. They opened the shop door and carefully stepped into the sales room.
A buttoned-looking young lady returned her greeting indifferently.
Maria suspected that they had ended up in the wrong shop.
Of course, word of misery also got around in the village. Michael and Markus tried to put the blame on Maria. Maria hangs around Nuremberg and totally neglects both of us. It doesn't matter how we're doing. In the inn they could no longer pay their debts. So they had everything written down. The innkeepers made a mark on the score for every beer. Until they had accumulated a great deal over time. Another beer Michael? asked the innkeeper. Yes, Marie pays. I can still remember the grandfather clock and the beautiful...There was a knock on the door. Another Sunday
Buchdetails
Aktuelle Ausgabe
Erscheinungsdatum:
04.07.2021
Rezensionen und Bewertungen
Gespräche aus der Community zum Buch
Starte mit "Neu" die erste Leserunde, Buchverlosung oder das erste Thema.
Buchdetails
Aktuelle Ausgabe
Erscheinungsdatum:
04.07.2021