Yesterdays Gone: SEASON TWO (THE POST-APOCALYPTIC SERIAL THRILLER) (Yesterday's Gone Book 2)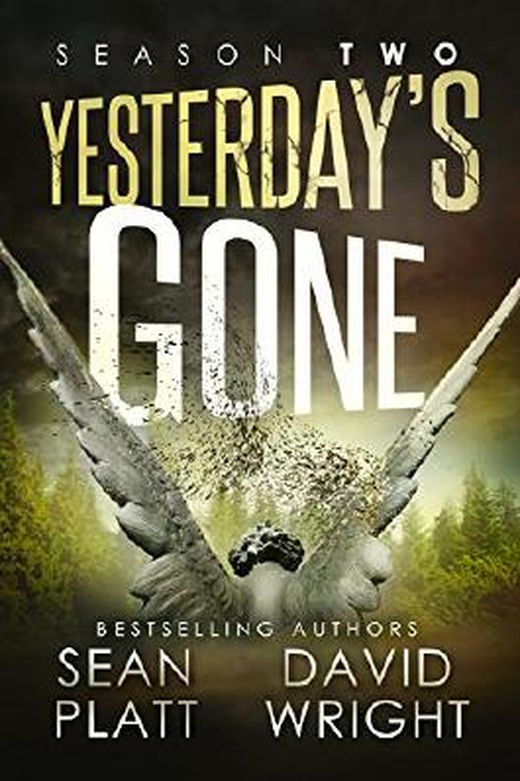 Zu diesem Buch gibt es noch keine Kurzmeinung. Hilf anderen Lesern, in dem du das Buch bewertest und eine Kurzmeinung oder Rezension veröffentlichst.
Inhaltsangabe zu "Yesterdays Gone: SEASON TWO (THE POST-APOCALYPTIC SERIAL THRILLER) (Yesterday's Gone Book 2)"
THIS IS THE COLLECTED EPISODES 7-12 of the post-apocalyptic serial thriller Yesterday's Gone. The books are the same as the individual episodes BONUS: Exclusive wrap-up interview with Sean Platt & David W. Wright and editor Matt Gartland. The first TWO CHAPTERS from ForNevermore, Platt & Wright's newest serial thriller, now available. Description: THE MIND-BENDING POST-APOCALYPTIC SERIALIZED THRILLER YESTERDAY'S GONE CONTINUES WITH SEASON TWO On October 15, everyone in the world vanished. Well, almost everyone. Some were left behind, attempting to piece together what happened, find their loved ones, and survive. BUT THEY ARE NOT ALONE SEASON TWO picks up where SEASON ONE left off. One man finds himself on a mysterious island that holds secrets, and perhaps even answers, to what happened on October 15. A group finds itself taking refuge at The Sanctuary, a religious compound with an enigmatic leader called The Prophet. A serial killer finds himself leading an unlikely group of survivors. A young man searches to prove himself to his group, and avoid being bullied ever again. A young child is called to perform another miracle at great personal cost. Every decision. Every action. Every dream. Every alliance. Every secret. Every betrayal. IT ALL COMES DOWN TO THIS... THE STUNNING SEASON TWO FINALE that will have you on the edge of your seat... and then knock you to the floor with the most insane, MOST WTF?! UNFORGETTABLE SEASON FINALE YET! * * * * * **UPDATE April 10, 2012: Fixed typo error with capital 'R's in some words. THANK YOU, READERS, FOR MAKING YESTERDAY'S GONE SUCH A SUCCESS! Here's just some of what you had to say about Season Two! "Bravo gentlemen!" "10 Stars" "Can't Put It Down" "WOW!!! OMG!!! WTF!!! NO!!!" "The authors made me that crazy girl on the bus who talks to herself. I don't want to know what happens at the end of the story. I *need* to know." "BUY THIS BOOK, it's just THAT good!!" "NOOOOOO!!!" "Best book of the year!" "Leaves you gasping for breath and eagerly awaiting the next installment." "Love this series!" "Another WTF ending - my heart can't take this!" "If you haven't gotten this series yet...GET. IT. NOW!" "Total Thrill Ride!!!!" "What a cliffhanger!" "An absolute "Must-have" for your Kindle library." "This story simply gets better and better with each book." "This series just keeps getting better and better." "The authors have taken their craft to the next level." "Best story i have read in a long time" "Amazing series!" "This is one of the greatest apocalyptic books I've ever read." "Addictive reading" OTHER BOOKS IN THE YESTERDAY'S GONE SERIES: Yesterday's Gone: Episode 1 Yesterday's Gone: Episode 2 Yesterday's Gone: Episode 3
Buchdetails
Aktuelle Ausgabe
Verlag:
Collective Inkwell
Erscheinungsdatum:
16.11.2013
Vorfreude! So freuen sich unsere Leser auf das Buch
Rezensionen und Bewertungen
Ähnliche Bücher für noch mehr Lesestunden
Gespräche aus der Community zum Buch
Starte mit "Neu" die erste Leserunde, Buchverlosung oder das erste Thema.
Buchdetails
Aktuelle Ausgabe
Verlag:
Collective Inkwell
Erscheinungsdatum:
16.11.2013