Bring It (Sabel Security Thriller Book 2)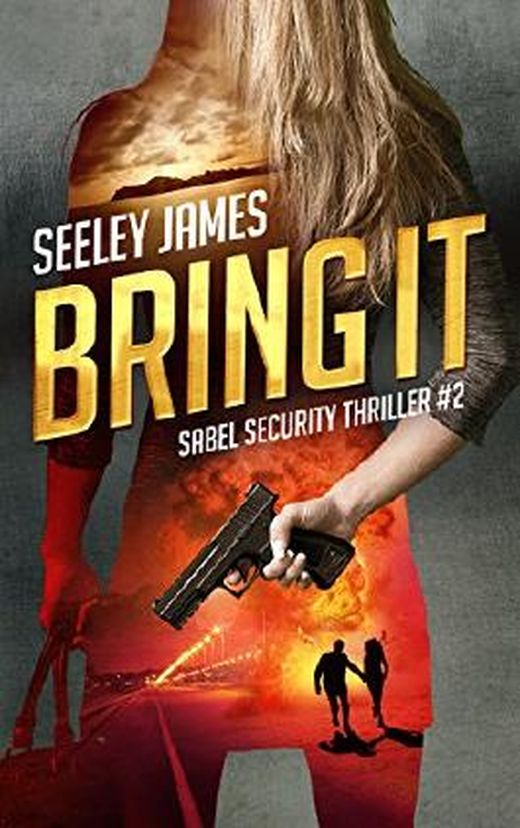 Zu diesem Buch gibt es noch keine Kurzmeinung. Hilf anderen Lesern, in dem du das Buch bewertest und eine Kurzmeinung oder Rezension veröffentlichst.
Auf der Suche nach deinem neuen Lieblingsbuch? Melde dich bei LovelyBooks an, entdecke neuen Lesestoff und aufregende Buchaktionen.
Inhaltsangabe zu "Bring It (Sabel Security Thriller Book 2)"
To get the first 3 Sabel Security Thrillers for 50% off, copy and paste this URL: http://smarturl.it/SabelBox When Pia Sabel is abducted after trying to bust a ring of deviant criminals, it's up to veteran agent Jacob Stearne to navigate the dark web of deceit and lies to save her from her torturous captors. Pia Sabel expected a little recognition after she liberated a pedophile resort in Sri Lanka, not a State Department inquisition. Forced to play the deadliest game of her life, she finds molested children used in a new version of "enhanced interrogation tactics". Putting herself in danger to save the innocent, her overconfidence leads to agonizing torment. Sabel Agent Jacob Stearne and his team of decorated veterans have lived through warzone horrors but nothing could have prepared them for the ugly reality they uncover. Fending off accusations of treason and terrorism, Jacob unravels a network of ambitious appointees and black-budget contractors to discover who is responsible for some of the most horrific crimes against humanity. Praise for Seeley James A fine thriller with intriguing locations, intricate plot twists and a complex heroine. – Kirkus Reviews I loved the character of Pia Sabel – there's a girl Charlie Fox would team up with any day! -- Zoe Sharp, author of the Charlie Fox novels Seeley James has created a protagonist that is strong and yet conflicted. -- PJReviewofBooks.com I fell in love with the characters and can't get enough of them … I felt every ounce of rage and desperation. -- CarolAnn Review An excellent fast moving action thriller -- Eric Crown, Founder of F500 company, Insight Enterprises Once I started reading, it was hard to put down. Can't wait for the next adventure! -- Robert Manning, Amazon "PTSD sufferer Jacob Stearne and his mythical Roman god Mercury take the reader on a fierce, unforgettable adventure." --Bill K. Yucatan Review Interview with Seeley James from DigiWriting.com DW: Do readers really compare Pia and Jacob to other literary heroes and heroines? SJ: I've heard Pia Sabel compared to Jack Reacher many times because she's a straight-forward, no-nonsense heroine who beats the crap out of people. Recently, I've heard Jacob Stearne in the same breath as Stephanie Plum because of his whacky lifestyle and romantic problems. It's appropriate because he's our comic-relief character. DW: What is your favorite book of all time? How has it influenced you and your writing? I don't have just one. One Shot by Lee Child, because it has such an intricate set of clues, ranks right up there with First Drop by Zoe Sharp, because she nailed the teenagers with incredible insight and humor. DW: Did you always want to be a writer or did you fall into the profession? I was nineteen and single when I adopted a three-year-old girl and raised her (More about that on my site, http://seeleyjames.com/about/ ). Kids need a lot of money and attention, so I worked in the upwardly mobile tech industry. Later in life, my career afforded me the ability to take a huge risk. DW: Which authors have had a profound impact on your writing? SJ: Gillian Flynn because she thinks way outside the Agatha Christie formula. Janet Evanovich because her books are just plain fun. J. D. Robb (aka Nora Roberts) has some phenomenal writing techniques. Daniel Silva, Harlan Coben, Russell Blake, John Sandford, James Rollins, A. G. Riddle, Lance Charnes, the list just goes on and on…
Buchdetails
Aktuelle Ausgabe
Erscheinungsdatum:
22.04.2014
Rezensionen und Bewertungen
Ähnliche Bücher für noch mehr Lesestunden
Gespräche aus der Community zum Buch
Starte mit "Neu" die erste Leserunde, Buchverlosung oder das erste Thema.
Buchdetails
Aktuelle Ausgabe
Erscheinungsdatum:
22.04.2014