Teaching Maya (A BDSM Romance Novel)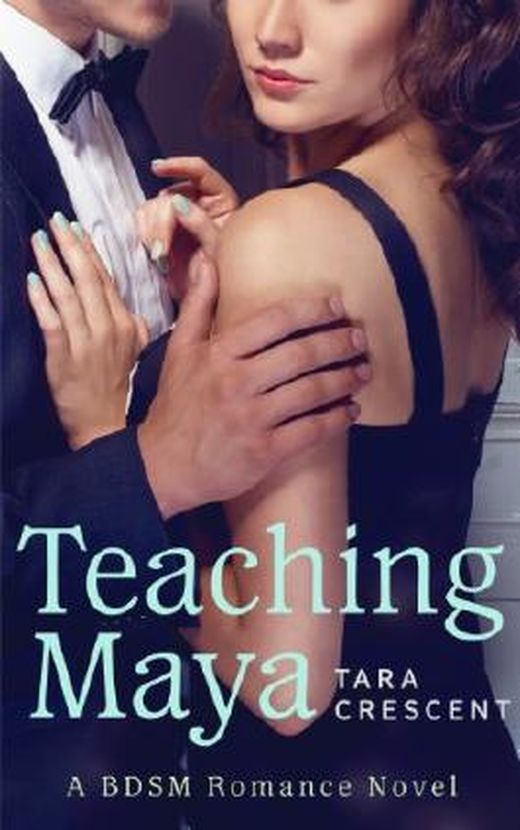 Zu diesem Buch gibt es noch keine Kurzmeinung. Hilf anderen Lesern, in dem du das Buch bewertest und eine Kurzmeinung oder Rezension veröffentlichst.
Auf der Suche nach deinem neuen Lieblingsbuch? Melde dich bei LovelyBooks an, entdecke neuen Lesestoff und aufregende Buchaktionen.
Inhaltsangabe zu "Teaching Maya (A BDSM Romance Novel)"
Note: Teaching Maya is a ~45,000 word/ 180 page novel. ***The perfect blend of bondage, dominance, submission and tender romance*** Unable to experience arousal or reach orgasm with her first boyfriend, twenty-one year old Maya feels like a freak. In desperation, she hatches a plan to seduce the best-selling author Ryan Clayborn during a two-week vacation, and have him coach her in bed. Ryan sleeps with many women, but commits to none. He warns Maya that an affair with him would include whips, handcuffs and canes. But Maya is drawn to him as a moth to a flame… Ryan's control and dominance takes Maya to new peaks of arousal. But with time ticking on, will this affair end well, or will Maya end up broken all over again? ***Teaching Maya is a ~45,000 word/ 180 page novel. *** *** An excerpt: Ryan looked a little relieved, as he continued. "Good. Now how much do you know about the whole BDSM thing, and do you have any questions?" I had spent my day doing some discreet Internet browsing. It had been eye-opening and somewhat terrifying. Had it been anyone other than Ryan suggesting this, I would have run, screaming. I had known Ryan all my life though, and I trusted him. I asked the question that was uppermost in my mind. "Are you looking for a slave?" He burst out laughing. The waitress chose that moment to appear with our drinks, and I seized mine, mortified. I don't know what reaction I was expecting, but mirth wasn't it. With effort, Ryan sobered up, and we both placed our dinner orders. Once the waitress had retreated, he continued, eyes dancing with amusement. "I'm assuming you spent some time on the Internet? I'm not saying there aren't people who are into the whole slave thing, but it's probably much more the kind of thing that people fantasize about without ever wanting it to be anything other than a fantasy." He took a sip of his drink. "If you've been reading much of the drivel on the Internet, then I'll quickly clarify the way I play. It'll always just be you and me. No bondage clubs, no sharing you with friends, nothing in public, none of that crap. I don't do needles or blood, I won't lock you in a cage for hours on end, you won't have to call me Master, and you certainly will be expected to make eye contact. Let's see, what else? I don't do humiliation. No peeing on each other, or anything in that spectrum. Hmm. What am I forgetting?" That little speech had answered most of my questions, and quelled most of my disquiet. "Will I have a safe word?" I asked. "If you want one," he answered. "You haven't done this before, right?" I shook my head. "I'll stop if you say no, Maya. It's pretty simple." I knew he would. I took another sip of my drink, and met his eyes bravely. "And when will we play?" Our meals arrived. Ryan looked at me, and smiled wickedly. "Oh, we'll play tonight, Maya. Eat up. You're going to need your energy." At his words, I shivered. *** Reader comments: Beauty being in the eye of the beholder... I behold a beautiful thing here. You gave created such a wonderful example of the often neglected part of bdsm erotica-caring balanced characters who seek sensual, fun and respectful encounters. To quote the late great Elvis Presley, "Thank you. Thank you very much." *** A well deserved 5* A very good story, particularly the explanations and reality about BDSM, the characters appear 'real' and human. Keep it coming, thanks. *** Not only is the story hot... I would enjoy hanging out for a drink and conversation with these two. (Maybe I would be invited to join them. One can dream...) *** 5* One of my few five stars. Get started on the book .Very rarely does something do that special trick in my head where a story runs like a film and I can see it .It takes great writing ....you have that gift.
Buchdetails
Aktuelle Ausgabe
Erscheinungsdatum:
01.10.2013
Rezensionen und Bewertungen
Ähnliche Bücher für noch mehr Lesestunden
Gespräche aus der Community zum Buch
Starte mit "Neu" die erste Leserunde, Buchverlosung oder das erste Thema.
Buchdetails
Aktuelle Ausgabe
Erscheinungsdatum:
01.10.2013