International Seaweed Symposium (Xth)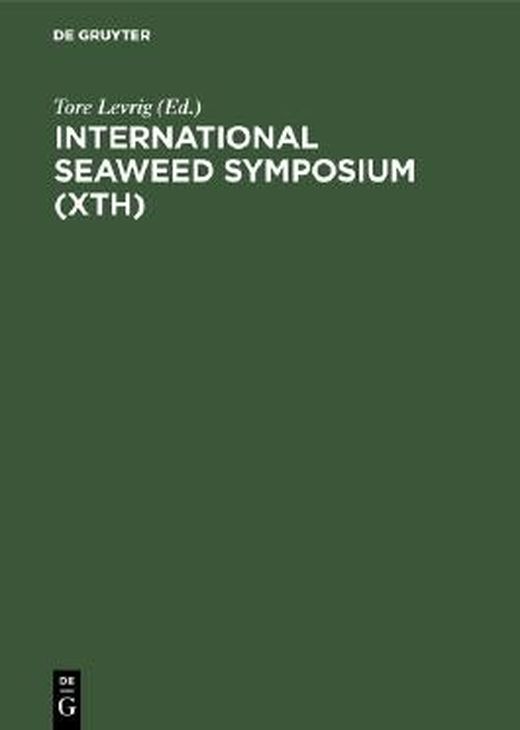 Zu diesem Buch gibt es noch keine Kurzmeinung. Hilf anderen Lesern, indem du das Buch bewertest und eine Kurzmeinung oder Rezension veröffentlichst.
Auf der Suche nach deinem neuen Lieblingsbuch? Melde dich bei LovelyBooks an, entdecke neuen Lesestoff und aufregende Buchaktionen.
Inhaltsangabe zu "International Seaweed Symposium (Xth)"
Frontmatter -- CONTENTS -- GREETINGS -- Opening address to the Symposium -- Part I: PLENARY LECTURES -- BIOSYNTHESIS OF ALGINATE / Larsen, Bjørn -- PHOTOBIOLOGY OF SEAWEEDS: ECOPHYSIOLOGICAL ASPECTS / Lüning, K. -- THE HOLE OF OLEFINIC HYDROCARBONS IN SEXUAL REPRODUCTION OF MARINE BROWN ALGAE / Müller, D.G. -- THE DOMESTICATION AND CULTIVATION OF CALIFORNIAN MACROALGAE / Neushul, M. -- MARINE PHYCOLOGY AND EXPLOITATION OF SEAWEEDS IN SOUTH AMERICA / F., E. C. de Oliveira -- REFLECTIONS ON THE INTERRELATIONSHIPS BETWEEN RED SEAWEED SOURCE CHEMISTRY AND USES / Stancioff, D. J. -- MARINE PHYCOCULTURE IN CHINA / Tseng, C. K. -- Part II: ORDINARY LECTURES -- 1. Distribution, Morphology, Taxonomy -- LIFE HISTORY OF GYMNOGONGRUS GRIFFITHSIAE (TURNER) MARTIUS / Cordeirc-Marino, Marilza / Poza, Arturo Candia -- TAXONOMIC AND BIOLOGICAL STUDIES ON SPECIES OF IRIDAEA BORY IN CENTRAL CHILE / Etcheverry, H. / Collantes, G. / Ríos, V. -- MORPHOLOGICAL STUDIES ON AGARDHIELLA SCHMITZ (GIGARTINALES, RHODOPHYTA) FROM VENEZUELA / Ganesan, E.K. -- OB DEEP-SEA RED ALGAL VEGETATIONS IN THE JAPAN SEA, AND A NEW NEMASTOMACEOUS ALGA, PREDAEOPSIS JAPONICA N. GEN. N. SP. / Kajimura, M. -- ON THE IDENTITY OF LAURENCIA PINNATIFIDA FROM SCANDINAVIAN COASTS / Magne, Francis -- SEXUAL REPRODUCTION IN THE PALMARIACEAE / Meer, J. P. van der -- EGG LIBERATION IN SOME JAPANESE SARGASSACEAE (PHAEOPHYCEAE) / Okuda, T. -- PORTERINEMA FLUVIATILE AS A STAGE IN THE LIFE HISTORY OF SORAPION KJELLMANII (FUCOPHYCEAE, RALFSIACEAE). / Pedersen, P. M. -- EFFECTS OF ENVIRONMENTAL FACTORS ON THE DIURNAL PERIODICITY OF TETRASPORES OF SOME GIGARTINALES (RHODOPHYTA) / Rao, M. Umamaheswara / Subbarangaiah, G. -- THE MARINE SEAWEED OF CHILE'S TENTH REGION (Valdivia, Osorno, Llanquihue and Chilofe) / Westermeier, R. -- 2. Ecology -- ON THE VEGETATION DYNAMICS OF GRACILARIA SPEC. IN PLAYA CHANGA, COQUIMBO, CHILE / Black, Hans J. / Fonck, Erika -- THE PHYTOBENTHOS OF A MEDITERRANEAN HARBOUR, PORT-VENDRES / Boudouresque, C.-F. / Marcot-Coqueugniot, J. / Nedelec, H. -- BIOGEOGRAPHY AND ECOLOGY OF THE SICILY CHANNEL / Cinelli, F. -- THE ECOLOGICAL IMPORTANCE OF KELP-LIKE HOLDFASTS AS A HABITAT OF INVERTEBRATES III CENTRAL CHILE / Cancino, J. / Santelices, B. -- PRODUCTIVITY OF LAMINARIA SOLIDUNGULA J. AG. IN THE CANADIAN HIGH ARCTIC: A YEAR-ROUND STUDY / Chapman, A.R.O. / Lindley, J.E. -- VARIATION IN ANNUAL PRODUCTION BY ASCOPHYLLUM NODOSUM (L.)LE JOLIS WITH DEGREE OF EXPOSURE TO WAVE ACTION / Cousens, Roger -- ECOLOGY DISTRIBUTION AND SEASONALITY OF CRYPTONEMIA HIBERNICA GUIRY ET IRVINE ON THE SOUTH COAST OF IRELAND. / Cullinane, J. P. / Whelan, P. M. -- STUDIES ON THE DEVELOPMENT OF PAU4ARIA PALMATA (RHODOPHYCEAE) USING IN SITU CONTROLLED CULTURES / Dion, Patrick / Delépine, René -- EFFECTS OF TEMPERATURE AND IRRADIANCE ON GROWTH AND RESPIRATION OF CHONDRUS CRISPUS STACKH / Enright, C. T. / Craigie, J. S. -- DISTRIBUTION AND CONTROL OF THE BROWN ALGA SARGASSUM MUTICUM / Farnham, W. / Murfin, C. / Critchley, A. / Morrell, S. -- REMARKS ON SUCCESSION IN ROCKY INTERTIDAL SYSTEMS / Fernández, M. C. / Niell, F. X. / Fuentes, J. M. -- THE GROWTH, REPRODUCTION, HARVESTING AND MANAGEMENT OF PTEROCLADIA PINNATA (RHODOPHYCEAE) IN THE AZORES, PORTUGAL / Fralick, R.A. / Andrade, F. -- COMPARISON OF GROWTH STRATEGY IN LAMINARIA POPULATIONS LIVING UNDER DIFFERING SEASONAL PATTERNS OF NUTRIENT AVAILABILITY / Gagne, J.A. / Mann, K.H. -- FLUCTUATIONS IN EPIPHYTE BIOMASS FOLLOWING LAMINARIA HYPERBOREA CANOPY REMOVAL / Harkin, E. -- BIOMASS AND VERTICAL DISTRIBUTION OF FURCELLARIA LUMBRICALIS AND ASSOCIATED ALGAE / Halmsgaard, J . E. / Greenwell, M. / McLachlan, J. -- THE ALGAL VEGETATION AT A PLATFORM SHORE AT MIKHMORET / Lundberg, B. -- SEASONAL OCCURRENCE OF SCYTOSIPHON LOMENTARIA (SCYTOSIPHONALES, FUCOPHYCEAE) IN RELATION TO ENVIRONMENTAL FACTORS / Kristiansen, Aase -- TIDE POOL ASSOCIATIONS OF BENTHIC ALGAE IN ICELANDIC WATERS / Munda, Ivka M. -- PHOTOSYNTHETIC LIPOSOLUBLE PIGMENTS IN SEAWEEDS, PHYSIOLOGICAL AND ECOLOGICAL MEANING / Niell, F. X. -- ASPECTS OF THE LIGHT AND NITROGENOUS NUTRIENT REQUIREMENT FOR GROWTH OF CHORDARIA FLAGELLIFORMIS (O.F.MULL) C.AG. / Probyn, Trevor A. -- BIOLOGICAL DATA OK A SOUTHERN PHAEOPHYCEAE ADENOCYSTIS UTRICULARIS (BORY) SKOITSBERG, POSSIBLE MATERIAL FOR ALGINATE INDUSTRY. / Reviers, Bruno de / Delépine, René -- PRODUCTION ECOLOGY OF CHILEAN GELIDIALES / Santelices, B. / Oliger, P. / Montalva, S. -- ECOLOGY, LIFE HISTORY AND NUCLEUS DNA CONTENTS OF DERBESIA TENUISSIMA FROM THE CARIBBEAN COAST OF COLOMBIA / Schnetter, R. / Möhr, B. / Bula-Meyer, G. / Seibold, G. -- CHEMICAL CONSTITUENTS OF SOME BALTIC MACROALGAE IN RELATION TO ENVIRONMENTAL CONDITIONS / Wallentinus, I. -- 3. Biochemistry, Physiology -- THE DISTRIBUTION AND COMPOSITION OF POLYMERS IN THE MEDULLA OF ASCOPHYLLUM RECEPTACLES / Baardseth, E. / Grasdalen, H. / Larsen, B. -- ANALYSIS OF KAPPA-IOTA HYBRID CARRAGEENANS WITH KAPPA-CARRAGEENASE, IOTA-CARRAGEENASE AND 13c N.M.R. / Bellion, C. / Hamer, G.K. / Yaphe, W. -- ISOLATION & PRELIMINARY CHARACTERIZATION OF RECEPTORS INVOLVED Hi EGG-SPERM RECOGNITION IN FUCUS SERRATUS / Callow, J.A. / Bolwell, G.P. / Evans, L.V. / Callow, Maureen E. -- CARRAGEENAN ANALYSIS IN APOMICTIC GIGARTINA STELLATA - NEW PUZZLES / Chen, L. C-M. / Craigie, J. S. -- CHEMICAL CLEAVAGE OF TANNINS FROM BROWN ALGAE (PHLOROTANNINS) / Glombitza, K.-W. / Gerstberger, G. / Lentz, G. -- IN SITU INVESTIGATION ON THE ENERGY FLOW IN A BALTIC FUCUS COMMUNITY / Guterstam, Björn -- NITRATE AND PHOSPHATE UPTAKE IN SMALL POPULATIONS OF LAMIMARÎÀ VIG1TATA (PHAEOPHYCEAE) / Indergaard, Mentz / Jensen, Arne -- SOME ENZYMATIC PROPERTIES OF POLYMANNURONIC ACID 5-EPIMERASE IN BROWN ALGAE / Ishikawa, M. / Nisizawa, K. -- DETERMINATION OF URONIC ACID COMPONENTS IN ALGINIC ACID / Ji, M. H. / Cao, W. D. / Han, L. J. -- THE VARIATION IN CONTENTS OP VARIOUS STATES Of AMINO ACIDS IN PORPHYRA YEZOENSIS / Ji, M. H. / Pu, S. Z. / Niu, Z. Q. -- METABOLIC IMPLICATIONS OF ß-CARBOXYLATION IN BROWN SEAWEED / Kremer, B.P. -- EXTRACTS FROM SOME RED AND BROWN SEAWEEDS OF THE PHILIPPINES / Laserna, E.C. / Veroy, R.L. / Luistro, A.H. / Cajipe, G.J.B. -- THE TURN-OVER DF SULPHATES DIM THE LAMBDA-CARRAGEENAN DF THE CELL-UALLS DF THE RED SEAWEED GIGARTINALE : CATENELLA OPUNTIA (GREV.) / Lestang-Brémond, G. de / Quillet, M. -- SEASONAL VARIATION OF THE CHLOROPHYLL CONTENTS OF GRACILARIA CULTIVATED IN TAIWAN / Liu, Chuen-Ying / Wang, Chen-Yen / Yang, Shang-Shyng -- A RAPID INFRA-RED CARBON DIOXIDE ANALYSIS SCREENING TECHNIQUE FOR PREDICTING GROWTH AND PRODUCTIVITY OF MARINE ALGAE / Lloyd, N. D. H. / McLachlan, J. L. / Bidwell, R. G. S. -- MICRONUTRIENT UPTAKE BY JUVENILE MACROCYSTIS PYRIFERA (L.) / Manley, S. / North, W. -- CARRAGEENANS OF SPECIES IN THE GENUS PHYLLOPHORA / McCandless, Esther L. / West, John A. / Vollmer, Catherine M. -- ENZYMES FROM PSEUDOMONAS CARRAGEENOVORA. APPLICATION TO STUDIES OF CARRAGEENAN STRUCTURE / McLean, M. W. / Williamson, F. B. -- THE EFFECT OF CALCIUM-ION CONCENTRATION ON POLY-Q-MANNURONATE C-5-EPIMERASE / Ofstad, R. / Larsen, B. -- THE INFRARED SPECTRA OF CARRAGEENANS EXTRACTED FROM VARIOUS ALGAE / Peats, S. -- THE MeCDPS, A CARRYING SULPHATE'S NUCLEOTIDE OF THE RED SEAWEED CATENELLA OPUNTIA (GREV.) / Quillet, M. / Lestang-Brémond, G. de -- PHYSIOLOGICAL RESPONSES OF PORPHIRA UNDER STEADY STATE AND FLUCTUATING SALINITY REGIMES / Reed, Robert H. -- COMPARATIVE PHOTOSTNTHETIC STUDIES ON BENTHIC SEAWEEDS / Tseng, C. K. / Zhou, Baicheng / Pan, Zhungzheng -- UPTAKE AND INCORPORATION OF 35S INTO CARRAGEENAN AMONG DIFFERENT STRAINS OF CHONDRUS CRISPUS / Tveter-Gallagher, E. / Cheney, D. / Mathieson, A. C. -- IMMUNOELECTROPHORETIC STUDY OF CHANGES IN CELL WALL ANTIGENS DURING FUCUS EMBRYO DEVELOPMENT / Vreeland, V. / Laetsch, W.M. -- AGAR FROM AN INTERTIDAL POPULATION OF GRACILARIA SP. / Whyte, J.N.C. / Englar, J.R. -- STUDIES ON PHENOLIC CONTENT OF SOME BROWN ALGAE FROM ADRIATIC SEA / Zavodnik, N. -- 4. Cultures -- GROWTH OF THE CYANOPHYTA AGMENELLUM QUADRUPLICATUM CULTIVATED ON GLYCINE OR NITRATE AT VARIOUS TEMPERATURE AND IRRADIANCE CONDITIONS / Bonin, D. / Antia, N.J. / Pelaez-Hudlet, J. -- GROWTH RESPONSE OF CHONDRUS CRISPUS (RHODOPHYTA, GIGARTINALES) TO LIGHT AND TEMPERATURE IN LABORATORY AND OUTDOOR TANKS CULTURE / Braud, J.P. / Delépine, R. -- THE APPLICATION OF GENETIC IMPROVEMENT TECHNIQUES TO SEAWEED CULTIVATION: I. STRAIN SELECTION IN THE CARRAGEENOPHYTE CHONDRUS CRISPUS / Cheney, Donald / Mathieson, Arthur / Schubert, David -- CULTIVATION OF GRACILARIA (RHODOPHYCOPHYTA, GIGARTINALES) IN TAIWAN / Chiang, Young-Meng -- MANIPULATION OF THE LAMINARIALEAN LIFE-CYCLE AND ITS CONSEQUENCES FOR KOMBU MARICULTURE / Druehl, L.D. / Boal, R. -- L.D. Druehl and R. Boal / Gerard, V. / North, W. -- EXPLORATORY STUDIES OF VEGETATIVE PROPOGATICN OF MARINE AGLAE: PROCEDURE FOR OBTAINING AXENIC TISSUES / Gibor, A. / Polne, M. / Biniaminov, M. / Neushul, M. -- REVOLUTIONARY IMPACT OF EUCHEUMA CULTIVATION IN THE SOUTH CHINA SEA ON THE CARRAGEENAN INDUSTRY / Laite, P. / Ricohermoso, M. -- BREAKTHROUGH IN THE COMMERCIAL CULTURE OF EUCHEUMA SPINOSUM IN NORTHERN BOHOL, PHILIPPINES / Lìm, Jose Rodolfo / Porse, Hans -- GROWTH RATES OF CORALLINA (RHODOPHYTA , CORALLINACEAE) IN JAPAN / Masaki, T. / Miyata, M. / Akioka, H. / Johansen, H.W. -- EXPERIMENTAL FERTILIZING OF COASTAL MACROCYSTIS BEDS / North, W. / Gerard, V. / McPeak, R. -- STUDIES IN DOMESTICATION OF EUCHEUMA UNCINATUM / Polne, M. / Neushul, M. / Gibor, A. -- THE "ICE-ICE" PROBLEM IN SEAWEED FARMING / Uyenco, F. R. / Saniel, L. S. / Jacinto, G. S. -- DEVELOPMENT OF A COASTAL MARINE FARM AND ITS ASSOCIATED PROBLEMS / Wheeler, W.N. / Neushul, M. / Harger, B.W.W. -- TIP-CUTTING OF FRONDS AS A MEANS OF INCREASING PRODUCTION IN LAMINARIA AQUACULTURE / Wu, C. Y. / Zheng, S. Q. / Tseng, C. K. -- PRELIMINARY STUDIES ON MASS CULTURE OF GRACILARIA SP USING DIFFERENT NUTRIENT MEDIA / Yoneshigue-Braga, Yocie / Neves, Maria Helena C. Baeta -- 5. Application, Biomass, Technology, Utilization -- THE COMPOSITION OF MAȄRL BEDS OF ECONOMIC INTEREST IN NORTHERN BRITTANY, CORNWALL AND IRELAND / Blunden, G. / Farnham, W.F. / Jephson, N. / Barwell, C.J. / Fenn, R.H. / Plunkett, B.A. -- DO WE REALLY NEED TO GROW MACROCYSTIS IN EUROPE? / Boalch, Gerald T. -- AGAR FROM GRACILARIA VERRUCOSA (HUDSON) PAPENFUSS AND GRACILARIA SJOESTEDTII KYLIN FROM NORTHEAST BRASIL / Durairatnam, Muttutamby / Santos, Neuson de Queiroz -- THE COMMERCIAL COLLECTION AND UTILISATION OF SEAWEEDS IN IRELAND / Guiry, M.D. / Blunden, G. -- METHANE PRODUCTION FROM THE RED SEAWEED GRACILARIA TIKVAHIAE / Hanisak, M. Dennis -- THE BIOMASS OF SEAWEEDS AT THE KULLEN, S. SWEDEN / Kornfeldt, R.-A. -- EXPERIMENTAL HARVESTING OF GRACILARIA IN NEW ZEALAND / Luxton, D.M. -- PROBLEMS OF CONVERTING LINEAR GROWTH INCREMENTS OF KELPS TO ESTIMATES OF BIOMASS PRODUCTION / Mann, Kenneth H. / Mann, Colin -- STUDIES ON GRACILARIA SP. IN BAHIA ARREDONDO, CHUBUT PROVINCE, ARGENTINA / Mayer, Alejandro M.S. -- APPLICATIONS OF AGAROSE IN BIOMEDICAL TECHNIQUES IN RELATION TO PHYSICAL AND CHEMICAL PROPERTIES / Pluzek, K. -- THE RELATIONSHIP BETWEEN ANNUAL LANDINGS OF CHONDRUS DRAGRAKERS, EFFORT, AND STANDING CROP IN THE SOUTHERN GULF OF ST. LAWRENCE / Pringle, J.D. -- CHILEAN SEAWEED RESOURCES: A QUANTITATIVE REVIEW OF POTENTIAL AND PRESENT UTILIZATION / Santelices, B. / Lopehandia, J. -- SUBCOMMERCIAL HARVESTING OF A KELP ON A SOUTH AFRICAN SHORE / Simons, R. H. / Jarman, N. G. -- SEASONAL VARIATION OF AGAR-AGAR PRODUCED IN TAIWAN AREA / Yang, Shang-Shyng / Wang, Chen-Yen / Wang, Hsi-Hua -- THE SEASONAL VARIATION IN THE BI0MAS3 AND REPRODUCTIVE STATES OF GRACILARIA IN MANILA BAY / Trono, Gavino C. / Azanza-Corrales, Rhodora -- Part III. Special Sessions -- METHODS AND TERMINOLOGY IN PHYCOLOGY / Michanek, Göran -- Part IV -- PARTICIPANTS -- SUBJECT INDEX -- TAXONOMIC INDEX -- Backmatter
Buchdetails
Aktuelle Ausgabe
Erscheinungsdatum:
01.06.1981
Rezensionen und Bewertungen
Ähnliche Bücher für noch mehr Lesestunden
Gespräche aus der Community zum Buch
Starte mit "Neu" die erste Leserunde, Buchverlosung oder das erste Thema.
Buchdetails
Aktuelle Ausgabe
Erscheinungsdatum:
01.06.1981