Transforming Mathematics Instruction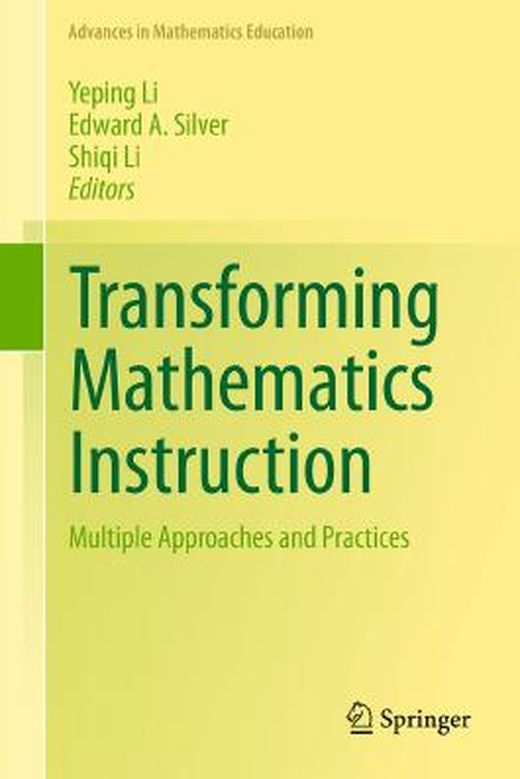 Zu diesem Buch gibt es noch keine Kurzmeinung. Hilf anderen Lesern, indem du das Buch bewertest und eine Kurzmeinung oder Rezension veröffentlichst.
Auf der Suche nach deinem neuen Lieblingsbuch? Melde dich bei LovelyBooks an, entdecke neuen Lesestoff und aufregende Buchaktionen.
Inhaltsangabe zu "Transforming Mathematics Instruction"
This book surveys and examines different approaches and practices that contribute to the changes in mathematics instruction, including (1) innovative approaches that bring direct changes in classroom instructional practices, (2) curriculum reforms that introduce changes in content and requirements in classroom instruction, and (3) approaches in mathematics teacher education that aim to improve teachers' expertise and practices. It also surveys relevant theory and methodology development in studying and assessing mathematics instruction.
Classroom instruction is commonly seen as one of the key factors contributing to students' learning of mathematics, but much remains to be understood about teachers' instructional practices that lead to the development and enactment of effective classroom instruction, and approaches and practices developed and used to transform classroom instruction in different education systems.
Transforming Mathematics Instruction is organized to help readers learn not only from reading individual chapters, but also from reading across chapters and sections to explore broader themes, including:
- Identifying what is important in mathematics for teaching and learning emphasized in different approaches;
- Exploring how students' learning is considered and facilitated through different approaches and practices;
- Understanding the nature of various approaches that are valued in different systems and cultural contexts;
- Probing culturally valued approaches in identifying and evaluating effective instructional practices.
The book brings new research and insights into multiple approaches and practices for transforming mathematics instruction to the international community of mathematics education, with 25 chapters and four section prefaces contributed by 56 scholars from 10 different education systems. This rich collection is indispensable reading for mathematics educators, researchers, teacher educators, curriculum developers, and graduate students interested in learning about different instructional practices, approaches for instructional transformation, and research in different education systems.
It will help readers to reflect on approaches and practices that are useful for instructional changes in their own education systems, and also inspire them to identify and further explore new areas of research and program development in improving mathematics teaching and learning.
Buchdetails
Aktuelle Ausgabe
Verlag:
Springer International Publishing
Erscheinungsdatum:
28.01.2014
Rezensionen und Bewertungen
Ähnliche Bücher für noch mehr Lesestunden
Gespräche aus der Community zum Buch
Starte mit "Neu" die erste Leserunde, Buchverlosung oder das erste Thema.
Buchdetails
Aktuelle Ausgabe
Verlag:
Springer International Publishing
Erscheinungsdatum:
28.01.2014