BlackTeaBooks (userID:1139735485)
Mit Hilfe dieser ID kannst Du einen Link zu diesem Mitglied in eine persönliche Nachricht einfügen. Nährere Informationen hierzu und weitere Formatierungsmöglichkeiten findest Du auf Deiner Nachrichten-Seite.
Mit Hilfe der Statusmeldung kannst Du andere wissen lassen, was Du gerade denkst oder tust. Deine persönliche Statusmeldung kannst Du auf Deiner Profilseite anpassen.
Mitglied seit 23.03.2015
1.586 Eselohren, 80 Bücher, keine auf dem Wunschzettel, 61 Rezensionen, 246 Tags, 79 Bewertungen (Ø 4,43), 0 Gruppen, 3 Freunde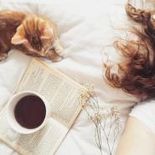 ---
BlackTeaBookss Rezensionen Alle zeigen

Rezension vom 11.09.2017
I loved this book. Essentially, that is all you need to know.

I heard so much about Uprooted, saw it everywhere on social media and got intrigued, but in the second wave of posts was discouraged by many people who felt disappointed and let down by it. But the cover kept appearing here and there, and I still did not know what it actually was about. After reading the synopsis I was back on board, it just sounded great except for the fact that there are no real dragons. As we all know, every story is better with a dragon in it, so that was indeed a disappointment. I proceeded to read the first chapters as samples online and was strangely intrigued. The story was simply nothing like I had expected, and with every page I grew more excited, giddy and ready to start laughing hysterically because it had been such a long time since a book genuinely surprised me. Me, the smug reader who thinks she has seen it all and therefore can judge a book by reading all kinds of reviews, outdone by a book. It was ridiculous but such a glorious feeling.

After that it would have been unbearable to not know where this story would go, so I finally ordered it and dived right in. Despite my excitement, I was not ready to fully commit to liking it yet. Too many people had found flaws, so I tried really hard to find them and see whether I would agree. I did not. The Polish/Slavic influence was definitely not my cup of tea, but it is undeniably unique and you get used to it. The system around the magic seemed random at first, but it got clearer the more you read about it and in the end became one of my favourite fictional magic concepts. And the dragon? Turned out to be quite a dragon, even though he is not a reptile. I just could not put it down and continuously checked how many pages there were left because so much is happening! Several times I thought, right, this is where it comes to the ending, only to realise I was not even halfway through. At the same time, nothing felt rushed and made perfect sense, expanding this little world and its conflicts while Agnieszka, the protagonist, grows into her new role and life with the dragon.

I could go into so much more detail, but everything would feel like a spoiler. You get a dark, twisted, living wood with a back story. You get character development. Castle life. Village life. Magic, of course. The issue of different learning types, which I definitely did not expect but thought was so important. There is also romance, but in a compromised and perfect way. Also, sarcastic and brooding heroes. Yas for this. But most of all, female strength, friendship and badass-ery. So yeah, I have wholeheartedly been corrupted by this book, so much that I am making it my favourite read of the year!

Even though Uprooted got its fair share of criticism, I could not agree with any points raised or simply did not care. I loved it from start to finish, actually so much that I will read it again. However, it is one of those books you just have to experience yourself to know whether you really like or hate it. Reading the sample chapters definitely helped me decide whether to buy it or not, so I can only recommend doing this. And if you happen to read and love it too, let me know so we can get excited about it together! 
0 Kommentare
---

Rezension vom 10.09.2017
Needless to say, this book is absolutely special. One hundred female personalities, from the past and present, who deserve to be heard and read about, presented in a fairytale-ish style with illustrations from female artists. This idea alone deserves to be celebrated.

The foreword made me emotional already. You can tell how much passion and enthusiasm is behind this book, and I am so glad it exists! I was not aware of its history as a kickstarter project, but that speaks even more of the genuine interest of everyone involved and other than a few typos, there are no 'physical' flaws that would hint at this rather unusual background.

On the contrary. The book itself feels absolutely amazing, it' is quite heavy like one of the old adventure-stories volumes you had as a child. I also love the cover, precisely because it is not pink and glittery but dark blue with bold lettering. Around it are names of famous women in a paler blue, like stars in a dark night sky. The cover challenges gender norms (pink books for girls, blue ones for boys) but is at the same time wonderfully neutral, so that every child could get excited about it and adults can gift it to boys and girls alike without 'worries'.

Inside, every woman (or girl) is presented on a double page. On the left you have her name, birth dates and country enclosing the actual story. These texts are neither merely biographical nor anecdotal, but vary in those degrees depending on the respective personality. The right page are portraits of them, each created by a different female artist.

Having read this as an adult, coming straight from university where we analysed some of these women closely, I had a few issues with some representations and on what aspect the texts focused (for example presenting Elisabeth I as a kind and well-beloved queen or Jane Austen as the stay-at-home-writer who did not care about the outside world). Arguably, there are some women I would not have included, and others I would have wished to see instead, but that is of course a subjective issue that could be argued about forever. And anyway, I genuinely enjoyed reading these stories and loved learning about so many exceptional women that I sadly have not heard about before.

As someone who is lost with most art, it means a lot that even I could appreciate the illustrations. Literally every single portrait is different, and while some of the styles were not for me, it was incredibly interesting to see how each artist perceived and presented these different women. The diversity among them was wonderfully balanced, there were so many countries and ethnicities represented, and their accomplishments were in every area you can think of, from science to music to literature and everything in between.

I could not evaluate first-hand how a child would react to the stories, the style and the illustrations, but would judge it as appropriate and understandable if the reader is willing to explain some concepts that might be unknown to children. As an adult, I felt inspired and empowered by reading about women who persisted and fought for their accomplishments, even though their societies were throwing stones and boulders in their way. It is definitely an important collection and I hope it not only redirects the public focus and memory, but also inspires more works of this kind. Now, I will take up the idea of Books and Peonies and read one story every morning, which will be a fantastic and motivating start to each day!

The concept of Good Night Stories for Rebel Girls is amazing and unique, the illustrations are beautiful, the chosen representations diverse and the stories are well-written and, most of the time, accurate. I can wholeheartedly recommend this to readers of every age-group and gender.
0 Kommentare
---

Rezension vom 28.08.2017
This book was another excursion into new literary genres for me. Although we analyse poems in school and university to their bones and maybe read the occasional verses on tumblr or instagram, I have actually never read an entire book of poetry myself, simply for enjoyment.

I was surprised that although the poems stand individually, together they convey a story. Milk and Honey is inherently a deeply personal and very modern journey. Some parts I could not really relate to, which is not too much of a problem as the poems are short and can be read quickly even if a particular one is not for you. Not 'getting' every part of it actually makes me want to read the entire book again to see whether I will understand them better at some point later in life.

On the whole though, I really enjoyed the poems. There are still many relatable, powerful, uplifting and empowering messages that celebrate femininity, resiliance and life, that I am convinced everyone could find at least one that speaks to them. It also inspired me to write more poetry again, which to me is always a sign of true art, and this is also what the book feels like. An honest glimpse into the thoughts and feelings of the authoress herself, almost like an extended part of her.

If you want to get a sense of her poems, follow Rupi Kaur on Instagram or browse the hashtag #milkandhoney. This is by no means sponsored or intended to discourage you from getting a copy of the book. I simply found it wonderful that this way you can see if you respond to her poetry, and if you do you will want to read more anyway. In which case you are lucky, as her next book is coming out in October called 'The Sun and her Flowers', and I feel like I might like this one even more.

Kaur's Milk and Honey is a collection that even non-poetry-enthusiasts like me can enjoy. It has a coherent storyline and feels honest and raw, even if that means not every part of it is universally relatable. If you are interested in modern poetry, I can genuinely recommend this book!
0 Kommentare
---
---