Nicks (userID:1124495345)
Mit Hilfe dieser ID kannst Du einen Link zu diesem Mitglied in eine persönliche Nachricht einfügen. Nährere Informationen hierzu und weitere Formatierungsmöglichkeiten findest Du auf Deiner Nachrichten-Seite.
Mit Hilfe der Statusmeldung kannst Du andere wissen lassen, was Du gerade denkst oder tust. Deine persönliche Statusmeldung kannst Du auf Deiner Profilseite anpassen.
Mitglied seit 01.12.2014
3.621 Eselohren, 197 Bücher, keine auf dem Wunschzettel, 175 Rezensionen, 54 Tags, 195 Bewertungen (Ø 3,55), 3 Gruppen, 4 Freunde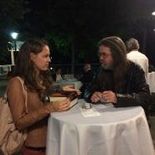 ---

Rezension vom 16.05.2017
Frostblood offered barely anything new.
A bit of Throne of Glass mixes with a bit of every average fantasy element out there and somewhere in between I thought I landed in the midst of Ever the Hunted, although with better characters and a more humorous heroine.

I´d love to tell you it was one of the unique stories that set themselves apart in terms of world building, character development and writing. But the truth is that Frostblood is quite average in all regards, that it doesn´t bring anything original to the game and that you see the twists and turns coming from afar.
Hidden identities aren´t hidden and the next time I see a girl caught between two nobles, of whom one is obviously crazy and power hungry and the other is not crazy and power hungry enough, I will certainly scream.

Frostblood tells the story of an unabashed girl who has no idea about the power she´s able to wield and is of the outmost importance to a secret plan of mortals, a higher plan of gods and some minor plans of minor players as well. She´s hardly learned how to control the raw strength everybody else already knew about, when she´s forced to compete against the strongest magic wielders in the kingdom and - of course - blasts them all into the after life.

A dash of romance here, a dose of helpful strangers who all happen to disagree with the common opinion of, let´s see, the whole country and coincidences which obviously work in the heroines favor complete a story that can´t be called either good or bad, because we´ve seen it before so many times.

I actually liked the humor and Ruby. She´s sassy and talks her mind, which makes her easier to tolerate than most of the other female leads, but she´s missing the spark that leaves you with some strong emotion about her. She´s okay, she´s nice.
So is the rest of the characters.
So is the story.

I´m fearfully considering the next installment, which promises another unnecessary and troublesome love triangle in the midst of another war in another country.
But maybe it will surprise?


0 Kommentare
---

Rezension vom 16.05.2017
3.5

Halfway through the story I got anxious and really started wishing for Helen´s life to get less complicated and for fate to at least grant her one wish.
That´s when I noticed that Lady Helen #2 is, in fact, better than the first book and a generally fantastic story.

The book picks off where the first installment left us hanging, with Helen being basically forced to learn the Reclaimer trade and the whole world frowning upon her decisions. Whether it´s society and their intrusive need to gather information about a private life they should have no insight in, or a secret society that thinks it okay to mess with said private life and practically forbids having one. Being Lady Helen in the midst of her fierce loyalty to the cause, her feelings for Lord Carlston, her impressive strong will and her balancing the life of a society´s lady and a asskicking superhero is quite a task to handle.
The whole story is much more compelling on a deeper level. Helen has a strong sense of loyalty, not only towards her new friends and colleagues and her duties, but also towards the oath she gave even though it is about to ruin her whole life. Although I wanted to slap her at times and remind her that she is her own person, who has her own rights and opinions, I kind of backed down when I remembered the times she lives in.

Which is the best part of the book for sure.
Every action, every conversation, every touch and word and thought are genuine. This book is so perfectly researched you will feel like you walk along with them in the bright sun of Brighton´s summer days. The conflicts Helen faces are therefore wonderfully done, all her decisions are based on an upbringing a lady of her status enjoyed and on a moral codex that puts the most honorable men to shame. Her word won´t be broken, her righteousness isn´t hypocrite and her selflessness and especially compassion are as admirably as genuine.
Same goes for the friendships and connections made in the book. The loyalties of her girlfriends, who selflessly join her in her adventurous life style are admirable, her new found friends´ sorrows and fears are reliable and especially the resentment she faces as a woman doing a man´s job is artistically enwrapped in her strong need to accomplish the required tasks.
Last, but not least it is quite a pleasure to watch the bittersweet romance of her and Lord Carlston evolve in an equally genuine way, just to have it crushed upon his increasing madness and society´s frown. Also, Duke Selburn is a likable character and I found myself quite despaired for Helen´s sake, because she has to choose between her heart, her head, her feelings and her upbringing.

I´m honestly curious about the next installment.
0 Kommentare
---

Rezension vom 16.05.2017

This book is undeniably adorable. Every now and then something completely different is released, something that stands apart in writing and plot terms and, most of all, entertainment. It hasn´t always to be epic fantasy or moving coming off age. Every now and then it´s enough for a story to simply be fun and pull you under for the time being.

Daughter of the Pirate King is one of those books to immediately sweep you off your feet with fast pace, hilarious banter, a little bit of magic and a kickass heroine.

Every now and then I crave a pirate book anyway. Growing up with Jack Sparrow as a role model and Hook hijacking Once Upon A Time means developing a clearly romanticized, but nevertheless undying love for those who conquer the seas.
Pirate stories also taught us that a great tale doesn´t have to focus on an unlikely love story between a bewitching young lady and a handsome, but piss poor guy. Nah, instead they showed that twisted tales, cunning characters and a single minded love for ships and water can be enough for a story to function.

Who cares about kings and queens and their desires to fight wars for small strips of land when a vessel, a crew and a whole ocean of possibilities lie beneath your feet? Pirate stores convince with the value of friendship, loyalty, a dash of selfishness and the necessary, perfect amount of magic. At least the good ones do.
Fortunately, Daughter of the Pirate King can be counted as one.

We get nothing of the sappy romantics, of cliché love declarations and exaggerated acts of foolishness. Instead there is a heroine who knows her strengths, ignores possible weaknesses, stays true to herself and is capable of doing whatever she sets her mind to. Just because she wants to.
I love Alosa. She doesn´t need men to save her and just spits them in the face if they laugh at her. Her loyalty lies with her family and herself and she hasn´t any qualms about getting her hands dirty.

This books is pure entertainment that refuses to bore you at any second. There´s stealth, action, a lot of kissing, even more bantering, hilarious situations and - as it is supposed to be, after all - the all consuming ignorance about who has the upper hand.
They all want the same, but cleverness can´t be bought and comes in different forms.
I adored every single sentence of this captivating book.

The world´s an ocean and the ocean is a world. It´s simple as that, apparently. 

0 Kommentare
---
---