readingthroughthenights (userID:1463291712)
Mit Hilfe dieser ID kannst Du einen Link zu diesem Mitglied in eine persönliche Nachricht einfügen. Nährere Informationen hierzu und weitere Formatierungsmöglichkeiten findest Du auf Deiner Nachrichten-Seite.
Mitglied seit 11.06.2017
253 Eselohren, 13 Bücher, keine auf dem Wunschzettel, 12 Rezensionen, 0 Tags, 12 Bewertungen (Ø 3,92), 0 Gruppen, 0 Freunde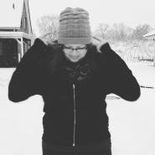 ---
readingthroughthenightss Rezensionen Alle zeigen

Rezension vom 19.12.2017
          In 'Amrita - Am Ende beginnt der Anfang' verfolgen wir Amrita, die mit einem Freund ihres Vaters verheiratet werden soll, um zu verhindern, dass dieser ihre Heimat einnimmt so wie er es mit vielen Orten in der Umgebung bereits getan hat. Die Dinge entwickeln sich jedoch nicht wie geplant und Amrita findet sich plötzlich auf der Flucht vor jenem Mann, den sie heiraten sollte. An ihrer Seite ist Thala, ein Orakel welches Amrita von der Existenz der Bibliothek des Seins unterrichtet. Ein Ort, der es Amrita ermöglichen kann, ihre Vergangenheit zu ändern und somit Ereignisse ungeschehen zu machen. Als Leser begleiten wir Amrita auf dieser Reise voller Höhen und Tiefen und fiebern ihrer Finalen Entscheidung entgegen. 
Ich erinnere mich noch, dass ich, als ich die Leseprobe zu Beginn gelesen hatte, Schwierigkeiten mit dem Schreibstil hatte und es gedauert hat, bis ich mich in ihm wirklich wohl gefühlt habe. Das war nun nicht mehr der Fall! Ich fand mich überraschend gut in dem Schreibstil zurecht und mochte ihn mit jeder Seite mehr und mehr! 
In 'Amrita' begegnen wir unterschiedlichen Geschichten, mit welchen die Charaktere aufgewachsen sind wobei schnell deutlich wird, dass es nicht unbedingt nur Geschichten sind, sondern durch aus Dinge die im hier und jetzt geschehen. 
Trotz der Tatsache, dass ich die Idee hinter dem Buch wirklich toll fand, mir der Schreibstil sehr ans Herz gewachsen ist, konnten mich die Charaktere einfach nicht für sich gewinnen. Ja, sie hatten ihre Momente - vor allem Amrita! - aber ich habe zu keinem Zeitpunkt mit ihnen mitgefiebert. Mir fehlte wirklich die Verbindung, wodurch mich das Buch auch nicht in dem Ausmaß in seinen Bann ziehen konnte, wie ich es gewollt hätte. Was vermütlich auch erklart, wieso es am Ende so lange gedauert hat, bis ich es endlich gelesen habe.         
0 Kommentare
---

Rezension vom 29.06.2017
When I first saw that HarperCollins Germany was providing eARCs of Love & Gelato I had to jump at the opportunity and read this book! I had heard about it here and there - mostly on booktube and the synopsis sounded really interesting too. Unfortunately, I didn't end up liking this book. It definitely had a promising idea and I feel like if it had been executed differently, this could've been an awesome summer type of read!
Love & Gelato follows Lina as she comes to Italy to live with her father after her mother died and Lina promised to stay with him for at least the summer. As Lina arrives at her father's, she is given a diary her mother had kept when she was living in Florenz herself and Lina goes on a journey to discover all of the things her mother had experienced and seen. On her first full day in Florenz, she meets Ren who ends up joining her for this.
Unfortunately, the only aspect of this story that I really enjoyed was the premise of the book that ended up being poorly executed, in my opinion. Love & Gelato feels like a culmination of all of the things I do not like in the books I read:
insta-love predictability pacing that feels off lack of exploring the world the characters are in.
Love & Gelato takes place over the course of about a week and our two main characters are in love with each other by the end of that week with having gone through any and all imaginable trouble you could throw at a teenage couple. I feel like if this story had played out over the summer months, Lina and Ren could've gotten to know each other better and could have actually build towards getting into a relationship with each other. Instead, Lina basically tells Ren all about her mother's diary (that she is keeping secret otherwise) and they go off on this mission to find out what Lina's mother had experienced.
I felt like I pretty much knew what was going to happen for the rest of the book by the time I had read maybe 10% of it. And who wants to read that kind of book, really? I want to be surprised and kept on my toes! I know that may not always be something contemporary does, but I have seen it done really well in other books I've read this year! Those books had featured similar themes and were able to really pull them off, in my opinion.
When you choose to set your story in a country as beautiful as Italy and then specifically in Florenz, please take the time to actually have your characters explore the city and its surroundings! Don't have it be a thing that is going to be done with within a page or two. I was expecting to be introduced to all of the beauty a city like Florenz has to offer and all I got were a few short paragraphs.
Overall, I think the author missed out on writing a really great story and doing it justice by including all of the aspects I just mentioned. This had such potential and I was really excited to read it but I got disappointed in the end. 
0 Kommentare
---

Rezension vom 13.06.2017

It has been almost a week since I finished reading Lord Of Shadows and I still don't really know how to sum up how I feel about this book and everything that happened in it. I am still utterly heartbroken and terrified of the ramifications for all of the characters in the aftermath. How are we going to move forward from this without completely ruining the characters and us as readers? Someone, please invent a time machine so I can jump to the release date of Queen Of Air And Darkness and find out how all of this is going to play out. Please?


One of my absolute highlights about this book was that we got to revisit some of our previous characters and have them interact with our crew in Los Angeles and then to get back to the London Institute and get all the references to The Infernal Devices characters was so much fun too. I miss them all dearly and this just made me want to re-read TID even more.


And even though we had previous characters show up, they in no way overshadowed our main crew and what they were going through at any point. They were more of a nice addition and definitely a treat!


The only characters I didn't like were some of the newly introduced Centurions. I didn't appreciate they way they acted to the residents of the L. A. Institute or anyone, for that matter. I could have definitely done without them! We were also introduced to a bunch more characters and more of the history of them (or is it myths? I'm not sure.) and I am definitely curious if they are going to come back into play in QOAAD and if so, how they'll play into things and where their alliances are going to be, etc.!


And since we're already talking about characters can we please talk about Kit and Ty? They honestly were such a fun dynamic to read about and I loved seeing their relationship develop and change over time! I loved the fact that Kit, as someone who grew up in the human world, was aware of human medicine and mental illnesses and the perspective that gave him into Ty's situation. I am so excited to see their dynamic explored further in The Wicked Powers (Cassie has confirmed this, I am not being mean and spoiling you).


Kind of on the topic of Kit, one thing I was a bit disappointed about is the fact that some characters seem to have no unique character traits or are mostly characterized the same way as some of their ancestors and I think that's a bit lazy on the author's part. Obviously, you might share a couple of characteristics with your family but you're not entirely the same. This bothered me so much I actually marked it in my copy of Lord Of Shadows.


Continuing on the topic of relationships: something I didn't expect to enjoy quite as much as I did were Mark, Cristina and Kieran! That is such a fascinating dynamic and if Cassie wants to explore it further (in whatever form) I am definitely here for it! Give me more!


The one thing that will make me really angry when I read about two characters that share any kind of relationship is when they don't communicate. I get so angry and want to yell at my book or throw it across the room in frustration (which I'll never actually do, I love my books too much for that) and so the whole Julian and Emma relationship in this book involved a lot of internal screaming and yelling at my book. (#funtimes) They do eventually get their stuff together and talk, so it was all good eventually, but still. TALK TO EACH OTHER.


We were also introduced to some new character dynamics that I didn't see coming but really enjoyed (one in particular that I am not saying anything about because #spoilers) and which gave us a different look at some characters and how they were feeling. Which was highly appreciated!


Obviously, with a cast of characters as big as the Blackthorn family, there isn't always enough time to spend with each character and learn more about them but we did make small steps in getting to know some characters more in this book for sure!


Lord Of Shadows nicely continues the threads that Cassie spun in Lady Midnight while also including new threads that are going to determine how QOAAD is going to play out and definitely sets up some serious conflicts for quite a few of our characters (both new and old ones). It also feels like Lord Of Shadows was setting up more than just QOAAD but also Cassie's future trilogies (I'm not sure how much TDA plays into The Last Hours, but it definitely seems to play into TWP and the Magnus centric trilogy!) and I am so ready for all of it!


I can't believe I know have to wait two entire years to find out how this story ends. That is just simply too much time, Cassie!
0 Kommentare
---
---