xpurpledawn (userID:957346745)
Mit Hilfe dieser ID kannst Du einen Link zu diesem Mitglied in eine persönliche Nachricht einfügen. Nährere Informationen hierzu und weitere Formatierungsmöglichkeiten findest Du auf Deiner Nachrichten-Seite.
Mit Hilfe der Statusmeldung kannst Du andere wissen lassen, was Du gerade denkst oder tust. Deine persönliche Statusmeldung kannst Du auf Deiner Profilseite anpassen.
Mitglied seit 19.06.2012
633 Eselohren, 108 Bücher, 10 auf dem Wunschzettel, 16 Rezensionen, 128 Tags, 84 Bewertungen (Ø 4,11), 0 Gruppen, 1 Freund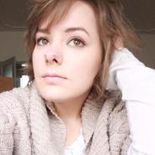 ---
xpurpledawns Rezensionen Alle zeigen
Rezension vom 15.05.2015
(

2

)
In the 3rd and final book of the controversial bestselling trilogy, Ana and Christian are dealing with conventional problems in their new found marriage and scary threats by some mysterious criminal.
After the first two books predominantly dealt with hardcore sexual practices, this book shows way more character with a lot more real story being told.
It seems like a typical Cinderella's tale became true for Anastasia Steele. After meeting Christian Grey, the wealthiest of all wealthy and finding out that his feelings for her are true and from invaluable worth, her life suddenly changes. After the wedding she moves in with Christian and spends a wonderful honeymoon with her husband. But as soon as they're back home, old problems seem to have been waiting for their return. Anastasia is being threatened by her ex-boss; girls from former "relationships" of Christian try to destroy their peace and last but not least their apartment was broken into.
I started reading this series because everyone was talking about it as well as everyone was crucifying it. Let's say I was curious.
I like the fact that you, the reader, get a pretty good insight in Christian's past and the reason why he has become the man he now is. Even if he still tries to hide his worries from Ana she finds a way to deal with the peculiarities of her husband.
Even though he still is dominant and quite frightening Ana falls more and more in love with Christian and dares to defend and fight back.
All in all I think this book is a nice mixture of the erotic novel it shall be, a typical romance and part wise almost a criminalistics adventure book. I know that a lot of people couldn't find much sympathy for this trilogy and the topic it mainly deals with. But for an in between novel I found these books quite readable and entertaining. Even though I didn't have any problems with the author's style I still can understand the critics. Sometimes the way those typical scenes are being told seems a bit washed out and stereotypical for those kind of novels. Nevertheless this book deserves 3 stars.
0 Kommentare
---

Rezension vom 04.09.2014
(

4

)
(WARNING: spoilers included)
Eileen Leary who grew up in the postwar period as the only child of an alcoholic mother and a hard working father always dreamt about a luxury life. She wanted to own a house and earn enough money to set it up in loftiness. Once she met Ed her world seemed to change and she finally found her way out of her parents' scanty lifestyle and started to construct her own.
Luckily both of them get the chance to work fulltime in good jobs and earn enough money to make a living and save for dark days. As Eileen gets pregnant and gives birth to a healthy lively boy, their life seems perfect. But still there's something Eileen's longing for. She starts getting annoyed by common things and does not seem to find satisfaction in her life.
Their marriage develops to a certain routine and they start fighting more often and distance from each other. Both try to find recovery in their jobs. After a while of non-stop working, Ed seems to change. He forgets important things and gets tired of his everyday life.  After being forced by Eileen to go see a doctor the diagnosis is clear: Alzheimer's disease.
The family now has to stick together and find a way to cope with the disease.
In 'We are not ourselves' by Mathew Thomas you can find a story that is reflectable to your own.
Our nowadays lifestyle often seems to force us living a rushing life full of never ending desires. Advertising and media show us how different, better, our life could be with a certain product, in a different part of the world, the perfect body (define perfect) or with another partner. We are not allowed to be satisfied with the way things are, the way we create our life. For implementing those insignificant desires caused by brainwashing we have to work for hours until we come home collapsing on the couch and being too tired to find joy in an evening walk with our friends or a swim in the sea.
We often neglect our real longings buried deep inside of us by the weight of the media's influence. We start to visit our families and friends only rarely even though we feel best in their company. We work for months to fulfill a material wish and once we have it we start to lose interest. Captured in our filled time schedule we rush through life and before you realize it you've aged ten years. We notice changings in the state of mind or health of our family too late, so that our time left with them is limited. Only then we realize that we have to change something, we have to take time to see people who are important to us, to make others happy and enjoy their company. When I meet friends, in the end of the evening there is a common sentence 'We should do this more often!'. So why don't we? Why can't we just fight free from the influence of our surrounding , take some moments to listen to our bodies  and minds and do what really makes us happy?
This book, especially Eileen's character, made me rethink my lifestyle. I often hated her for doing certain things, for being egoistic, for letting herself being influenced so easily and never seem to find satisfaction. But unfortunately I partly could find her thinking in my behavior. For almost three years now I'm working from 8 to 5, and I hated it from the first moment. I know that this is what we have to do, to become a part of society and to make a living. I know of the importance of a job. But I just don't find myself being thankful for this opportunity. After closing time I find myself being too tired to go out for a run even though in the morning I told myself to do it and was excited. Even though I love cooking, on some days I can't bring myself to do it and buy some crappy fast food instead, which definitely isn't good for me. But still I do it. When I moved out from my parents' I promised to call at least once a week. It sometimes seems to be a huge progress when I call twice a month. I see myself neglecting what's really good for me and try to find comfort in material things which I earned for working hard. But in the end those things can't make me happy.
From this book I learned that we should stop letting our lives pass by and keep our eyes open for actions that really make us and our beloved ones happy. We don't need a lot of money for reaching that goal, as best things in life come for free. Shielding from the ever existing influence can be hard but to find satisfaction we have to try 'cause right now We Are Not Ourselves!
0 Kommentare
---
Rezension vom 18.08.2014
(

3

)
In case you've read my recent reviews on some of Mr. Albom's books you might already know, that I've been falling in love with his stories and style lately. So what else could I have done than read his probably most talked about novel?!
In 'Tuesdays with Morrie' Mitch Albom introduces the reader to his favorite prof during college. They spent some great years together and always had fun. But after Mitch left college and started creating his own life in another city their contact broke unfortunately.
16 years later Mitch coincidentally sees his old prof talk about amyotrophic lateral sclerosis* on television. He gets to understand that his friend suffers great pain and strokes the reaper's scythe more and more subserviently.
Without hesitating Mitch decides to go see Morrie.
 From that day on he comes for a visit every Tuesday until he no longer needs to…
What I really love about Mitch Albom's books is the description of the characters. Once Morrie popped up I had the feeling to know this man. My Vision of him was clear as ice. It just took one page for me to love him.
The way this man dealt with his sickness and the awareness of a death caused by suffocating is purely astonishing. He accepted his fate and uses his time left to only enjoy. In my eyes that's what every one of us should do, even though we're healthy. We should valuate this one chance we got, see it as a gift and experience it at its fullest.
There are many people whining about how bad their life is and how much pain they have to endure even though they're perfectly fine. They don't have to contemplate that maybe they won't wake up the next day, that they have seen their family or smelled the rain for the last time but still they're the loudest and 'moaniest' people.
Those who really face death suffer in silence.
That's what Morrie did.
For him it was sure as the amen in the church** that his days were running out, that every single second could be the last. But he never complained. He took things the way they were and appreciated every breath he still could take.
It made me realize that you get to see the value of life when you're facing the end of it. We should appreciate every moment we are able to spend on this earth without pain or anxiousness.
Stop moaning about the heat; enjoy the warmth of the sunshine.
Stop moaning about the cold winter's morning; internalize the amazing fresh air your lungs can consume.
Stop moaning about stupid people not including you; be happy to be special.
Stop hesitating; just do it!
This world would be a better place if we could valuate life as if we ran out of it.
 For the end of my monolog I just want to release you with one of the biggest recommendations.
Read this book, it will make you think – maybe it will even improve your life.
________________________________________________________________________________

*Short ALS : Disease of the motor nervous system; muscle wasting crawls slowly through your feet and legs until it reaches your torso, you can no longer walk or move your arms, in the end your lungs collapse and you suffocate.
**German proverb crappily translated
0 Kommentare
---
---